Soccer Twitter is an odd little corner of the Twitterverse, and it got a little weirder in the last 24 hours. Allegedly, a person known on soccer Twitter for being a "legit insider" posted that he was diagnosed with brain cancer—and then was exposed as a fraud by the person whose photo he used.
According to Soccer Twitter community members piecing the strange story together, Charlie Kennan was known on Twitter, Reddit, and on the Big Soccer forum for having information about American soccer players to share with other fans—focusing in particular on youth national team players poised to launch professional careers.
A Twitter search on his name reveals his bio and that, at one point, he termed his account a "usynt stan account." (USYNT is the acronym for U.S. youth national soccer team used in hashtags to mark.)
On Dec. 16, Twitter user @thatboyylukee (confirmed by the Daily Dot as Lucas Rawlings of Chubbuck, Idaho, an active-duty military member who operates the @thatboyylukee account) posted a photo announcing he's "12 months cancer-free."
Then, Kennan posted the same photo to his since-deleted account (though it's living on in various screenshots and retweets) and announced "some personal news."
He claimed, "I found out last week that I've been diagnosed with cancer, in my brain to be exact, which yes, I was planning to use. It's pretty bad but here's a cheeky little selfie to show I'm still in good spirits."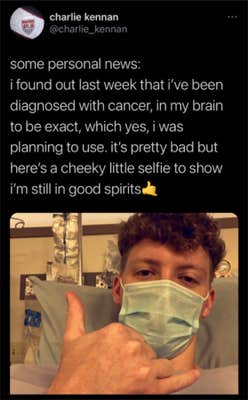 He began receiving well wishes from people throughout the soccer community. Though the original tweet is no longer available, the thread shows a number of respected and beloved American soccer personalities extending well wishes. He even got an encouraging quote-tweet from the official account of the U.S. men's national soccer team.
That's when the person who is actually in the photo Kennan tweeted out stepped up. "Someone took my picture and created a story off it haha i would appreciate y'all if you would go report them cause they blocked me and my close friends," Rawlings wrote in response to USMNT's tweet.
Then, the story took an even weirder turn. As Jamie Hill tweeted, "It's getting weirder."
A poster (or posters) claimed they hacked Kennan's account and planted the story. "We've been monitoring his accounts for weeks and recently found an opening," the "hacker" said on the Big Soccer forum, which has been an online gathering place for American soccer fans since the '90s. The person goes on to say that Kennan was inactive on his Twitter account for two days, giving them the opening they needed to use the password he allegedly used for most of his online accounts.
That led MLSSoccer.com analyst Matt Doyle, one of the earlier well-wishers, to crack, "Ok I'm gonna settle in for about 15 hours of just refreshing twitter."
Part of the sensitivity around cancer in the Soccer Twitter community has to do with Daryl Grove, a popular podcaster and online personality who died of cancer on Oct. 22.
That led to some angry reactions, including a whole thread on Reddit's r/ussoccer subreddit. The person operating the @insiderapids account asserted, "Kennan betrayed and lied to #USMNT twitter."
One American soccer fan who is currently engaged in her own public battle with lung cancer, Crystal Cuadra-Cutler of American Outlaws and San Jose Earthquakes supporters group The Faultline, wondered online, "Do I have to re-validate my diagnosis for everyone now?"
Responses to her tweet reveal that she doesn't need to revalidate it and that people believe her and are behind her in her fight. In fact, some want to believe Kennan was hacked and was indeed not trying to gain sympathy through a story that turned out to be punctured in a fairly quick fashion.
Ultimately, though, the response to Kennan's diagnosis-that-wasn't turned out to show American soccer fans' true colors. As the operator of the AmericanHooligans account noted, "I'm still proud of the USMNT community. Players, teams, fans — everyone banded together to support a fellow member in need."
---
Today's Top Stories