We live in a society where people value blockbuster films over independent films. We live in a society where Joaquin Phoenix and Jared Leto are set to play the same DC villain, the Joker, in two separate films. And, apparently, we also live in a society where people want the meme I keep repeating to appear in the Joaquin Phoenix Joker film, which is scheduled to hit theaters next fall.
A couple of days ago, a fan started a Change petition to get Phoenix to say "We live in a society" during a scene in the Warner Bros. film that Todd Phillips is directing. Bill Wilson, as he identifies himself, even wrote out a sketch for a scene where referencing the meme could work:
what i have in mind is a scene where the Joker sees a kid in a resturant playing Fortnite on his phone while his grandfather is reading a book (insert book title here). and he looks at them and says "damn, we live in a society". he may say this line as he looks into the camera thus breaking the 4th wall.
While this sounds like a scene in a Deadpool film, it could work. Films based on popular comic book characters have already successfully inserted memes in scenes. But "We live in a society" isn't exactly a mainstream meme that is well known outside of meme communities. It's something that was created as part of the Gamer Joker meme, which showed images of the Joker with text that was a rant about, yes, something in our society. There a whole subreddit for these memes, r/WeLiveInASociety.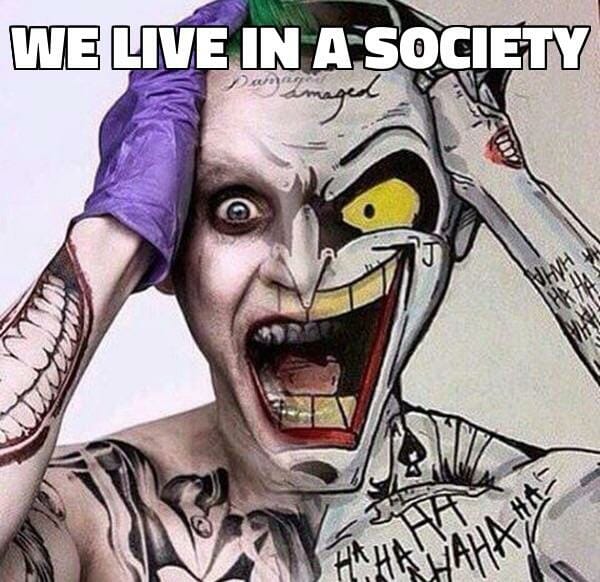 Earlier this year, the meme ditched images of the joker and instead took on another life with an image that showed comments/likes/retweets on something that is dumb and popular versus something that is real and underappreciated.
https://twitter.com/660th/status/995384248440942592
We live in a society pic.twitter.com/QpwDFKqkIh

— elf wife: full wife consequences (@bonerman_inc) May 15, 2018
So which version of this meme would Phoenix reference? You could say it's up to interpretation by the viewer. But there's definitely a demand for including the meme in Joker—as of Wednesday morning, the Change petition had already collected more than 20,000 signatures. The goal is only 25,000, and it looks like it'll reach it easily.
Only one question remains: Do we live in a society where we insert ironic memes in a blockbuster film that is aiming to be a little more serious? Phillips, we await your response.
READ MORE: