Can we separate a problematic artist from their art? In this case, the artist is Gina Carano and the art is her Star Wars character Cara Dune. And according to Disney, the answer is no. After confirming that Carano will no longer appear in The Mandalorian, Disney has canceled the character's Hasbro action figures, suggesting that Cara Dune's image is now too toxic to be associated with the brand. This raises the question of whether Cara Dune will now be quietly phased out of other corners of the franchise, like spinoff comics that wouldn't require any actual input from Carano.
Disney publicly distanced itself from Carano after she posted anti-Semitic memes on social media. This came after a long series of increasingly offensive posts promoting transphobic ideas, right-wing conspiracy theories, and anti-mask sentiments. Instead of apologizing, Carano responded by teaming up with far-right commentator Ben Shapiro and making more inflammatory statements. Considering her abrasive tone on social media, it's entirely possible that she'll say or do something even more controversial in the coming weeks. So Disney decided to discontinue Cara Dune's action figures, canceling Hasbro's existing preorders.
Ironically enough, this has turned Cara Dune's original action figures into a collector's item. As soon as the news broke from Hasbro, fans began to speculate about their Cara Dune merch increasing in value. Over on Ebay, Cara Dune dolls (originally retailing for about $20) are now selling for between $75 and $160.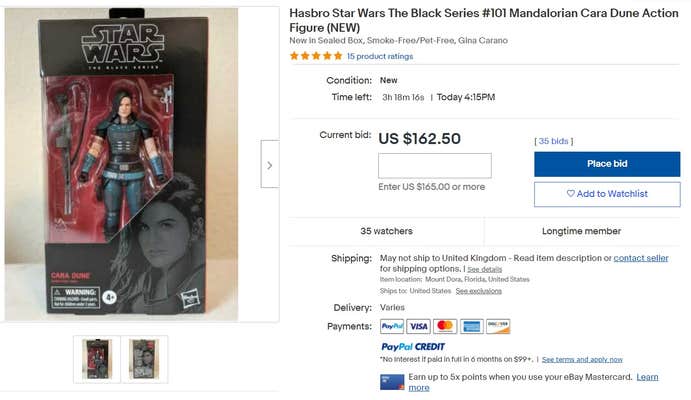 Until recently, Cara Dune was a fan-favorite character. Her 2020 action figures quickly sold out, and there was actually a Cara Dune-centric spinoff in the cards at Disney+. Some fans may simply want to get their hands on a now-limited supply of merchandise for a popular character. However, it's entirely possible that Cara Dune will now become a symbol for Carano's political supporters.
It certainly wouldn't be the first time that merchandise became politicized, from protests against the lack of female characters in Star Wars and Marvel merch, to people performatively burning or throwing away their Nike sneakers because they hated Colin Kaepernick's connection to the brand. Disney may hope to nip this issue in the bud by limiting the amount of Gina Carano-related merchandise available.
---
More essential culture reads
---