He sits next to a pool, in a bit of shade, clad in a flannel shirt. "Hey Robert, thanks for your call," he says to the camera. He declines a request to do the Mr. Blonde dance from Reservoir Dogs—it's "not on the menu." Instead, actor Michael Madsen will read from his book of poetry. The video ends with an abrupt zoom on his face.
This is Cameo, a surreal marketplace of personalized shoutouts at varying price points. (In Madsen's case, $200.) It's where Chris Hansen will reenact the "have a seat" moment from To Catch a Predator, or Susan Bennett (the voice of Siri) will get you in the mood for Valentine's Day, or Andy King, one of the most memorable parts of Netflix's Fyre Fest documentary, will promote the second annual Psycho Smokeout, an "all-day puffathon" in L.A. next month that (so far) has not been canceled by coronavirus. It's a place where that famous person will do that thing they're famous for. (If it's on the menu.)
The 3-year-old app is a source of income and exposure for entertainers, but even more so now, as movie productions and live comedy and music are canceled because of coronavirus. Comedian Todd Barry recently tweeted, "Three gig cancelations away from joining Cameo," but it's filling a new void. There's something eerily well-suited about Cameo in our current climate of quarantine. We're looking for connection and comfort and, for some people, getting a personalized greeting fills a need. As we saw this week, a bunch of rich celebrities singing "Imagine" does not.
Of course, the last few weeks have also led to more coronavirus content on Cameo. Stefan Heck and John Cullen, the hosts of the podcast Blocked Party, recently asked Paula Deen for recipes one could make in quarantine, but she seemed a little more concerned about finding "answers" to her own questions about the virus.
Actress Busy Phillips recently joined Cameo in an effort to support those stuck at home, and her bio reads: "I'm happy to tell your Boomer parents or 25 year old sister to take Covid-19 seriously and stay the fuck home!" She's donating proceeds to World Central Kitchen and No Kid Hungry. Other entertainers have joined to donate to charity as well.
Not all celebrities are on board: Controversial YouTuber James Charles called out Cameo on Twitter for trying to "profit off of a deadly virus" by recruiting celebrities during a pandemic, adding that he interacts with his fans for "free" and that charging for it is "pathetic."
The app connects fans and celebrities in the name of a personalized product. That product often includes shaky filming or nondescript rooms that make it appear they've possibly been kidnapped. Personalized means Vince Neil's slurred birthday message, or Snooki flubbing the recipient's name. Sometimes the personalization becomes comedy: A few months ago, Sugar Ray's Mark McGrath facilitated a breakup for a nonexistent couple, Brayden and Cheyenne. The video was posted to Twitter with the caption "You gotta watch this video PLEASE" and people got invested in the story. McGrath later said he knew it was a joke but went with it anyway.

Co-founder and CEO Steven Galanis says they're not trying to "manufacture" viral moments. He likes to think of it as the customer and celebrity "co-producing" content. That's an idealistic way to look at it—they're creating a moment—but the economics (75% of each video goes to talent, 25% to Cameo) and structure of the platform make it more transactional. Is someone going to be gazing nostalgically at their Gary Busey birthday Cameo in 10 years? Probably not, but the company is capitalizing on a moment where there is a market for Gary Busey publicly supporting your life choices for $350, or Tay Zonday congratulating you on the birth of twins for $40. Add in the performance reviews, and it starts to feel more like Airbnb, though sometimes they're amusing. Take this one on a recent Caroline Calloway Cameo: "Made a video the same day she had to go visit her recently deceased dad's house. Five stars."
The Chicago-based Cameo started as a void-filling experiment: When co-founder Martin Blencowe was an NFL agent, he circumvented a lack of endorsement deals for client Cassius Marsh, then with the Seattle Seahawks, with another play: a video shoutout from Marsh to a Seahawks fan who'd just become a father. Working on the idea that "selfies are the new autographs," Galanis says, more athletes were sought out for similar videos. A third co-founder, former Vine star Devon Townsend, brought in more influencers.
Galanis, who previously worked at LinkedIn (and has executive producer credits on 2015 Robert De Niro crime drama Heist and 2015 Bruce Willis thriller Vice), says that for the first six months Cameo was mainly athletes mixed with a few celebs, citing early adopters like Perez Hilton and Sonja Morgan. Several cheerleaders from Netflix's divisive docuseries Cheer are on Cameo, as are contestants from reality shows Love Is Blind, The Circle, and Queer Eye. The surge in streaming stars has created a whole new pool of celebrities rubbing shoulders with more established B-listers. Wasn't Fyre Fest trying to do the same thing with its booking app once upon a time?
"Fyre had the exact same idea," Galanis says. "…But they went the complete opposite way of us. They were trying to do in-real-life with A-plus-listers where we were trying to do video shoutouts from the longtail of talent." He says Fyre ultimately failed because it wasn't catering to the "average person."
Cameo crystallizes the moment we're in, where the definition of celebrity has expanded to include TikTokkers and YouTubers and human memes. "Ten years ago, it was unthinkable that people like J. Lo or Will Smith would be on TikTok, for example," Galanis says. "Their agents would have told them, if you put yourself out there for free no one's going to pay you $10 million dollars or $20 million dollars to be in their movie."
With Cameo, users are paying celebs to be in their movie, scripting dialogue (if they choose to do it) and scope (roast, pep talk, birthday, advice), and there's an option to edit your message after it's been submitted (though talent can always decline). Where there might not be intimacy there is immediacy, an air of task-completing. But it's also been easy for trolls to take advantage. In 2018, Brett Favre was paid for a message that included coded anti-Semitic language. While Galanis says they don't attempt to "vet" what goes in messages, they did implement filters to catch "racist speech and things like that." But he doesn't want to dwell on the past, calling the Favre incident "pretty irrelevant." In December, Milwaukee Bucks player Pat Connaughton unknowingly recorded a message with anti-police sentiment.

There are still plenty of people experimenting with the comedic parameters of Cameo. Brad Evans and Nick Ciarelli, two comedians pushing the boundaries of internet and political satire, were early parodists of the medium. In January 2019 they posed as a mother named Ashley and used it to solicit bodybuilders to deliver a warning to her fake fudge-stealing son. Ciarelli posted the script they sent out, which included a bit about said bodybuilder coming to the boy's house for IRL punishment. In December, they trolled Arli$$ star Robert Wuhl, again with a fake son, though Wuhl's Cameo was actually kind of touching.

Evans tells the Daily Dot they originally asked 10 bodybuilders but only four responded. "Most didn't return our request, and rightfully so," he says. "It seemed insane, we were asking them to threaten to beat up a child for eating fudge. I'm shocked we got as many responses as we did."

Last summer they parodied the delivery of Cameos, highlighting the vertical-video aesthetic and stilted scripting.

Comedian and writer Lizzy Cooperman, who often does tarot card readings or her iconic Ruth Bader Ginsberg impression, sees Cameo "as a little lemonade stand for performers—some of whom charge $50,000 for lemonade." (She might be referencing comedian Chris D'Elia, who charges $50,000.) NYC standup Meg Stalter has grown a fanbase on the site, and while her Cameos are largely her just being herself, the characters she does on Twitter—a "friend's rich mom," an "influencer from Paris"—have been a draw. More recently her characters have been compared to Love Is Blind contestants, and requesting a Meg Stalter Cameo has become a trend on Twitter.

Ben Cahn, who was behind last fall's viral Succession M&Ms sketch, says he has a pretty specific fanbase on Cameo: "All the requests I get are from fans of my Vine days. Usually it's birthday well-wishing. I've had a couple random ones that were just random greetings for friends that were inside jokes."
While it is creating new content through parody, and allowing comedians to potentially work out material, Evans doesn't really think Cameo is a good platform for comedy in the long run.
"The whole website is kind of a bummer," Evans says. "So many of the videos are insincere and rushed, and people are giving these celebrities way more for these quick nothing-y videos than what they're worth. It's a post-apocalyptic website."

Evans points out another element that makes Cameo kind of a bummer: "I think it's bad they have MeToo guys on there. There aren't too many, but there are at least a few people who have been driven out of the entertainment industry for being alleged sex pests and it's sad this site is fine with being a new source of income for them now that they can't get regular work for a very good reason."
While he didn't cite any specific names, entertainers who have been publicly accused—Andy Dick, Riff Raff, Ron Jeremy—are on Cameo. And there's another unsettling trend: It has become an income stream for associates of President Donald Trump. Sean Spicer charged $200 for dead-eyed Valentine's Day Cameos last month, and scammer Jacob Wohl will say whatever you want for $45, which sums up his brand. Roger Stone will push Trump propaganda for $50. Fresh off his pardon, convicted felon Rod Blagojevich accepted money for a "good luck" message to a Democrat looking to unseat the current Champaign County Board Chairman. The man who paid for it, a Republican allegedly looking for a seat on the board, framed it on Twitter as an "endorsement" but later brushed it off as "excessive parody." According to Chicago, Blagojevich has made tens of thousands on Cameo already.
Galanis says they've met with Cardi B about getting on the platform, and says "aspirational" figures like Oprah and Obama have been some of the top requests. They're working on a "paid DM" feature where users would be able to "text" with talent, though that opens up another avenue for potential harassment. They're still working through some issues: According to a recent Motherboard report, a "misconfiguration" in the app's design allowed private videos to be viewed publicly and personal data to be exposed, including email addresses and phone numbers. A spokesperson later claimed the vulnerability was fixed, and clarified that videos marked private can be shared, they just don't appear on the talent's page.
We must think of the future, which is why we asked Cooperman to do a tarot card reading as Ruth Bader Ginsberg, to give us some insight into these uncertain times. (It was marked as private, and doesn't show up on her page, but is still shareable.) The three cards she picked—Nine of Wands, the Lovers, and Queen of Wands—signaled something hopeful; themes of love, "new life," and a "positive outlook for the world." Also, people will "connect over whitefish salad."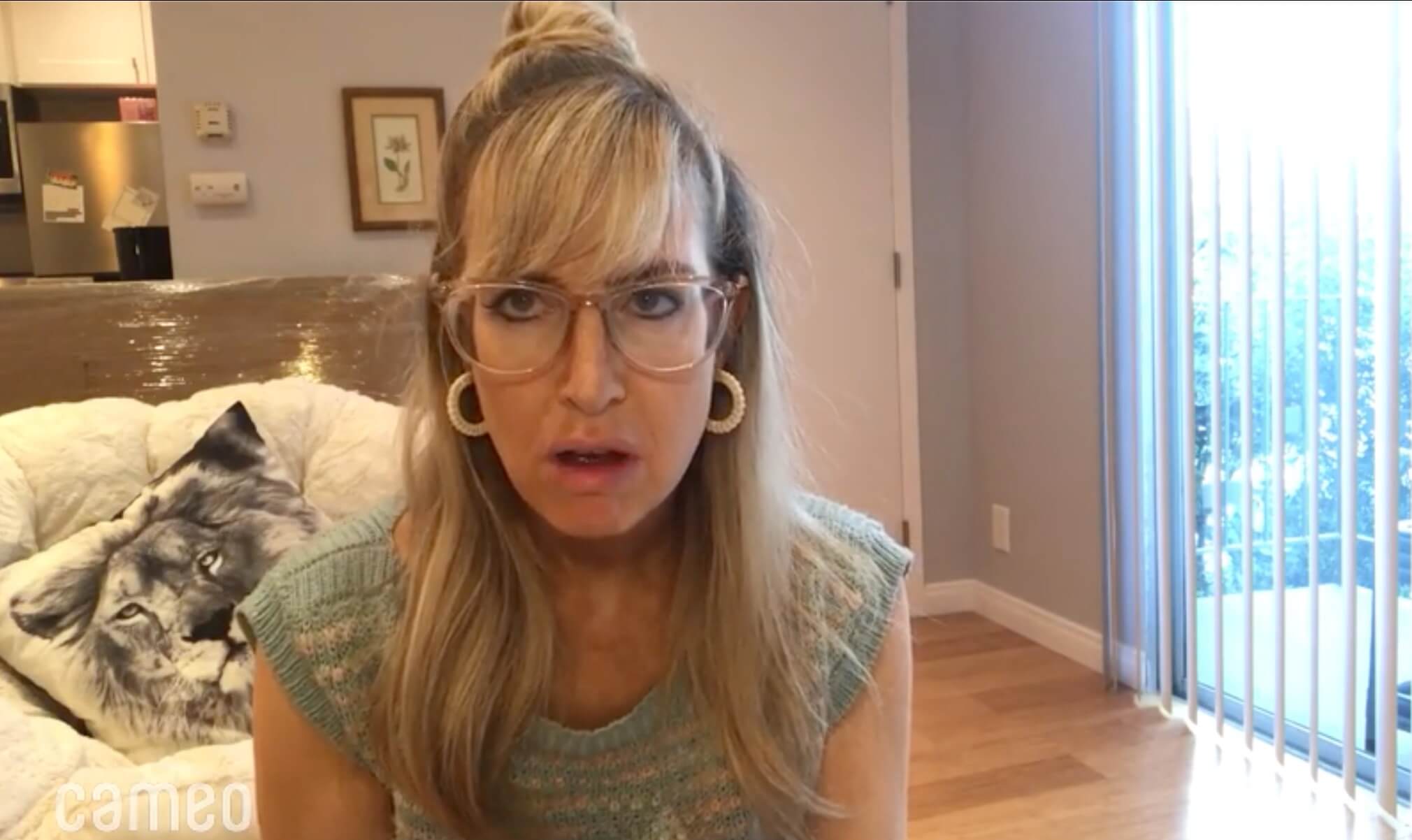 As any app scales, it loses some of its charm. This moment in personalized, on-demand celebrity interaction won't last forever, but it could flourish in this time of isolation, as the gig economy demands. Will it stay weird?
READ MORE: