Ever wanted to see a crossover between Princess Peach and Mario's seminal villain, Bowser? Just hop on Twitter, and if you're following the right people, you'll scroll past a handful of various artists' renditions of a character people have affectionately named "Bowsette."
Despite other recent, horrific Mario-inspired meme news, the results aren't as disgusting as you might think.
The best Bowsette memes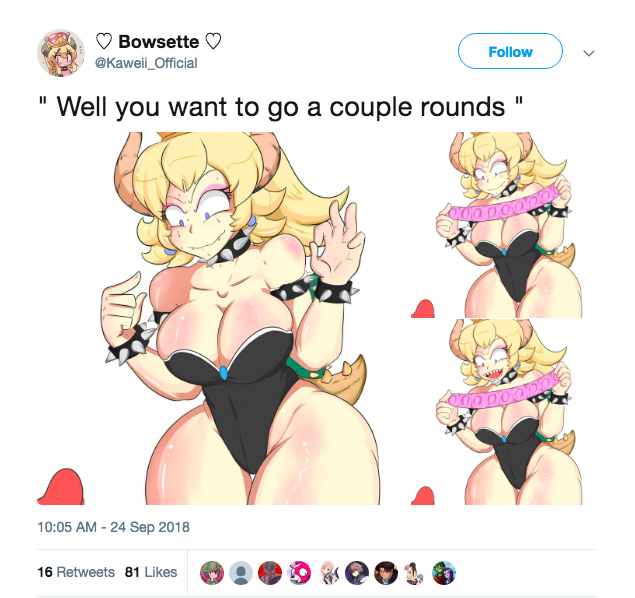 https://twitter.com/scitty_kitty/status/1044242362384470016
https://twitter.com/TheMrFoxXOffic1/status/1044201110477709312
Distracted Mario #クッパ姫 #Bowsette pic.twitter.com/X2GOBe4BSM

— Chira573 (@chira_573) September 24, 2018
See? Told you so.
The internet has gone crazy for this mashup character, who isn't even an official addition to the Mario universe, but if you ask the throngs of fans on social media, she certainly should be.
Who drew the first Bowsette rendition?
The craze seems to have all begun with this comic drawn by Twitter user @ayyk92, who took the new Super Crown's potential applications and ran with them. The comic implies that Bowser turns himself into a human woman like Peachette and begins dating Mario. Yes, totally plausible.
The Super Crown's some spicy new Mario lore pic.twitter.com/7DQe6UXvLQ

— haniwa (@ayyk92) September 19, 2018
READ MORE:
Remember, you are "bad guy", but you are not bad "GUY" pic.twitter.com/enrAueKb6C

— haniwa (@ayyk92) September 22, 2018
Where'd she come from though, anyway? During the last Nintendo Direct presentation earlier this month, when Nintendo finally unveiled a new Animal Crossing game for the Switch, the company made several other announcements. New Super Mario Bros. U Deluxe would finally be making its way from the Wii U to Switch with extra features for the handheld console.
One of these features is the Super Crown, which gives Toadette a new form that resembles Princess Peach. When donning the crown, she gains a pink dress, Peach-like form, a Toad crown, and hair that resembles her own. She can use double jumps, use Peach's floating jump, and overall looks just like everyone's favorite Mario royalty.
If Toadette powers up with a Super Crown in New #SuperMario Bros. U Deluxe on #NintendoSwitch, she transforms into Peachette, allowing her to float slowly and get a boost up if she falls into a pit. pic.twitter.com/6fqVHoirZY

— Nintendo of Europe (@NintendoEurope) September 15, 2018
So, what is Bowsette's origin story?
Of course, this got everyone asking important questions about Peachette in general, like what the lore is behind the character, if Toadette is somehow related to Peach, if other characters can turn into similar forms and a whole array of other questions that Nintendo hasn't answered yet. After people (like @ayyk92) began wondering what this transformation might do for Bowser, things spiraled out of control.
From there, Bowsette has grown into a veritable phenomenon across social media channels. No matter how she's depicted, that doesn't change the fact that people are extremely thirsty for her. Extremely.
The name Bowsette is just a portmanteau of "Bowser" and "Peachette," which is the name of the Toadette character that can now power up into a Princess Peach lookalike. If we were really naming her, she'd be "Peacher" or "Bowch." But go off, internet.

READ MORE: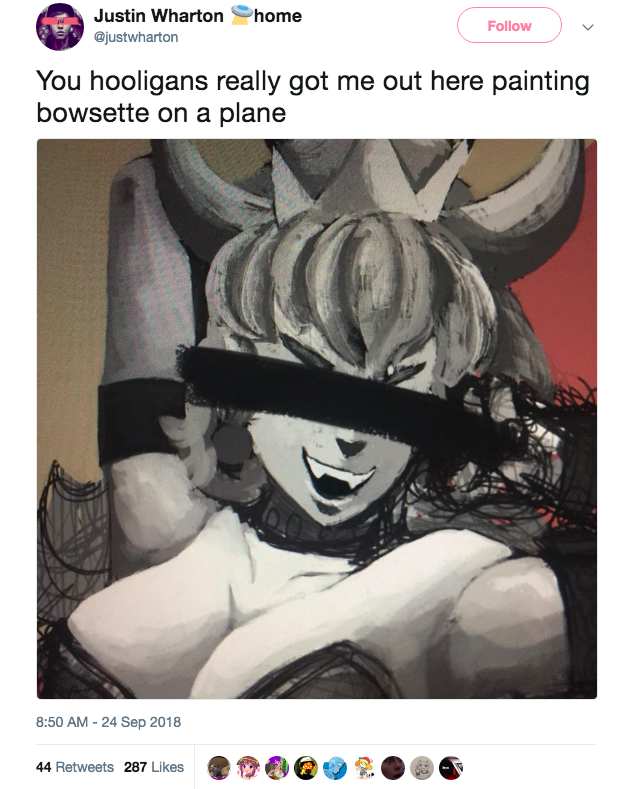 https://twitter.com/_Palutena_/status/1044127175941607426
https://twitter.com/daystar02/status/1044219967179313152
My take on Bowsette :D pic.twitter.com/fu4qLFIiMc

— バケx2/無視しないでください (@Thebakex2) September 24, 2018
These are just some of the more tame examples. You'll have to seek out the NSFW fan art on your own.
I love this #bowsette thing but draw her body more like bowser and less animu with huge bazongas you cowards pic.twitter.com/8pUbCWi2Kg

— Ivan Papiol (@ivanpapiol) September 24, 2018
Couldnt resist this cutie!#Bowsette #bowserette #bowserpeach #クッパ姫 pic.twitter.com/BVzktPrME8

— ⚡️Cody Bunt⚡️ (@STRIKDERP) September 24, 2018
Right now, going on Twitter is like:
https://twitter.com/Born2beSlicker/status/1044228317795233792
Honestly, though? We're totally here for it. Even if Nintendo may not be.
Nintendo HQ right now.#Bowsette #クッパ姫 pic.twitter.com/0GxZp2SF9y

— Richard Be-Sharps (@RchrdBShrps) September 24, 2018
Update 4:30pm CT: We're also seeing some offshoots of the Bowsette meme shared around Twitter, including this illustration by user @revolocities. Behold "Waluigette":
https://twitter.com/revolocities/status/1044057872743596032