The police have asked media outlets not to tweet information reported on police scanners or tactical locations as the search continues for Dzhokhar Tsarnaev, 19, the second suspect in the Boston Marathon bombing.
Boston and the surrounding area are on lockdown after last night's standoff between the suspects and police in Watertown, Mass. Universities in the surrounding area are closed today, and public transportation is down. Police have advised everyone to stay indoors.
The FBI released photographs of Dzhokhar Tsarnaev and his older brother, Tamerlan, late yesterday. Police responded to calls last night after an armed robbery on the campus of Massachusetts Institute of Technology. MIT officer Sean Collier was killed in the altercation, which led to a massive manhunt. Tamerlan Tsarnaev, 26, died after a gunbattle, which injured a police officer. He was identified as "Suspect #1."
The police have asked the media to stop reporting on locations and information on police scanners, which are now down, because it can put officers in harms' way.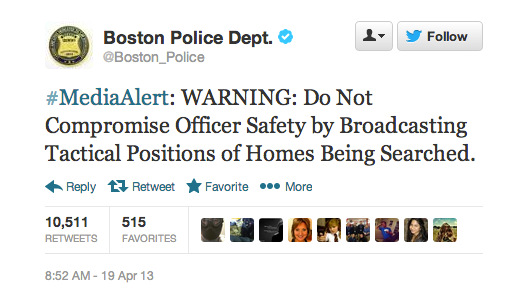 The Massachusetts State Police tweeted a similar message, which has been retweeted over 3,200 times.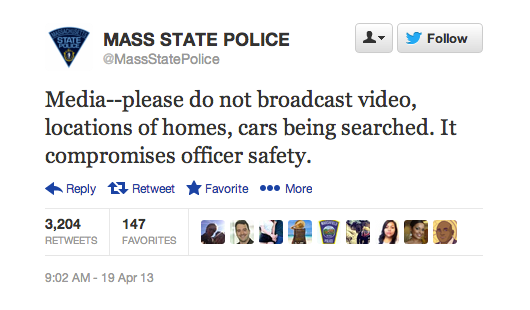 This isn't the first time the police have asked the media not to cover an event in real time. Fearing for officers' safety, they requested that they not tweet during the manhunt for suspected cop killer Christopher Dorner in February.
Many media outlets such as CNN came under public scrutiny after inaccurately reporting that police had a suspect in custody, and other sites, Reddit and 4chan among them, have wrongly identified the suspects. Multiple Twitter accounts have also popped up claiming to be Tsarnaev.
This time, the media is taking extreme caution, and some people who had previously tweeted such tactical information have taken it down in compliance with the Boston Police.
Multiple sources are reporting that Tsarnaev may be driving a gray Honda CRV with Massachusetts plate 316 ES9. A flier from Boston's Regional Intelligence Center says that Tsarnaev "MAY BE ARMED AND DANGEROUS."
Photo via @falonland/Twitter