NBA basketball player Chandler Parsons is evidently the type to hold a grudge, even over things that hadn't happened in the last three weeks.
Thursday afternoon, the Houston Rockets power forward took to Twitter to settle a score with Los Angeles Clippers All-StarBlake Griffin over an apparent low blow that the dynamic dunker had delivered at the end of their Jan. 15 game in Houston—and he brought video evidence.
Writing "Really dude?", Chandler directed a YouTube clip titled "The Silent Assassin" towards Griffin, who can be seen within the clip giving a somewhat unfair backside of the hand to Parsons' greater genital reason.
Parson's body juts forward and Griffin goes on unencumbered—his eyes focused on the next Kia car to jump over.
Griffin responded six minutes after Parsons delivered the tweet. His response was rather gimpish: "sprained my wrist and had to keep it moving.. My bad didn't even see you."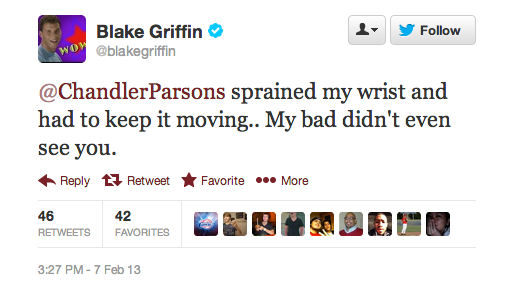 To which Chandler responded by saying that it "happens to the best of us."
Whoa, dude, that's a low blow.
Photo via Grant LA/YouTube