Bitcoin, the hard-to-trace decentralized digital currency associated with Reddit strippers and illegal online drug transactions, had a solid 2012.
"Our humble digital currency continued to show resilience in 2012," notes The Bitcoin Trader, a blog devoted to all things Bitcoin, "growing in all respects and steadily building its user base."
"The expression 'slow and steady' is a fitting descriptor."
Among the data citing to support this claim was the increase in downloads of the various Bitcoin-related clients. Bitcoin-qt, the most popular of the clients, reached 70,000 downloads a month in the second half of the year.

Photo via Bitcoin Trader
Other popular clients like MyWallet and MultiBit also saw an increase in downloads.
There was substantial growth in the number of items listed on Bitmit, an action site that only takes Bitcoin. By the end of 2012, there were more than 5,000 items up for bid.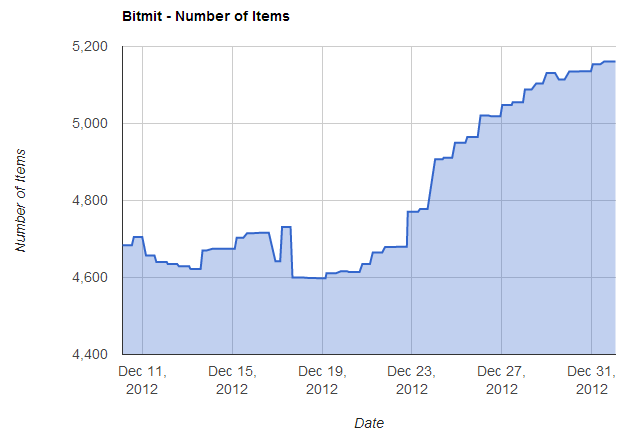 Photo via Bitcoin Trader
As of September 2012, more than 1,000 merchants in 98 countries were using Bitcoin. That figure, according to an anonymous commenter, is now at over 2,000.
There's evidence beyond these figures that 2012 was a landmark year for the digital currency. In August 2012, Bitcoin announced that it was launching a Mastercard debit card. Even better, the first ever Bitcoin bank was established in December.
Also worthy of note was the November announcement that blogging service and platform WordPress would begin using Bitcoin as an acceptable form of payment. The massive social news site Reddit also showed some love that same month when CEO Yishan Wong stated that Bitcoin could potentially be used to buy Reddit Gold, the site's premium service, down the line.
But perhaps the biggest sign of Bitcoin's emergence was news that the Federal Bureau of Investigation was concerned over the currency's rise in popularity.
Photo via Zach Copley/Flickr