Wojciech Braszczok, an undercover New York Police Department officer, was arrested for his involvement in a violent altercation between a driver and a motorcycle club. During his arraignment Wednesday, his charges of rioting and criminal mischief were upgraded to include gang assault.
Braszczok reportedly waited three days before informing the NYPD of his involvement in the attack. According to a police spokesperson, the officer has been stripped of his gun and badge pending charges and an investigation by Internal Affairs.
The Associated Press now claims to have footage of Braszczok, which shows him punching and kicking a Range Rover. Inside the vehicle was Alexian Lien, his wife and their 2-year-old daughter. Lien sped off during the attack, striking one of the bikers with his vehicle. The injured biker may be paralyzed due to his severe injuries. After hitting one of the group, Lien was then chased down by the bikers, removed from his vehicle and beaten.
NBC New York, citing an unidentied law enforcement official, reported that Braszczok spent the last five years working undercover, including a stint in the Occupy Wall Street. Now, in a strange twist, several activists have accused Braszczok of also being a man they knew as Al or Albert. The reports are as of yet unconfirmed, but speculation online lead to an investigation of Al's online activities. The protester Al infrequently used the Twitter handle @evovillen, which displays a photo of a man with a mohawk, standing in front of a Pulp Fiction movie poster.
Get in your riding before the winter hits

— Fastest (@evovillen) September 30, 2010
Why these obese girl think they could wear all this sexy costumes made for skinny bitches…

— Fastest (@evovillen) October 31, 2010
Come join us in spring training by occupying the stock exchange today at 2:30pm. Hope to see you there

— Fastest (@evovillen) April 6, 2012
Using the information available from the @evovillen account, a reporter for RT News was able to uncover a variety of other profiles online, including one to the dating website SingleBees.com in which Evovillen lists his employment as "fire, law enforcement, and security." On another website, StreetEasy.com, a user named Evovillen identifies himself as a cop.

The final account, which caught the reporter's attention, was a public profile on Photobucket that contained several NSFW images of at least two women. There were photos of a man as well, with a mohawk, standing in front of what appears to be the same Pulp Fiction movie poster, along with several pictures of motorcycles.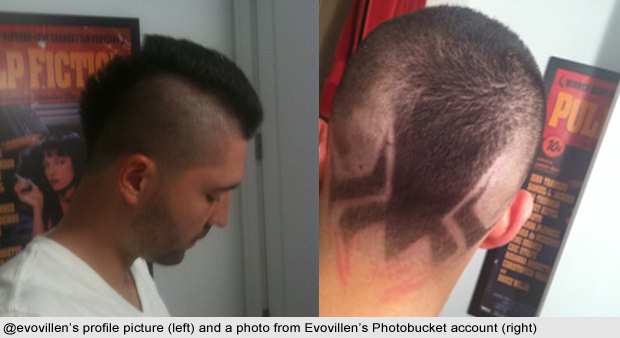 The NYPD has yet to confirm or deny if Braszczok is actually Evovillen, but the activists who knew Albert seem convinced.
Dear NYPD: Don't spy on activists using a fake name if you're posting nudes of girls using the same handle. smdh. https://t.co/Ukb7Xk81n0

— Andrew Blake (@apblake) October 9, 2013
H/T Andrew "Panda" Blake | Screengrab via YouTube