If you, like me, have spent far too much time scrolling to the bottom of emails to click "unsubscribe" only to see an email from the same sender pop back up a week later, you're not crazy. Yes, that button is lying to you: "You have successfully unsubscribe" is the fourth biggest lie on the Internet.
While it's a frustrating one, it is not alone. Bigger Internet lies include "I am at least 18 years of age" and "I have read the terms and conditions." Obviously 14-year-olds everywhere lie everyday to see… certain adult content, and there's just no way you and I have read the terms and conditions for the plethora of sites we hold accounts with.
But these are not the biggest lie; the biggest lie on the Internet, sadly, is "LOL."
Maybe at some point typing "LOL" indicated you were laughing out loud, but now it's the written equivalent of muttering "that's so funny" instead of actually laughing at something someone said.
The infographic comes from Visual.ly, and while there's no background or numbers asserting that these are in fact the Internet's biggest lies… at the end of the week, clearing out your inbox and ignoring spammy Faceboo friends requests, it all feels way, way too true.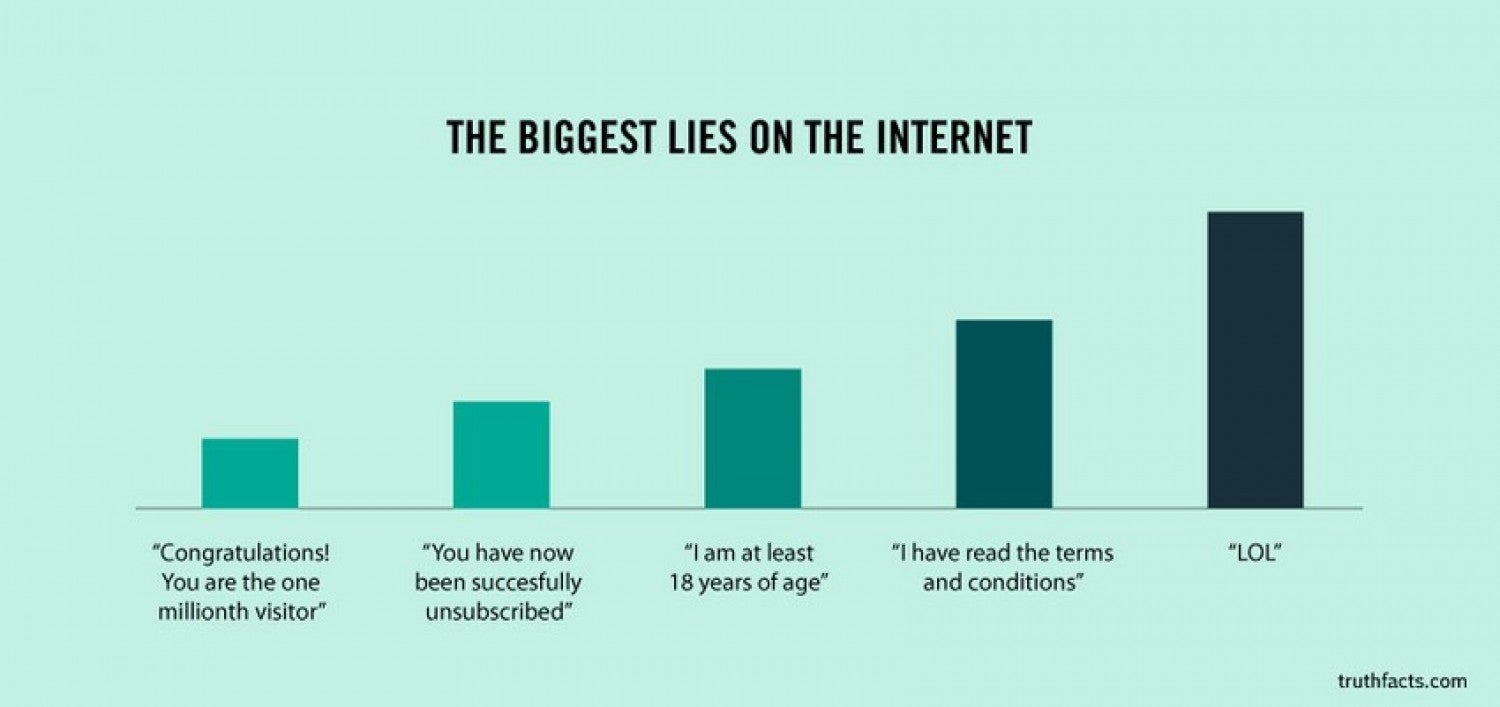 So there you have it. The five biggest Internet lies (or at least, what feel like them). Oh, also on there is "Congratulations! You are the one millionth visitor!" But if you actually buy that you probably just started using the Internet and have much to learn, my friend. 
We would like to add a few things to this chart though. First up: "brb." We know you're never, ever coming back. 
"It's not Photoshopped."
"Login with your HBO Go account." (It's never "yours.") 
All of the jargon you go through to post a Craigslist ad. 
And of course: 
"Like." 
H/T stephanieivanie/Visual.ly | Photo via The Wolf/Flickr (CC BY 2.0)