In just one weekend of furious gambling, a single Internet high roller has taken home close to 11,000 bitcoins—or about $1.3 million. The man, known online as Nakowa, has turned one of Bitcoin's most popular and profitable casinos into a loser. What no one can figure out: Is he a cheater, a genius, or the luckiest man on earth?
This is almost certainly the biggest gambling win in Bitcoin history and, as of early Monday morning, Nakowa is still betting high.
Just-Dice.com, a European-based cybercasino offering a set of dice games played for the highly valuable digital currency Bitcoin, has been on a roller coaster ride.
Nakowa's gambling began badly. His weekend started on a losing streak that made Just-Dice richer than it had ever been, causing the site to hit its highest single profit point of all time (7,000 bitcoins or $862,400 on hand), according to multiple witnesses.
However, as Nakowa—who has been called "fearless"—continued playing, a big swing hit hard. By Monday morning, Just-Dice.com's on hand profit had been erased completely. It currently sits about $264,200 (2,000 bitcoins) in the red and sinking fast, waiting to be replenished by the casino's savings account worth about $5.6 million.
One observer recorded a video of the Just-Dice's public bet log which shows Nakowa beginning Friday night with over $111,000 in losses before winning a single bet. At the risk of making the understatement of the century, things soon turned around for Nakowa in a big way.
Just-Dice.com was founded in June 2013 by an anonymous developer known as dooglus. In only its first month of operation, 429,600 bitcoins ($38 million then, $53 million today) were wagered on the site.
Just-Dice boasts several major features that have made it very popular: The website is highly functional, the gambling is simple and quick, the casino only has a slim 1 percent edge, and the whole system is "provably fair," meaning because transparent algorithms power the betting, there is no way for the website to pick numbers to make players lose. 
"A great innovative system that improves on 'dice' type btc betting in nearly every way," wrote Factory at Bitcointalk.com at Just-Dice's launch.
The most innovative thing about Just-Dice is that it doesn't just go after gamblers, it also attracts investors. Anyone can put money into the site for other players to play against. Investors get to keep any profits and losses made on their Bitcoins. 
Since June 2013, over 135,000 Bitcoins have been invested into the site, adding up to over $16.7 million dollars, according to the website's public Bitcoin blockchain. Dwarfing that figure, 1,300,389 million Bitcoins have been wagered on the site, tallying up to $160.8 million.
The casino's slim 1 percent edge is a big attraction to gamblers. It means that players have a realistic shot of winning money. That fact alone gets more and more people betting their Bitcoins. Over the long run, it means that Just-Dice can take even more money from the players.
However, playing against a meager 1 percent disadvantage means that once a high roller like Nakowa inevitably hits a good streak, he can wield his massive bankroll like a club by repeatedly betting big with almost no thought to his losses until he eventually does serious damage to the casino's coffers.
Perhaps Nakowa is a single individual with deep pockets. Other theories wonder if he is simply managing other people's money to build an even stronger bankroll. No one knows for sure who he is or how he's taken so much money at this point. 
Words like "cheat," "thief," "lucky," and even "supernatural" are being tossed around as observers try to come to grips with the immense streak.
Has he simply figured the cybercasino out?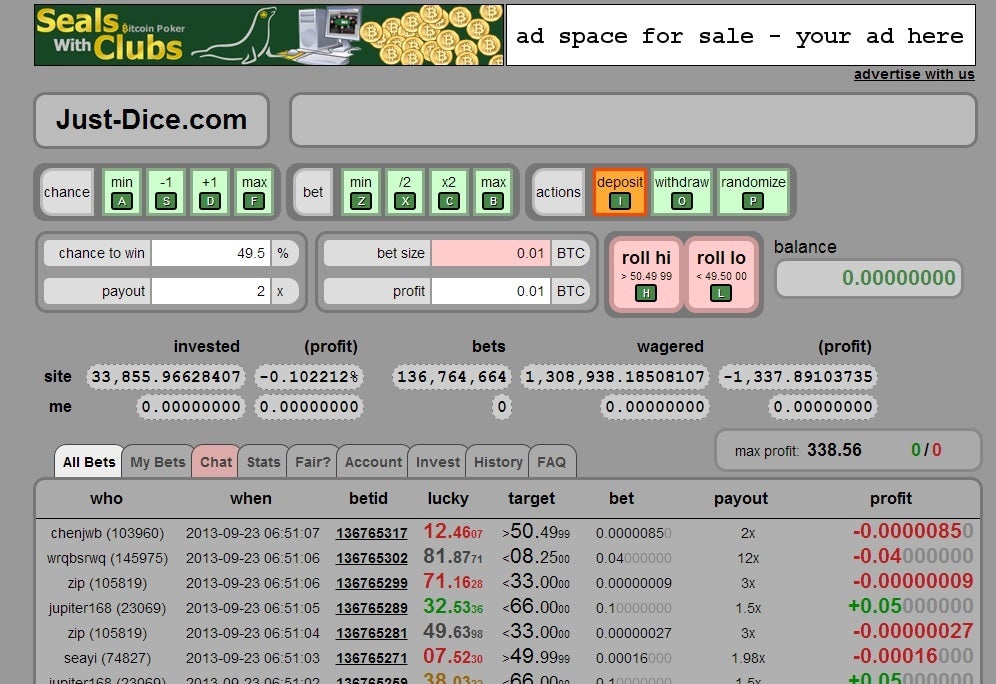 The Just-Dice.com homepage.
 
Many people know Bitcoin only for black markets such as Silk Road. The currency is often associated with illegal drug or firearms trade. However, the currency has many other uses, including a multimillion-dollar-and-growing gambling industry.
In July 2013, SatoshiDice, the first Bitcoin gambling website, sold for $11.5 million to an unknown buyer. The site made up to $400,000 per month as early as January 2013.
"[SatoshiDice] was the first major acquisition of any Bitcoin company in history, but no doubt it will not be the last, especially in the online Bitcoin gambling space," reported Bitcoin Magazine.
Today, there are dozens of active Bitcoin casinos. A recent Bitcoin Magazine survey found that the Bitcoin cybercasinos, which serve a total user base numbering in the tens of thousands, now earn anywhere from $100 to $610,000 in monthly profits. 
Gambling, which is legal online in much of the world outside of the United States, is already an enormous part of the overall Bitcoin economy.

A Sunday night streak by Nakowa. The numbers on the right denote bitcoins won (green) or lost (red). In 10 seconds, Nakowa wins 1,000 bitcoins.
 
Nakowa's first big winning streak of the weekend came over the course of 10 minutes on Thursday night when he repeatedly bet from 100 ($12,000) to 300 bitcoins ($36,000). He repeated that betting pattern throughout the weekend.
Several other short, costly sessions took place over the weekend, the worst of which came on Sunday evening. In the small space of 18 seconds, Nakowa (gambling under the name Charlotte) won more than 1,000 bitcoins ( $123,000) in 10 rolls. To put that into some context, that's about $6,833 per second.
The entire affair has left numerous investors and observers feeling dizzy and, often, suspicious. By Friday, several investors tried to cut their losses by divesting their money and walking away. However, Just-Dice came under DDoS attack for several minutes, according to numerous witnesses, making it impossible for them to withdraw their money. By the time they'd returned, Nakowa had won even more.
One investor even started a Twitter account to alert others as to when Nakowa came online—they could recognize him by his uniquely big, rapid bets—so that they could try to divest while he was active.
Others asked if it was possible to ban Nakowa. A few stood up against the idea.
"You want people like this to come in and gamble," wrote Alexout. "In fact having a high roller come in once and winning is worse than a high roller come in and play over and over again. If he can't stop playing on the site, that's only a good thing. Hopefully he will lose most of it back in time."
Although multiple theories are being floated—has he figured out an exploit and hacked Just-Dice? Is he a Just-Dice employee essentially stealing money from investors?—several investors say they are happily waiting for Nakowa to keep gambling and eventually lose it all. In fact, some investors are considering putting even more money into Just-Dice.
"I'm waiting for when nakowa loses 10K [bitcoins]," Just-Dice user Trout said. "I think this is inevitable."
The Nakowa nightmare weekend has taken serious cash from Just-Dice, but don't worry about them just yet. Even with the website's current deficit of 2,000 bitcoins, that amounts to just 3.8 percent of the website's total savings of 48,000 bitcoins ($5.9 million).
On Monday morning, about 200 bitcoins ($24,000) were being gambled on Just-Dice per hour when Nakowa was absent. When he returned for a blistering 10-minute session, the average spiked to about 2,500 bitcoins ($300,000) per hour.

Nakowa loses 900 bitcoins in 20 seconds on a bad Thursday run.
 
It's proven impossible to verify the identity of Nakowa thus far, but it is easy to show that real bitcoins—and thus real money—is moving. Public records show that Nakowa received 4,500 bitcoins in July after his first round of gambles. If and when Nakowa withdraws his winnings from Just-Dice in the near future, we will see it.
On Saturday, Nakowa showed up on the Bitcointalk.org forums to talk about recent events.
"I WANT to QUIT, really," he wrote. "However, quitting from winning is much harder than quitting from losing. I'm trying very hard to leave this site, I MEAN it. I know I might fail, God bless me."
Nakowa even held an AMA on Reddit on Monday morning. He said he owns so many bitcoins because he bought into the currency early on in 2011 when they were cheap buys.
Nakowa's Just-Dice story begins earlier this year. After a 3,000-bitcoin win on in July 2013, he took to the forums to explain the flaw he was exploiting, only to leave the forum with a meandering explanation containing factual errors. Was the purpose of these posts to throw off observers? Does he want to look like a delusional, degenerate gambler to mask whatever he really is?
"This guy is a gambling genius," wrote bugpowder after examining Nakowa's big July profit margins. 
Maybe, maybe not. The question is, how does he do it?
Photo via BTC Keychain/Flickr