Netflix's original anime Neo Yokio isn't that memorable five months after its release, except for one thing: that giant Toblerone chocolate bar. The Big Toblerone, which must be about two feet long, figured prominently in one scene and briefly became an internet meme back in September. Now that Valentine's Day is here, the Big Toblerone is back with a vengeance; Netflix has created a generator site where you can make your own Big Toblerone valentines.
How did this meme come to be associated with Valentine's Day, though? Let's go back to the beginning.
In the relevant scene from Neo Yokio, Jaden Smith's character tells Tavi Gevinson's character, "You don't deserve this giant Toblerone," and leaves to be alone with his comically huge chocolate.
https://www.youtube.com/watch?v=CGv4IxGgmgA
A tragedy in 4 parts #NeoYokio pic.twitter.com/xLFtm8hB2x

— Robert H Mullarkey (@Robert88UK) September 22, 2017
People memed the Big Toblerone both as a non-sequitur and a joke where the chocolate represents love. And you don't just give someone your Big Toblerone if they don't deserve it.
So- yeah. #neoyokio pic.twitter.com/DR6LLMd7ct

— Misa @ Komiket Cavite #2 (@Misamisatotomi) September 25, 2017
Then the connection to Valentine's Day became even more obvious. Love, chocolate … sure. But also this viral Toblerone valentine card from Tumblr:
http://magicsherifftaako.tumblr.com/post/165743564375/this-is-the-worst-thing-ive-ever-made
Netflix must have been inspired, because its Neo Yokio meme generator site, youdontdeservethis.com, has been updated for Valentine's Day. Previously, you could add a message to a photo of Kaz Kaan (Jaden Smith) on a bench with his Big Toblerone.
https://twitter.com/ZaaraKay/status/917141061851529216
Now, you can customize this Valentine's Day card.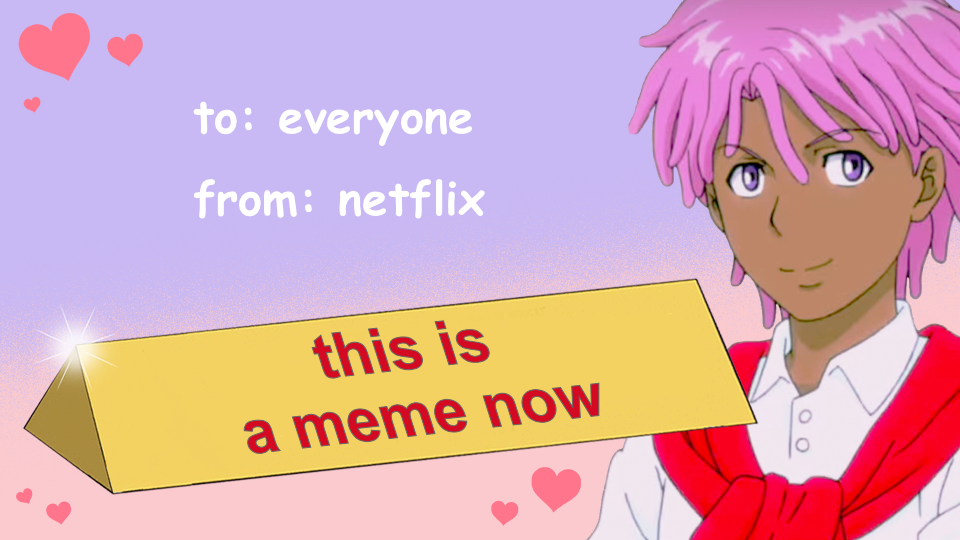 There weren't that many of them floating around on Feb. 13, but Polygon recently wrote about the website, so who knows what Valentine's Day will bring.
We deserve this Big Toblerone meme! Good timing, too, because Neo Yokio creator Ezra Koenig (of the band Vampire Weekend) has just started teasing a second season of the anime.