As 2016 drew to a close, it seemed like Twitter couldn't get any worse. The year had been dominated by Russian bots and white supremacist agitators, and as it drew to a close, it was Time for Some Game Theory. Had the bad website finally hit rock bottom? A year later, we know that it absolutely had not. It hardly seems possible, but 2017 brought even hotter takes and even steamier garbage: Verritt authentication codes, battles between roses and corncobs, Kurt Eichenwald looking at anime porn. Each oozing pustule of "free speech" was worst than the last. And then there were Twitter's policies—Nazis and anime avatars ran wild, while anyone who challenged them was reported for abuse and suspended from the site.
But we kept coming back to drink from Twitter's poisoned well, day after day. Why? Stockholm Syndrome, for sure. But also good jokes. They were rare, but when they were good, they were very good. They made us, for a brief moment, stop regretting that human beings ever developed language.
Here are the indisputable greatest tweets of 2017. These are them. There are no appeals. Don't @ me.
[Dentist waiting room]

Me: [chanting] teeth, teeth-

Other patients: teeth, TEETH

Secretary: [pounding her clipboard] TEETH, TEETH, TEETH!

— brandAn is good (@LeBearGirdle) August 17, 2017
https://twitter.com/trojansauce/status/930047438773276674
Today is gonna be the day that they're gonna throw it back to you pic.twitter.com/qCoF30eEWK

— Sean Leahy (@thepunningman) February 7, 2017
Did it hurt babe
"did what hurt"
When you fell from Jo-Ann Fabrics

— Nate (@adda_boi) May 25, 2017
Ten years ago we had Johnny Skills, Steve Jobs, and Bob Wages. Now we have the Democratic Party.

— Shuja Haider (@shujaxhaider) July 20, 2017
Welcome to your 30s. You now have Home Advil and Purse Advil.

— Valerie (@ValeeGrrl) September 7, 2017
The reality is, a vanilla soy latte is a type of three-bean soup.

— Lockwood DeWitt (@lockwooddewitt) August 8, 2017
the great joy of your late twenties is watching all your friends "fat chandler"

— monica heisey (@monicaheisey) May 19, 2017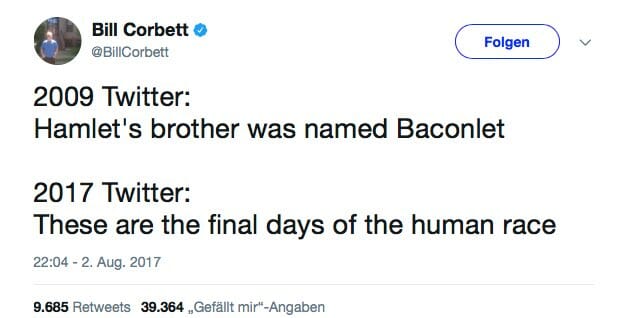 "How tall are you?"
"Me? Oh, I'm roughly the pic.twitter.com/CUvLxP4aq1

— undecided boater (@jhermann) May 23, 2017
is sapiosexuality the one where you only date people who sarcastically refer to every sport as "sportsball"

— J. Jennifer Espinoza (@sadqueer4life) June 13, 2017
When your straight friend Jean makes a funny joke pic.twitter.com/o180oOeqye

— joey (@joeyz95) July 23, 2017
https://twitter.com/Home_Halfway/status/891487625886011395
https://twitter.com/frozenblueber/status/938748220573999104
https://twitter.com/MiQL/status/877332240199372801
https://twitter.com/kathbarbadoro/status/886786495339798528
I'm no geologist but this is quite an interesting Rock formation. pic.twitter.com/oPrh6j1y2x

— Daniel Holland (@DannyDutch) July 25, 2017
the guy who brings his own lamp to the archives is back. when I asked him about it last time all he said back was "I'm not fucking around" pic.twitter.com/ba5AwcomxJ

— Hootin N. Holleren (@mckellogs) June 21, 2017
397. Big Sean comes out as asexual pic.twitter.com/fnkwWRpYDn

— /@/ (@LeftAtLondon) March 6, 2017
iPhone Settings was once challenged to write a story using only four words, pic.twitter.com/wuQZgxyL0s

— Neven Mrgan (@mrgan) October 2, 2017
I always find it funny when idols use korean honorifics when talking bout western artist..However, I've yet found anything funnier than this pic.twitter.com/svJwIFZSJf

— dan (@yuiringos) June 22, 2017
https://twitter.com/ShugoWah/status/878489076348764160
This Is Just To Say

I have eaten
the baby shoes
that were
for sale

Forgive me
they were delicious
so small
and never worn

— Adam O'Fallon Price (@AdamOPrice) June 8, 2017
Saving this screenshot for when my grandkids ask me what 2017 was like. pic.twitter.com/oFt0Nm86wP

— Copy McPasty, Writer (@KashannKilson) July 10, 2017
G orgeous
L adies
O f
W orking from home

— jenny (@fvrmvn) July 10, 2017
AMAZON, 1998: hello we sell books but online

AMAZON, 2023: please return to your Primehouse for your nightly Primemeal, valued Primecitizen

— mr cant spell good (@KrangTNelson) June 16, 2017
JOHN LENNON: He wear no shoeshine, he got…toe-jam football, he got…monkey finger, he shoot…Coca-Cola

POLICE SKETCH ARTIST: what

— Jon (@ArfMeasures) July 10, 2017
When sequels go bad… pic.twitter.com/FjfBdYoWlF

— Geraint (@geraintgriffith) July 10, 2017
https://twitter.com/Integrity_Guy/status/902180933440331777
https://twitter.com/PowerfulUggo/status/902608095049908224
hey button, guess who is president right now pic.twitter.com/6a9n1sloqL

— Scott Wessman (@scottew) August 30, 2017
Me: I like the funny horse cartoon

Bojack: you inherit your parents' trauma but you will never fully understand it

Me: haha the cops a cat

— please be nice to patrick (@ruff_bluffs) September 10, 2017
[being interviewed after losing beatboxing battle] were you just saying "p-p-p-pulled pork sandwiches" over and over?

— madrigal (@whatmaddness) August 1, 2017
https://twitter.com/ZhouChauster/status/913403494287265792

welcome to 99 percent invisible, im Roman Mars. theres a picture that is seen frequently online. A pig, pooping on its own balls. this pictu

— samantha carter (@a_nice_frog) October 5, 2017
https://twitter.com/zekNcashe/status/916027985219768321
I get logged off,
I log on again,
I'm never gonna get logged off

— James (@cashbonez) October 26, 2017
maybe the stranger things 2 were the friends we made along the way

— 『 the knife alien 』 (@spacedrugs) October 31, 2017
wife: I just got stung by a jellyfish. quick, pee on it
me: [peeing on jellyfish] this is for stinging my wife

— YΛBKΛƬ (@ohen39) October 25, 2017
When you and your hideous family are hungry as hale and arguing over what to have delivered, because Heatherd wants Mexican, Gorkon wants a bread-rrito and KKaseYy wants chicken tartare pic.twitter.com/pvTVeVQjjv

— Logan (@PlagueLovers) October 24, 2017
do you have the time
to inform me of the time
i'm running late and
i forgot my watch

it is one of those
great chronologic tools
that displays the current time
and i forgot it

— the internet's michael lutz (@WarrenIsDead) November 21, 2017
This is still the greatest of all time. pic.twitter.com/3PZNJNWduM

— Buttons O'Houlihan (@HBJohnXuandou) November 21, 2017
Adult friendship = 2 people saying "I haven't seen you in forever! We should really hang out more" over and over again until one of you dies

— Lyndsey Gallant (@apocalynds) July 23, 2017
https://twitter.com/Mr_DrinksOnMe/status/843078849860702208
https://twitter.com/NifMuhammad/status/933426362035134464
trebek: this true cause of aging eventually kills you

contestant: [visibly shaken] what is nostalgia

— retsoor (@retsoor) November 25, 2017
can't stop reading ICO as "insane clown offering"

— A. Crimer (@adcrimer) November 27, 2017
Dang Woody Guthrie sold out pic.twitter.com/ippPISeVt7

— the display name updater (@goofoffartiste) November 27, 2017
for sale: baby shoes, deadstock pic.twitter.com/jqVZ8Ly5kf

— poet of the decade (@broazay) December 5, 2017
https://twitter.com/akacrispy/status/938156900302163969
I know what I want
And I want it now
I want you
Cause I'm Mr Bean

— Face (@Arr) December 9, 2017
*looks at straight couple* "But which one of you is the dungeon and which is the dragon?"

— Alexandra Erin (@AlexandraErin) December 9, 2017
https://twitter.com/Vicas3/status/938782693675986944
https://twitter.com/HeraLindsayBird/status/895811291855462401
but doctor….. i AM pagliacci pic.twitter.com/8X7SiK4Gtt

— the Facts Bastard (nice now) (@tonybonesarelli) April 25, 2017
People who write dumb tweets should get shipped off to Eichenwald or Daou.

— Ken Jennings (@KenJennings) September 5, 2017
young man, there's no need to feel down/
i said, young man, i know of a great clown/
i said, young man, pagliacci's in town/
there's no need to be unhappy

— ♄ (@celestialmecha) December 14, 2017
May you and your love ones have a joyous holiday season and a prosperous new year. And, in 2018, may you find the strength to Log Off.