Given the period in which he rose to political power, and the way he did, it would be harder to explain if President Donald Trump wasn't the most meme-able man on the planet.
As such, the internet is laden with GIFs from his journey to the nomination. As his term has entered its fourth year, Trump has become slightly less GIFable, perhaps due to fatigue or saturation, but the ones in existence from his campaign and first few years right now are still as popular as ever.
And it's not just among his adoring followers; liberals are just as quick to use a "Wrong" GIF to respond in an online fight as anyone else.
Maybe the "J" in his middle name is actually a soft "G." Donald GIF Trump.
Best Donald Trump GIFs
1) Second Republican debate
This GIF featuring Trump's face journey was captured during his second Republican presidential debate when Trump was more curiosity than phenomenon.
At the same time, this was the debate he went on a "vaccines cause austism" tear, so this face was probably extremely relatable to viewers.
2) The infamous Melania GIF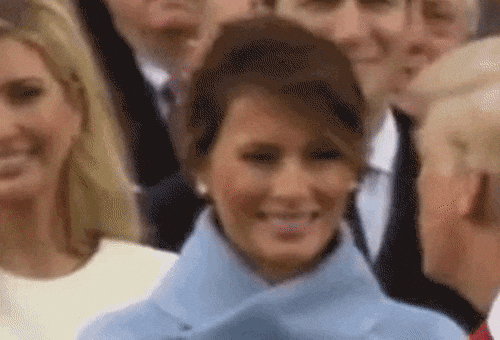 This GIF of First Lady Melania Trump during Trump's inauguration caught a lot of attention. She can be seen smiling at her husband until he turns around, where her faces immediately changes to a more somber expression.
It contributed to a trend of concerned individuals feeling sorry for the first lady and theorizing that she needed rescuing from her position. There was even a #FreeMelania trend that started on Twitter. Needless to say, she's probably fine, but this GIF makes for a great reaction image.
3) The eagle strikes!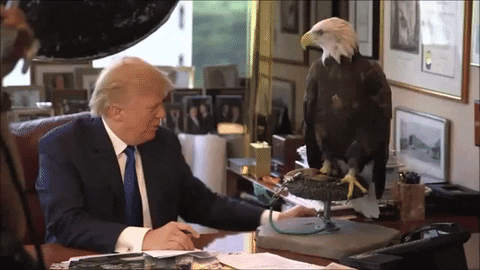 During a photo shoot with Time Magazine, Trump was set to pose with a 27-year-old bald eagle named "Uncle Sam." Time released footage from the shoot, including this scene where Uncle Sam lunged at the president, who recoiled back in fear before the bird could do any damage.
Symbolic much?
4) Put'er there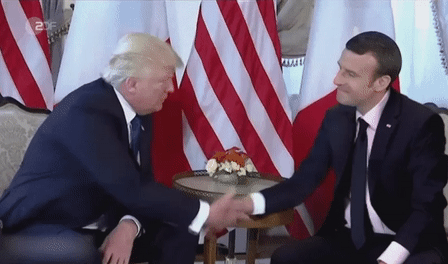 There is no shortage of GIFs of Trump shaking hands with various world leaders, as seen here with Trump and French President Emmanuel Macron exchanging a much-too-long handshake.
We all know at this point how the president loves to go in for an intense handshake and this GIF shows how hard Trump will go to outdo anyone.
5) Don't look directly into an eclipse guys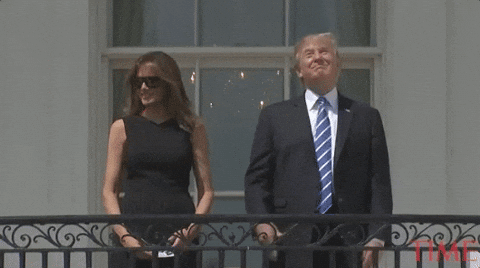 Who remembers the solar eclipse that happened on August 2017? Surely you also remember when Trump and Melania stood on the White House's Truman Balcony to observe the eclipse as it happened.
Despite the warning about staring at an eclipse without protective "eclipse glasses," Trump can be seen looking up at the sky with his eyes uncovered.
6) Not quite how one usually drinks water
In this GIF, Trump was discussing the U.S. trade deficit, when he decided to take an awkward swig out of a bottle of Fiji water.
He used both hands to lift the bottle to his mouth before taking a sip, and enough people deemed this a GIF-able moment.
7) Don't leave me hanging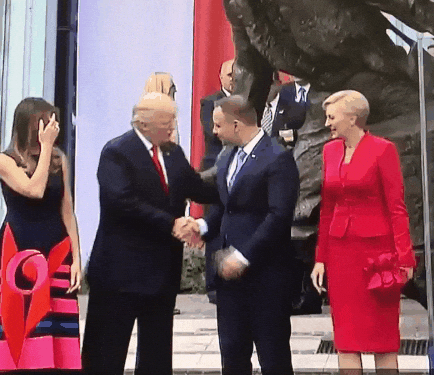 As funny as this GIF of Poland's First Lady Agata Kornhauser-Duda seemingly refusing to shake Trump's hand is, Snopes confirmed that Trump received a handshake after this GIF was cut off.
Still, many people were amused at what they thought was the president being snubbed.
8) When the wind blows through your hair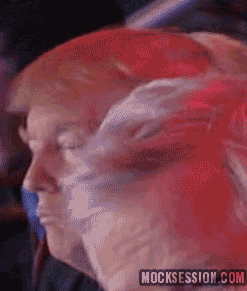 This list wouldn't be complete without the president's infamous hair. There is no shortage of GIFs or images of Trump's hair struggling against the wind. Here, the wind is certainly having its fun, as well as everyone capturing these photos and using them as reaction photos and GIFs.
And of course, everyone's favorite.
9) Wrong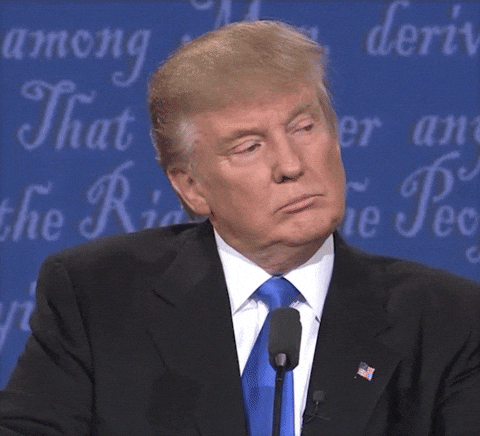 READ MORE: