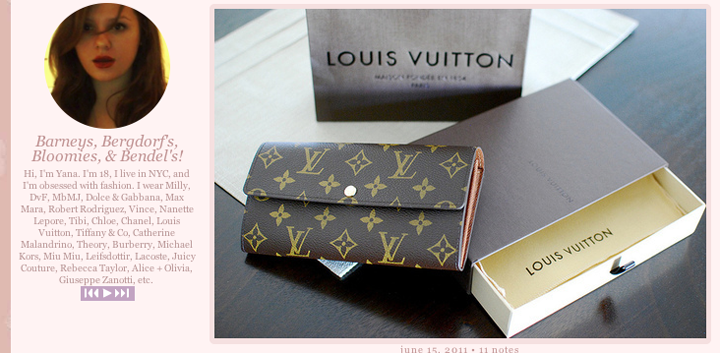 She's the most reblogged Tumblr user of over 7 million in Tumblr's userbase. Brand-obsessed, 18-year old-Yana publishes Bergdorf Princess, an incessant stream of gorgeous fashion and lifestyle photos that would make even Carrie from Sex and the City giddy with glee.
Reblogging — a signature Tumblr gesture which allows any Tumblr user to quickly share a Tumblr post they like with everyone who follows their feed — is the point-scoring mechanism of Tumblr's universe, and Yana is racking it up.
"I'm obsessed with fashion," Yana writes on her bio — as if scrolling through her latest Tumblr posts doesn't display her fervid fashion fanaticism.
Yana's Tumblr is almost exclusively visual, offering very little commentary on the pieces she posts. Her other blog, hosted through the venerable blogging service Blogger, offers a bit more insight into Yana's perspective on her own daily wardrobe. Details of individual outfits she wears, her thoughts on high-end shoes, and extensive picture collections enumerating items scored on recent shopping trips paint the full picture of a fashion drenched young New Yorker. The blog's title, "a stroke of fabulosity" explains much.
Whether you're fashion forward or fashion failure, Yana's Bergdorf Princess is striking — perhaps why it's so frequently reblogged. It's also potential death by credit card, if you find yourself easily swayed into overspending on couture. Consider yourself warned.