There are very strict guidelines about passport photographs these days. You can't smile or wear glasses or anything else that might obscure your identity. You can, apparently, include '90s girl groups in your photo—as one 77-year-old man from Bradford, England, discovered.
my grandad went to get a passport pic but accidentally got one with atomic kitten on he look so confused im screaming pic.twitter.com/vO9xHK3rRP

— ceara (@cearathacker) March 30, 2014
Eamonn McFadden accidentally ended up as the fourth member of Atomic Kitten, a dance-pop group that made it big in the early 2000s with hits like "Whole Again" and "Eternal Flame."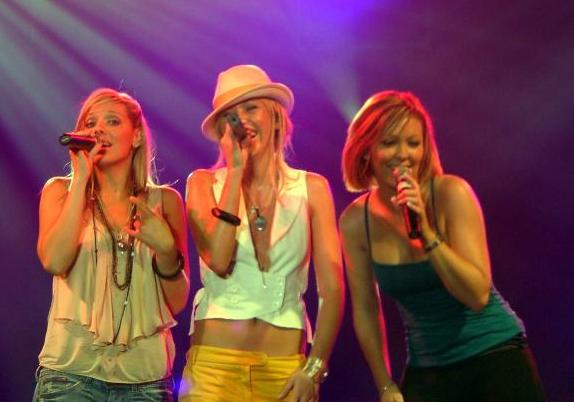 Atomic Kitten in concert in 2005. Photo via Wikimedia Commons
We can thank McFadden's 15-year-old granddaughter Ceara Thacker for posting the picture on Twitter. She revealed that her grandfather was so confused that he and his wife looked inside the photobooth to see if the band was there. 
Speaking to the Metro, Ceara said, "He's embarrassed but can see the funny side. The photo was from a few years ago but recently unearthed."
my grandad is twitter famous

— ceara (@cearathacker) April 1, 2014
The more important question: Where can we find this photobooth with the ghosts of '90s bands?
Photo via Ceara Thacker/Twitter | H/T Metro