Genocide in Burma (Myanmar) is, unfortunately, nothing new. The country is consistently featured in Worst Human Rights lists. But with the recent democratic reforms—including the freedom of former political prisoner Aung San Suu Kyi—there was hope.
Unfortunately, it took hacktivist collective Anonymous to show the world that for oppressed minorities in the country, things are unchanged. In the case of the Rohingya people, life is actually far worse.
OpRohingya aims to bring attention to the slaughter and forced dislocation of tens of thousands of Rohingya people from their traditional lands. The Rohingya people are Muslim in a predominantly Buddhist nation, and many observers are putting this conflict down to clashes between religions. In an exclusive interview with the Daily Dot, Global Square founder Heather Marsh debunks that claim and indicates that the actual motivation for these sectarian clashes is no different than that which motivated either of the Gulf Wars. 
Marsh told us she discovered the Rohingya issue last summer, after the first reported massacre in June. "I started getting hysterical after the second massacre [in October], when it became more obvious that this was systemic and was not going to be solved by NGO's and UN platitudes. Reading Dr. Aye Chan and Monk Wirathu was completely chilling; everything was so openly genocidal." Wirathu is a very prominent supporter of Aung San Suu Kyi, and according to GlobalResearch.ca has also been an outspoken proponent of the slaughter of the Rohingya. He has been censured for his anti-Muslim hate speech.
Marsh explains:
I did not see any of them being addressed by "those mandated to keep an eye on things" as an NGO described themselves to me, and none of them were covered from a local perspective in the media either. I have wanted the voices of local people to replace voices speaking for them in the media and NGOs for a long time, and seeing @Aungaungsittwe tweeting diligently into the darkness was extremely frustrating. So very grateful to Anonymous and Occupy for helping to amplify this. It was also helped by everyone I have ever worked with on any other project, people from Guantanamo, Gaza, Kashmir, Gabon, Brazil, Eritrea, Kenya and all their friends. Truly amazing global solidarity.

Media were presenting this as a spontaneous flareup of grass roots violence that had only been held in bay by military rule. It is actually well planned and top down conditioning in racial hatred by powerful figures who have ties to military and intelligence and operate with impunity.
We asked what was behind it all: Although Burma has a history of sectarian violence, why suddenly the Rohingya rather than the Karen, another minority in the country which have endured an estimated 140,000 displaced refugees? Was it, as rumoured, all about oil? 
Resources play a very big part, the Rohingya are being cleared off land that is wanted for resource contracts and the world bank and foreign governments are not willing to bring up human rights with 30 oil and gas contracts waiting to be signed in April. But the conflict in central Myanmar is different. These are areas where Muslims and Buddhists have gotten along for years and our reports say the violence is from trucked in "strangers." Many there think that it will be used as an excuse for reinstatement of military rule, and western media is setting the stage to excuse that as a "necessary evil" by reporting on violence that "flared up" because of a "power vacuum."
OpRohingya on Sunday was extremely successful: Not only did they trend No. 1 in the U.S., but they were also  No. 3 in the U.K. and hit top 10 worldwide. For those who might dismiss this as slacktivism, we'd draw your attention to the fact that this morning a report on the Rohingya slaughters is on the front page of The Guardian, which has not previously covered the issue. Al Jazeera, the Qatari network, has covered the Rohingya issue a number of times, but it has yet to truly penetrate Western media, which is riding a wave of optimism since Aung San Suu Kyi was freed from her decades-long house arrest. Coverage on radical sites has been growing, but until the Twitter storm, there was virtually no coverage in what could be considered the mainstream media. 
Tweets in the tweetstorm included the fax number to the CNN assignment desk (no joy there so far) as well as a live protest in front of the CNN offices. The protesters were reportedly told by a CNN staffer that they "don't care" about the issue. The protest was, as all protests currently are, livestreamed. In a hearkening back to Tiananmen Square days, black faxes were sent to Burmese embassies, and numerous government sites including the office of the president were either DDoS'd or defaced. Instructions for the Twitterstorm, distributed on Pastebin, were unusually detailed, which certainly had an impact on their effectiveness. By laying out so many specific options, Anonymous maximized the chance that someone would feel connected enough to any specific one to tweet it, and by suggesting copy/paste tweets rather than retweets, Anonymous successfully gamed the Twitter system, gaining the top ranking. 
Clever media strategies may seem trivial or mundane, but in a world where lives are at stake and the fate of a people can be changed by diverting the world's attention, such stratagems can no longer be dismissed; indeed, they may be the most powerful weapon the world possesses.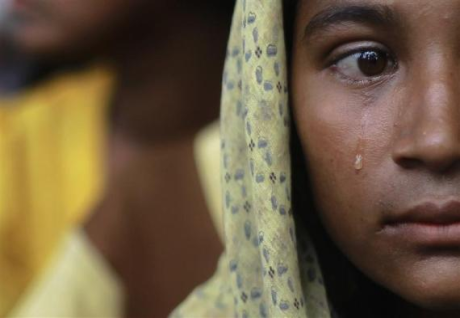 Photo via 2012 Rohingya Massacre/Facebook