It already seems like a lifetime ago, but on the same day George Floyd was killed by a white Minneapolis police officer, a white woman named Amy Cooper went viral for calling the police on a Black man who politely asked her to leash her dog in Central Park's conservancy known as The Ramble.
Thankfully, the man, Christian Cooper (no relation), an avid birdwatcher, was not injured in the altercation. However, when his sister posted the hysterical video footage he took of Amy Cooper's 911 call, her life was irrecoverably altered. In addition to swift and extensive public shaming, Cooper was terminated from her investment firm job at Franklin Templeton and surrendered her dog—which she could be seen dragging and choking in the video—to the rescue she had adopted it from.
In addition to the behavior seen on video, some people noticed that on Instagram, Cooper had posted about a number of incidents and accidents involving her dog in the short time that she had owned it—leading some to speculate if there wasn't a "Munchausen by proxy" situation going on.
Well, folks, it seems as though white privilege is as alive and well as ever, because on Wednesday evening, the Abandoned Angels Cocker Spaniel Rescue, Inc. posted on Facebook that Cooper's dog had been returned to her.
"Abandoned Angels would like to express its gratitude for the outpouring of support regarding the dog that was recently placed in our custody, following release of a troubling video that was brought to our attention," the post stated. "The dog was promptly evaluated by our veterinarian, who found that he was in good health. We have coordinated with the appropriate New York City law enforcement agencies, which have declined to examine the dog or take it into their custody. Accordingly, and consistent with input received from law enforcement, we have now complied with the owner's request for return of the dog."
You can hardly blame the rescue for returning the dog to Cooper. When a Karen wants something badly enough, she usually gets it. And between the coronavirus pandemic and civil unrest, New York City officials probably have their hands more than full.
But be that as it may, there's nothing Cooper can do about the inevitable backlash. You would think that someone in her unfortunate position may have decided to lie low and do some serious introspection—but that was clearly never going to happen, which was evident to anyone who watched the video.
"Lemme tell you how whiteness works," tweeted Haus Urban founder Hassan Sayyed. "After intentionally trying to get a black man killed by filing a police report, Amy Cooper asked for her previously confiscated dog back. And got it. She threatened @NYCockerRescue and they caved."
Others had similar sentiments:
But as unfortunate as it is that Amy Cooper would have her dog returned to her, bestselling crime and mystery author Don Winslow tweeted a reminder of the bigger picture.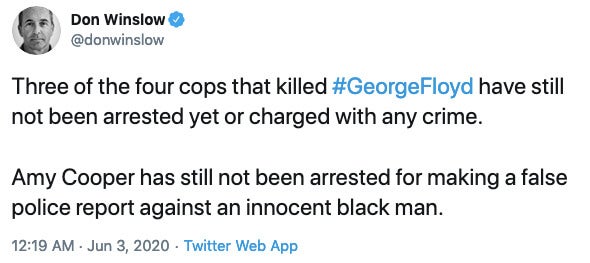 Falsely reporting an incident is still illegal in New York, last time we checked, which is punishable by jail time. Given that Cooper was seen on video very clearly making a false 911 call, you have to wonder if public shaming and terminating her from her job is enough.
READ MORE: