The makers of the Nicodemus Coffin Bed—named for a Pharisee said to have prepared Jesus' body for burial after he was crucified—bill it as "long awaited." Going by the numerous, extensive, detailed Amazon reviews for the ebony-stained, velvet-lined product, you'd be forced to agree with that assessment. It seems everyone has a stake in closed-casket slumber!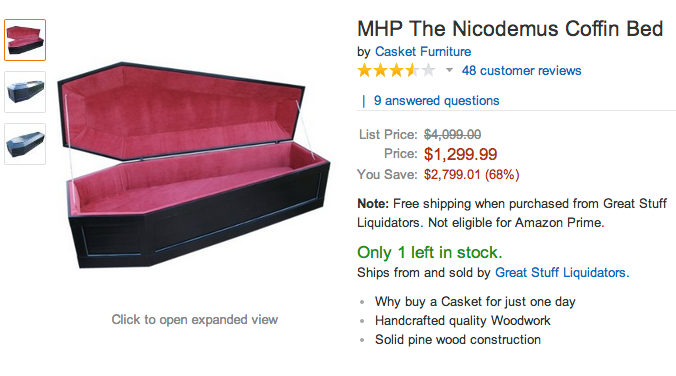 The steeply discounted price of $1,299.99 did little to console customer Lori Smith, whose initial enthusiasm gave way to grave disappointment: "I was excited to receive my Nicodemus Coffin Bed and try it out, but I have to say that I am EXTREMELY unhappy with it!" she wrote. "If I had more time I would explain further, but I think my phone battery is nearly dead and really what I need is someone to help a girl out. Really. OUT. The sound of the dirt falling has stopped and it's getting really stuffy in this thi—"
Is peaceful rest really so hard to find?

It surely is, according to roseofrita, who wrote, "I've been a vampire since the late 18th century, and even back then the coffins were a lot more comfortable for us. On top of that, you think with today's modern technology you think they'd install cupholders and a LCD screen, with speakers. Just because we can't be exposed to sunlight doesn't mean we don't we can't be exposed to TV before we slumber."
Another buyer concurred: "Was expecting more but I was dead wrong."
A third complained that "this product does not seem to accommodate plus-sized customers."

Others found the bed ideally suited to their purposes: "My family are busy people and I don't want them inconvenienced by my death," wrote one satisfied snoozer. "When I 'peacefully pass away in my sleep', all they have to do is close the lid, carry me out to the pre-dug hole I have in the backyard and voilà! I'll be in the ground before the rigor mortis sets in. They then have the rest of the day to go to the movies or rifle through my possessions. Thanks Casket Furniture!" 
If you're on the fence about ordering, don't hem and haw too long. There's only one of these bad boys left in stock. Besides, it's just the touch your cobwebbed catacombs need.
Photo by Grafton News/Flickr