The holidays are rapidly approaching and what's more iconic than a giant stuffed bear sitting under the Christmas tree? Imagine your family's delight when they wake up Christmas morning to find this 6.5-foot cutie waiting for them.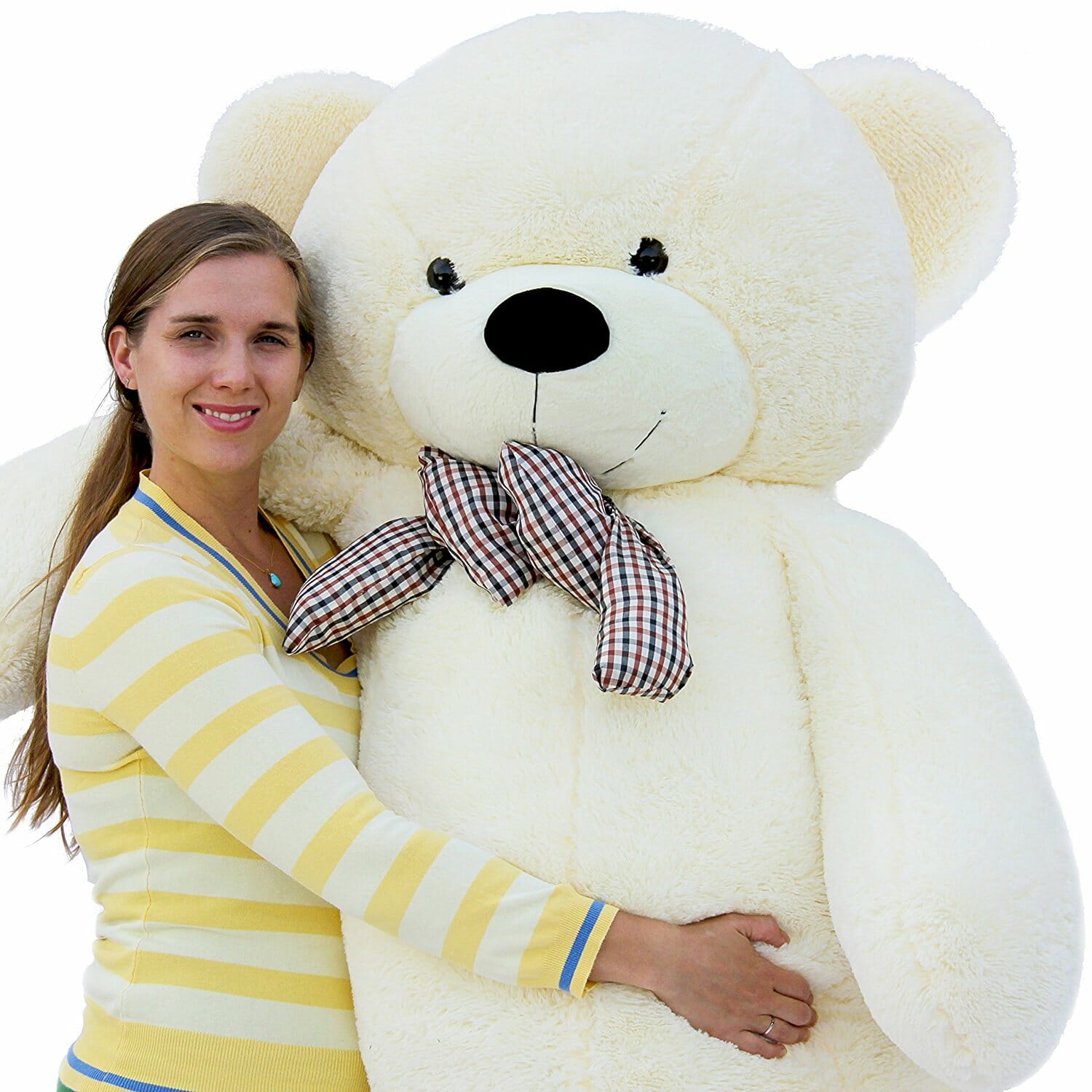 "The Joyfay teddy bear weighs in at 6.5 feet and 18 lbs. No lightweights here," reads the product's description "This heavyweight offers more huggability than your average bear. Kids and adults alike love to cuddle up with the soft silky giant."
There's just one, not so small, problem. People on Amazon are complaining that the bear is a wee bit disproportionate. Specifically, it has four-foot long legs while its head and body are a mere two-and-a-half feet combined.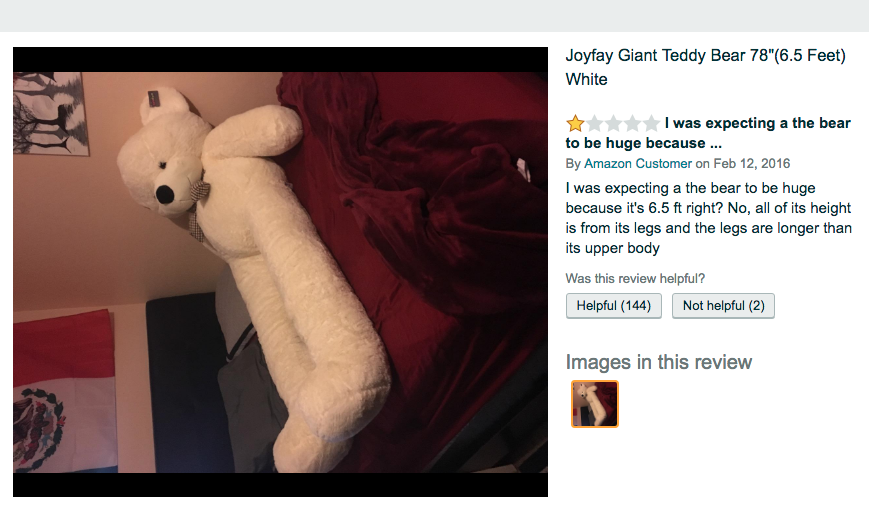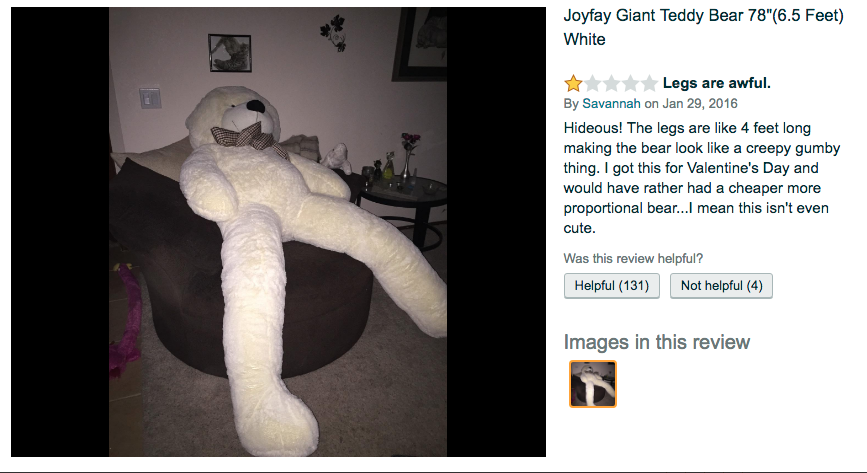 There are multiple pictures of the bear in the ad, so either a different bear was used, or the photographer knew how to use perspective to their advantage.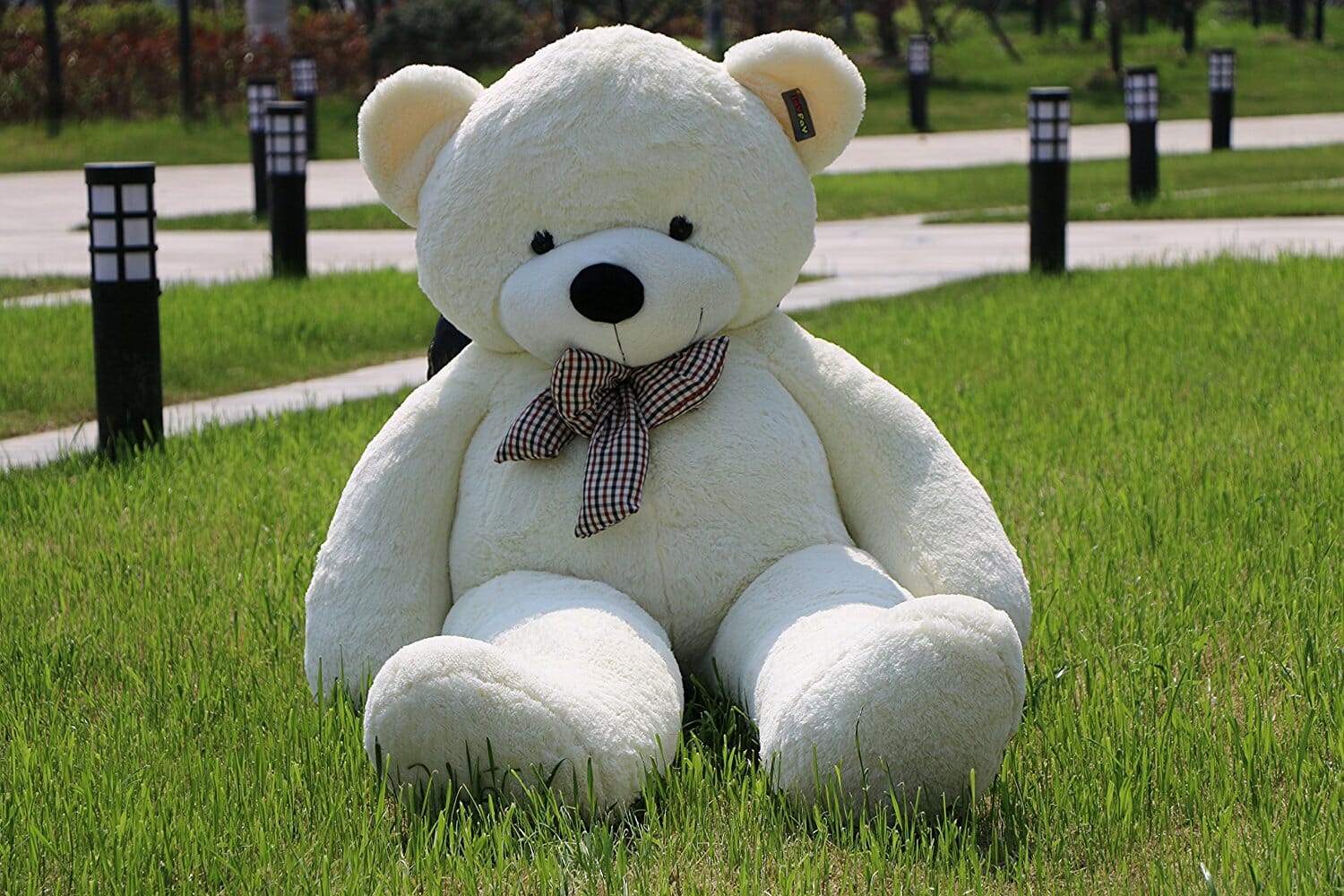 Oddly, at least one person gave the toy a five-star review, even though they admitted it did have some "long longs"

Another reviewer wrote:"I was worried after reading some of the reviews that the legs were going to be unusually long and look strange (as shown in some of the buyer pics/reviews) but it was perfect."

Leaving us to believe that this woman is either into weird looking stuffed animals or is on the payroll of big bear.
Obviously, people were loving it on Twitter.
https://twitter.com/cooltonedcutie/status/928706725582028800
Leading some to share their own pictures of the gangly toy.
Here's a better perspective :) pic.twitter.com/OaEJaO7f23

— Michael (@MMosiuc) November 10, 2017
https://twitter.com/chroman/status/928849690468257792
Others found it reminiscent of even… Stranger Things.
Or… pic.twitter.com/6MVEkV0tLo

— Kits Fool and 1000s of others (@kitzfuhel) November 10, 2017
And at least one man stood up for the unfortunate creature and reminded us all of the dangers of body shaming.
@MorganNotMegan I had to console him after he saw this thread. He didn't choose this life pic.twitter.com/elbtvNr6nH

— RVA Coffee Stain (@RVACoffeeStain) November 10, 2017
What makes the whole thing sadder is that now some of these poor bears are going to get returned without any Christmas snuggles.