Achewood, Chris Onstad's cult-favorite webcomic starring a swaggering cat in a thong, his clinically depressed best friend (also a cat), and a supporting cast of anthropomorphic stuffed animals, may be headed for the small screen.
Onstad started Achewood in 2001, and his sometimes raunchy, always absurdist brand of humor helped the comic build an online audience that brought in 10 million monthly pageviews. Along the way, Achewood published several print volumes and won Ignatz and Web Comic's Choice awards for writing.
But in 2010, Onstad's schedule of daily updates became more sporadic, and in 2011 he put the comic on hiatus to focus on his new career as a food and travel writer. Updates grew scarce, and many Achewood fans gave the comic up for dead.
Now Onstad is floating the possibility that Achewood could be reborn as an animated series. 
This week, he released a tantalizing 20-second animation test featuring feline protagonists Ray Smuckles and Roast Beef, Philippe the 5-year-old otter, and Teodor the bear.
"I'm flying to Los Angeles today to begin a week of network pitch meetings," he wrote. "If things go well, we'll find a home for our show."
Achewood's fan base immediately went nuts. 
"This is getting my rad chilies all excited," wrote egosumawesome on Reddit's r/Achewood forum. 
"I am freaking out over here. The animation looks solid, hopefully they get a good voice cast and Onstad makes a zillion bucks," added GrimSophisticate.
The voice talent shouldn't be an issue. 
Onstad told Wired that an extended version of the test footage features Drawn Together's Abbey DiGregorio as Philippe, King of the Hill's Toby Huss as Ray, and Onstad himself doing the voice of the depressed, self-deprecating Roast Beef.
It should come as no surprise to Achewood readers that he's already talking about recasting the role. Typical Beef.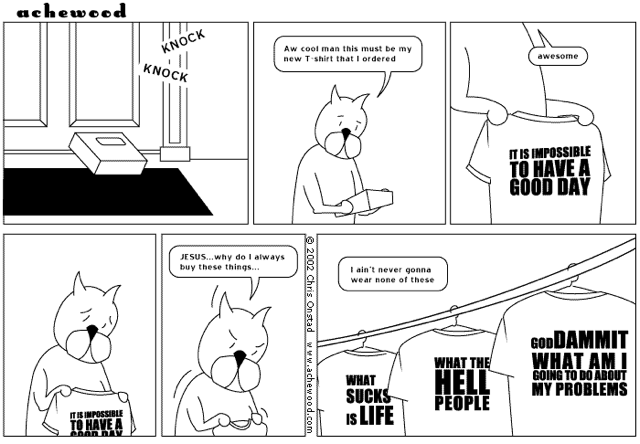 Art by Chris Onstad/Achewood
If the Achewood animated series makes it to TV, it could wind up on Comedy Central. Onstad is working with producer Josh Lieb, who won an Emmy as part of the network's Daily Show with Jon Stewart.
Fox is another possibility, having already embraced webcomics with an animated version of Ethan and Malachai Nicolle's Axe Cop, due to premiere this summer.
Along with the TV show, Onstad told Wired he has a new Achewood print collection in the works, and may even post some all-new Achewood strips online.
"When I first started seeing the tremendous outpouring of support for the new show announcement, I realized what an important part of my life writing and sharing Achewood on a regular basis was," he said.
Achewood fans are no strangers to disappointment, but for now, they're remaining cautiously optimistic about the news. 
"All you ever had to do was try, Onstad. I'm pretty sure we're all behind you on this," wrote ProfessorHazard on Reddit.
Art by Chris Onstad