Just hours into notifying the first recipients of Google Glass, Google realized a few of their ideas didn't quite comply with their terms.
"We need honest feedback from people who are not only enthralled and excited by Glass, but also people who are skeptical and critical of it," Project Glass wrote on Google+. "That said, it's become clear that a few applications that don't comply with our terms have slipped through the cracks, and we're going to have to disqualify applications like these."
So far, the only two ideas to be disqualified belong to Le Queen and Nikki Graziano.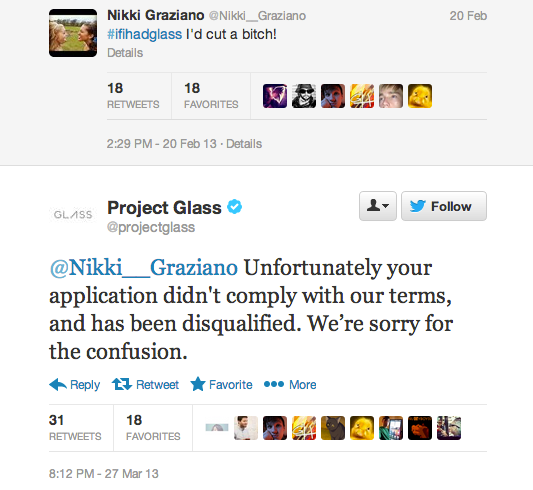 Google's Guidelines for the #ifihadglass contest specifically stated that ideas can't contain any content that is "inappropriate, indecent, sexual, profane, indecent, tortuous, slanderous, discriminatory in any way." 
Graziano, for her part, didn't even realize that she had entered a contest when she sent her tweet.
"I saw the trend and didn't understand so I joked about it and now people are pissed at me," she wrote.
The contest was launched last month, and Google encouraged people to tell them what they would do if they had Google Glass on Twitter and Google+ in order to gain early access to the glasses, which offer Google capabilities, photo sharing, video recording, access to Hangouts, and other perks. On Thursday, Google is began tweeting, "You're invited to join our #glassexplorers program,"
Back when the contest started, we saw a number of ideas that probably wouldn't make the cut. It makes us wonder if perhaps Google chose a few winners at random.
Like these. These were all winners. Really.
1) People weren't aware that New Mexico existed?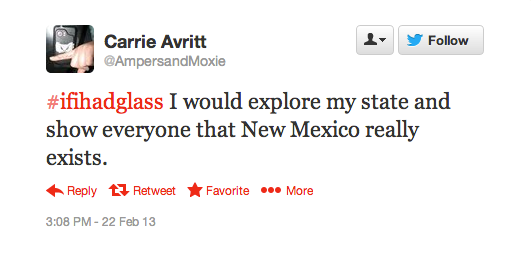 Hey, whatever works. Project Glass liked it.
2) The answer is 42. You just saved $1,500.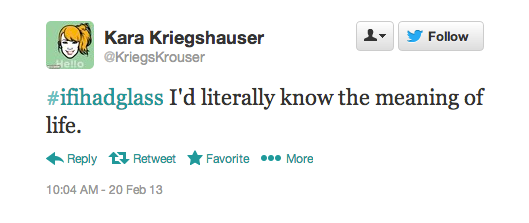 3) No, they're supposed to look cool!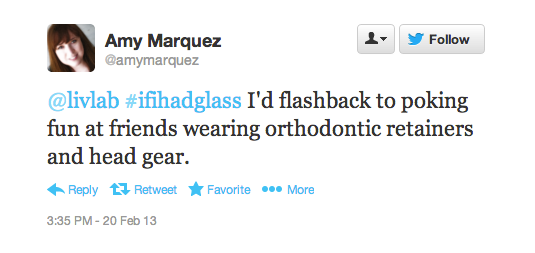 4) But that's so mainstream.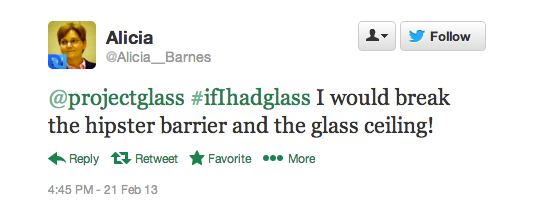 5) But where's the idea?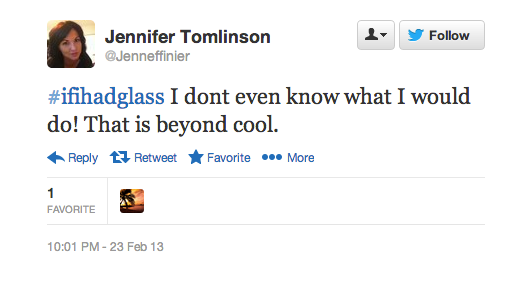 6) For some reason I don't see this going according to plan.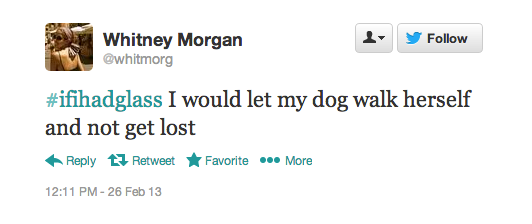 H/T: The Verge | Photo via Robert Neff/Flickr