Even with more than 6,000 stories filling up the Daily Dot's infinite scroll, there are quite a few that stand out as being particularly indicative of our overall mission: to be the paper of record for the Web, to go deeper and capture the people behind the memes, viral videos, and breaking news in online communities.
In commemoration of our first anniversary, here are 10 such stories—not featured in our personal, retrospective companion piece—worth revisiting. They're numbered for clarity, not out of preference or importance.
1) Charmed by The Frogman // Kevin Morris
From the basement of his parent's home, Benjamin Grelle has become a Tumblr celebrity of sorts. As The Frogman, he consistently produces some of the funniest GIFs and Photoshopped images on the Web, all while battling chronic fatigue syndrome. His inspiring saga was an early indicator for the Daily Dot as to the truly remarkable stories waiting to be told.
"The response I've gotten from this, the love from all the people it's changed my life. I was a depressed lump before this. Everyday I get dozens of messages of people saying wonderful things. It gets you through the days."
—The Frogman
2) Inside the strange, brave new world of Homestuck // Lauren Rae Orsini
It's rare to get a first-person glimpse into a true online phenomenon. But at a recent anime convention, Lauren Rae Orsini jumped in feet first to get to the bottom of Homestuck, a sprawling multimedia webcomic, and the fandom it's inspired. One fan summed it succinctly:
"It's a good comic because it's a good representation of the the way our generation works: how everything's based on the Internet; the way all the characters communicate with each other through a text-based program instead of talking, the same way that people don't hang out as much in person. There's lots of references to things in pop culture in past 10 years, so we can relate to it a lot."
3) Why Kickstarter is ripe for scams // Chase Hoffberger
Kickstarter is a revolutionary platform that has helped fund everything from smart watches and indie films to a book of poems inspired by beloved Twitter spam bot @Horse_ebooks. But there's an unsettling loophole to the system, one that could potentially leave backers in the dark and with little legal recourse against fraudulent campaigns.
4) Confessions of a reply girl: Alejandra Gaitan bares all // Fruzsina Eördögh
Alejandra Gaitan grabbed YouTube's attention for all of the wrong reasons last November. Through a revealing combination of search-engine optimization, tag manipulation, and low-cut clothing (an emphasis on the latter), Gaitan successfully gamed YouTube's related-videos algorithm, resulting in hundreds of thousands of views for her inane response videos.
"Reply channels will never die. YouTube will have to cut people who do genuine replies, and they don't want to do that."  
—Alejandra Gaitan
5) Acclaimed artists commemorate the 25-year anniversary of the GIF // Fernando Alfonso III
In June, 19 artists—from Nyan Cat creator Chris Torres to Mr. GIF and Pusheen—came together to pay respects to the graphics interchange format, created by Steve Wilhite at CompuServe in 1987. The result was an impressive tribute not only to format but to the art form as well, showing the versatility and true talent of some the finest GIF artists around.
As Lacey Micallef, the Tumblr GIF artist responsible for today's commemorative Daily Dot masthead, said at the time:
"GIFs are likely making a comeback because not only is sharing them easier, but making them is so easy as well. Once someone learns how easy it is to make a YouTube rip GIF, they realize that they can start doing other things as well. When making something is almost as easy as sharing it with everyone, it's naturally going to blow up."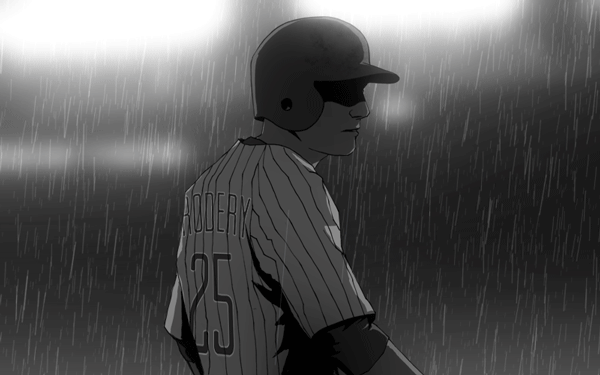 —GIF by Clay Rodery
6) Rob Delaney to the Daily Dot: "I had to be good at Twitter" // Kris Holt
Rob Delaney's 140-character comedy is reason enough to be on Twitter. Whether trolling Mitt Romney or McDonald's, his hilarious and often absurd tweets are delightfully entertaining. In a candid interview, Delaney told us his online presence evolved out of necessity.
"I didn't have a pot to piss in. I had no choice: It was either success or failure. I had to be good at Twitter. I just worked on it all the time."
7) Naked guy in children's clothing ad proves too French for the French // Kevin Collier
Seven months later, this one never fails to amuse me. French fashion retailer La Redoute  accidently published an advertisement that featured a casual nudist strolling in the distance behind children modeling on the beach. Hilarity—and classic Photoshop images—ensued.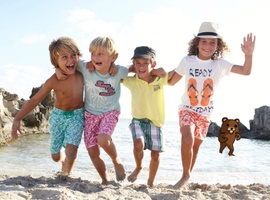 8) The art of the supercut // Dave Holmes
The supercut—the act of slicing together themed snippets into a sprawling video montageis a relatively new phenomenon, one powered by the instant accessibility of source material online and the obsessive fandom fostered therein. Here, three experts from the field (Andy Baio, Zach Prewitt, and Kevin Porter) reflect on importance of the supercut as an art form and commentary on pop culture.
"When it's done really well, it surfaces either a cliché or a catch-phrase or a behavior that maybe's not that immediately obvious how widely used it is. It's sort of exposing in the best possible way, the most visual immediate way, that a cliché exists."
—Andy Baio
9) Raising Scumbag Steve: Susan Boston's family matters // Lauren Rae Orsini
Blake Boston is better known as Scumbag Steve. He can't help it. That's just what happens when one becomes the subject of a popular image macro, associated with crashing high school parties, bumming smokes, and generally being a douchebag. But try explaining that to your parents. This feature provides an inside look at how Boston's family has accepted and made the most of his unexpected Internet notoriety.
"Of course I sometimes get weirded out when I see someone sneaking a picture. I'm a redditor so I know what can happen when someone posts a picture."
—Susan Boston
10) How "The Atlantic" successfully spammed Reddit // Kevin Morris
Under the alias slaterhearst, The Atlantic's associate editor Jared Keller built up a reputation on Reddit—and the hits followed. In this remarkable expose, Senior Reporter Kevin Morris uncovers his trail of deceit on the social news site, starting with his OKCupid profile. It was several months before Reddit temporarily banned The Atlantic, but it did, there was no doubting why. In his defense, Keller offered the following:
"As you know, one of the community rules says that self-promotion isn't forbidden but may put you on 'thin ice.' I tried to adhere to those standards, but as language like 'thin ice' suggests, there's a lot of leeway in how one might interpret them."
Honorable mention:
Photo via The Frogman