As thousands of protesters battled tear gas–wielding police for the sixth straight day in Turkey, CNN's state-owned Turkish affiliate, CNN-Turk, aired a documentary about penguins in which 50 "spycams" were devoted to filming "the true character of these birds." Meanwhile, a protester who spray-painted "Devrim televizyonlardan yay?mlanmayacak!" on the side of a building in Istanbul made essentially the same point: "The revolution won't be televised." 
Since protests began spreading on May 27—after police used tear gas on a few dozen environmentalists occupying Istanbul's Gezi Park—Turkish media have remained largely silent. Instead, videos of police violence in Istanbul, Ankara, ?zmir, Eski?ehir, ?zmit, and Bursa have circulated widely on Turkish social media. 
On Facebook and YouTube, users have published videos depicting police officers firing tear gas into unarmed crowds, assaulting women, and, in a particularly disturbing video, surrounding a prostrate protester and taking turns kicking him and clubbing him in the head. This video of police firing tear gas bombs into the crowd has gathered more than 130,000 shares on Facebook.
We reuploaded the Facebook footage onto YouTube to embed below. It might not last long there: Other videos of police brutality in Taksim Square have been removed for violating YouTube's policy on "shocking and disgusting content." Without adequate media coverage of the riots, Facebook is the citizens' only reliable resource for disseminating information.
"What the Turkish media doesn't show":
The sounds you hear in this video are Turkish for "I'm dying," "My eyes," "Save me." 
Police fire tear gas bombs into the crowd:
Protestors block the streets:
A woman on the street is cornered and beaten:
Police tell protestors, "Get the f**k outta here," then beat them as they run:
Blogs and Tumblrs such as Delilim Var (trans: "I have evidence"), Zombie and the Ghost Train, and #occupygezi have taken up the work traditionally done by media outlets, attempting to trace a cohesive narrative through much of these stray works of citizen journalism.
Some extremely powerful images have emerged: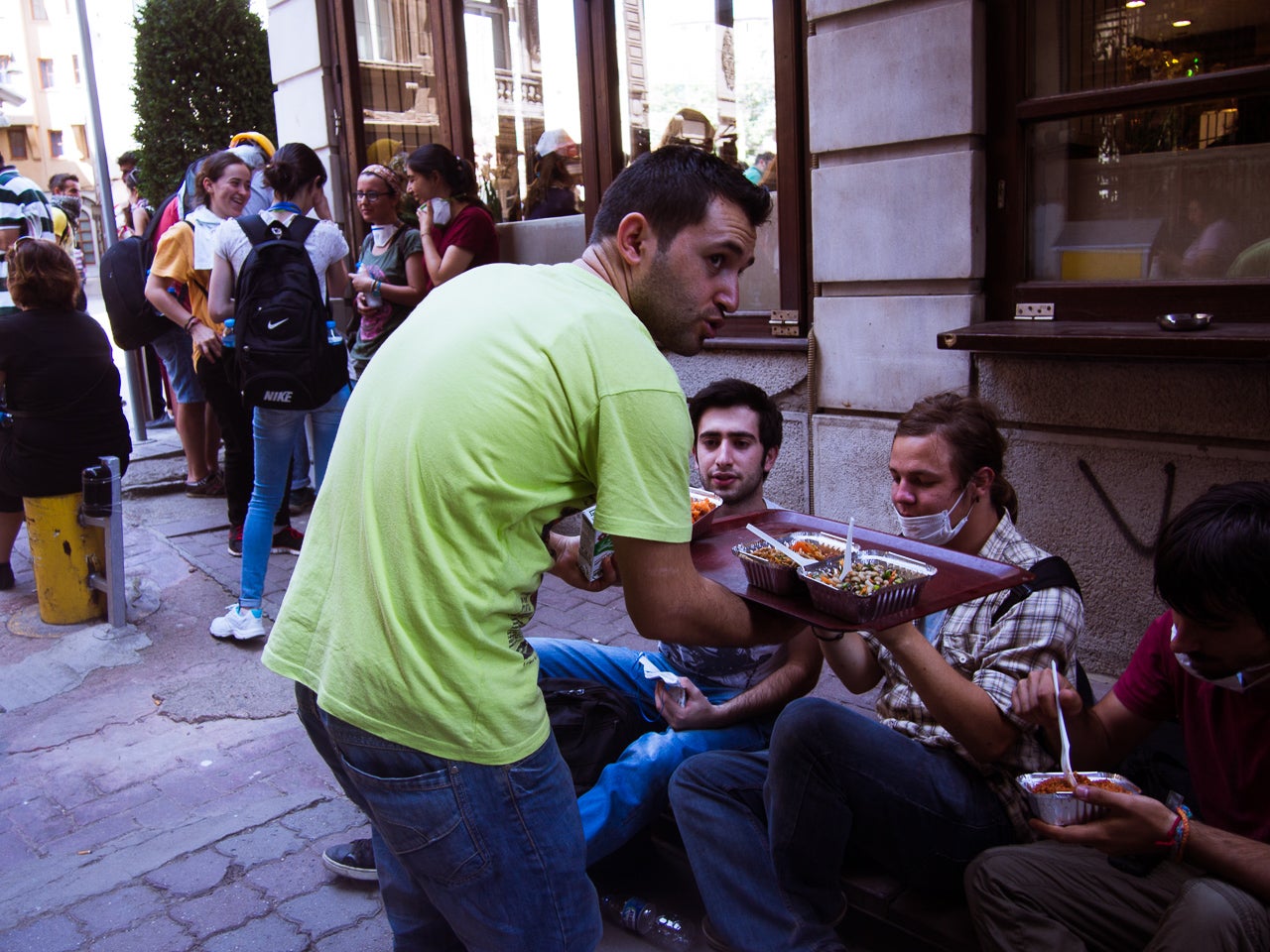 The worker of a restaurant serving free food to protesters in Istanbul. Photo via Zombie and the Ghost Train
Below: "Since the beginning of the events turkish government wanted to shape the public opinion through the media under its control and make people believe the protests were limited to some marginal groups. It's not true, this is from friday night."

Photo via Zombie and the Ghost Train
And on social news site Reddit, gory albums of police brutality and protestors' injuries circulated:
A blog called What Is Happening in Istanbul has been rolling out updates as often as once an hour.
On Twitter, people used the hashtags #OccupyGezi, #direnankara (diren means "resist") #direngeziparki, #occupygeziparki, #direnankara, #direncarsi, #direnizmir, and #genelgrev (a call for labor unions to strike) to organize photos, videos, headlines, and updates.
The picture of the dervish protester in a gas-mask is already iconic. #occupygezi pic.twitter.com/XSxNmWzW0l

— Yiannis ?aboulias (@YiannisBab) June 3, 2013
Incoming reports: Police arrested volunteered doctors who built up medical centers in #Taksim square & #Dolmabahce. #OccupyGEzi #FTP

— Anonymous (@Crypt0nymous) June 3, 2013
And here, via @matterouge, an extremely graphic image of a protester whose eye was gouged out.
The "menace" of social media
Connections begin to emerge between, for example, the Facebook photo of four police officers stacking about a dozen containers labeled "1.4 G"—the hazard class for certain tear-producing munitions—and the images of bloodied protesters reeling from tear gas. But without the participation of reputable, mainstream media outlets, many of these videos and images lack verification and historical context.
A handful of explanations have been offered for the uprising: Some see it as a response to the state's growing social conservatism, particularly its restrictions on alcohol sales and attempted birth control regulations. Others view it as part of a larger debate over the use of urban space (only 1.5 percent of Istanbul is green space, compared to 17 percent in New York and 10.5 percent in Jakarta).
Then there's the neo-Ottoman agenda of the country's prime minister, Recep Tayyip Erdo?an, whose vision for the park is to rebuild a historic military barracks from 1780. On Sunday, Erdo?an spoke out against social media, calling Twitter a "nuisance" or a "menace," depending on your translation.
In forcing the uprising to the Wild West edges of social media, the prime minister has unwittingly gone the way of so many on Facebook and lost control of his narrative: "They claim Erdo?an is a dictator. I am not the lord of this nation. Dictatorship is not in my blood," he said on Sunday. "I am not going to ask for permission. Neither from the Deputy Chairman of CHP nor from a few marauders. The public has already given us the permission in the polls." 
Photo via Zombie and the Ghost Train.
Yaprak Ünver contributed to this report.