There are an endless number of contenders for the top spots of this year's top 10 fandoms list. Throughout the last 12 months, a number of fandoms have been vocal, passionate, and rambunctious. If we had room, we'd love to put fans of such media juggernauts as The Hunger Games, Game of Thrones, Harry Potter, Glee, and Twilight.
Instead, as we've done throughout our end-of-year series, we focused on fandoms that seemed to be part of cultural shifts that happened in 2012 or were exceptionally active in advocating for their cause. These communities shaped the way we thought about all fandoms in 2012—largely for the better.
1) K-pop
Six months before "Gangnam Style" took over the universe, Rolling Stone attempted to predict which K-pop idol group would be the one to hit it big in the U.S., but no one predicted the runaway success of Psy.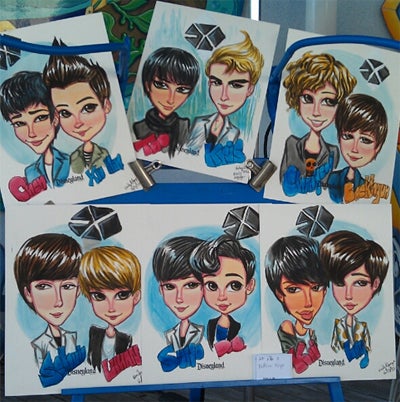 Exo caricatures on an artist easel at Disneyland. 
Photo by exocomical/Tumblr via Deviantart
Many Japanese and Korean pop artists have tried and failed to push through the culture barrier to succeed in the American market. Yet despite tours of Korea's best talent, including legendary pop vocalist and dancer BoA, nothing took off. Prior to 2009, if Americans knew anything about K-pop, or its passionate fans, it was probably due to solo artist Rain's repeated appearances on the Time 100 list and his stint on The Colbert Report—all of which was treated more as offbeat humor than part of a growing trend.
In 2009, however, the world got its first glimpse of K-pop's global potential when Girls' Generation's "Gee" went viral, pulling in roughly 30 million YouTube hits within a year. Three years later, it's normal for K-pop groups on YouTube to rack up tens of millions of views. ("Gee" is approaching 100 million.) And while Psy's success has made Korean pop artistry more visible, K-pop groups were already doing great on their own: In August of last year, Billboard added K-pop to its weekly Top 100 roundup lists; in April, Girls' Generation ranked 123rd on Billboard's Top 200 album list, the highest for any K-pop group up to that point; and in June, the boy band Exo was the second most-popular tag on all of Tumblr, right behind One Direction.
So while Psy may have seemed to have come out of nowhere, his success was arguably made possible by steadily increasing interest in K-pop from around the world. Post-Psy, K-pop really seems to be everywhere, from orchestral arrangements of Super Junior to Glee using Big Bang's "Fantastic, Baby" and "Gangnam Style" on a recent episode.
We may not be able to predict what 2013 will do for K-pop as an international export, but one thing is certain: K-pop fandom is here to stay.
2) Sherlock Holmes
The 100-year-old fandom proved its staying power in a big way this year, as fans of the original novels and its infinite spinoffs came to the forefront of our cultural imagination. Robert Downey's Christmas sequel to his 2009 Sherlock Holmes reboot took in over half a billion dollars worldwide, while Benedict Cumberbatch became a household name—on the Internet, at least—as his portrayal of the irascible modern-day detective in Sherlock got an even more widely hyped second season. In the wake of that show's finale, Sherlock fans everywhere gave us what may be the first-ever viral fan campaign to spread into real life; I believe in Sherlock Holmes and Moriarty is real became slogans you could spot everywhere, from sidewalks to university bathroom stalls—a subcultural statement that found its way into the mainstream. Sherlock fans also jumpstarted what seemed to be endless memes on Tumblr, from Red Pants Wednesday to Superwholock to, er, Fawnlock. They also invented an entirely new fandom phenomenon—fandom tea.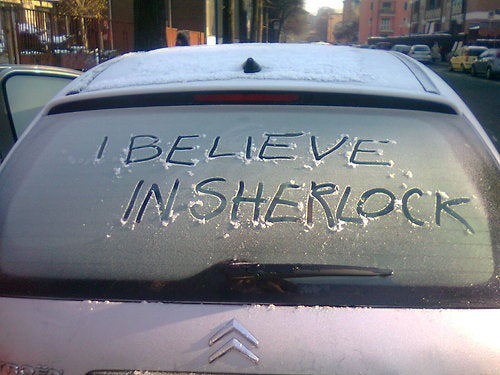 Spotted in Italy? 12 months after the meme began.
Photo via inutrimentiterrestri/Tumblr
On the U.S. side of the pond, Fox gave its own hugely successful version of Holmes and Watson, House and Wilson, a series sendoff that included a major plot twist taken from the original Holmes canon (spoilers in the link). And CBS announced the creation of Elementary after Sherlock's creator, Stephen Moffat, declined to reboot the show for a U.S. audience. CBS decided to do it anyway, casting Lucy Liu as Watson and Jonny Lee Miller, who played Cumberbatch's literal doppelganger in last year's Frankenstein, as Holmes. The conflux of sharp overlap and sharp dissonance between the two shows promptly started a war between the two subfandoms that continues without letup.
Meanwhile, the real Sherlockians want you to know that they (cheekily) wash their hands of this whole fandom business, adding their voices to the noise proving that, as always, the biggest drama of the Sherlock Holmes mythos lies, not within the pages of Arthur Conan Doyle, but within the fanbase. Even in 2012, it truly is always 1895.
3) Marvel
To date The Avengers film franchise has made a Hulk-sized $3.8 billion worldwide. Almost half of that gross comes from a single film, this year's The Avengers. The film is the culmination of Marvel's gamble that building the film universe over time, just like a serial comic, would pay off. Calling on the ever-growing fandom of director and Buffy creator Joss Whedon may have sealed the deal. The fandom's penchant for swallowing websites whole—last spring the new influx of Avengers fanfic writers crushed servers at the Archive of Our Own—and dropping memes that even non-fans can enjoy, most notably Avengers' New Groove and the Hawkeye Initiative, hasn't hurt either.
Marvel also had several other aces this year: Spiderman currently ranks as the seventh most-profitable film franchise, despite only having four films total. (James Bond, at No. 4, has 24.)  Further down the list is X-Men, which despite a lagging box office in recent years has remained a huge staple series for Marvel's fanbase. Apart from a trio of mainstay comics series, Marvel has another edge: a commitment to evolving. We've come a long way since the days members of The Avengers could also beat up their wives: Last year's Thor was hailed as a thoroughly feminist film, and this year Marvel gave us a popular female superhero series with a female writer, Captain Marvel. We also got Marvel's first gay wedding, as X-men member Northstar, whose coming out in the AIDS-ridden '80s was also highly politically charged, tied the knot.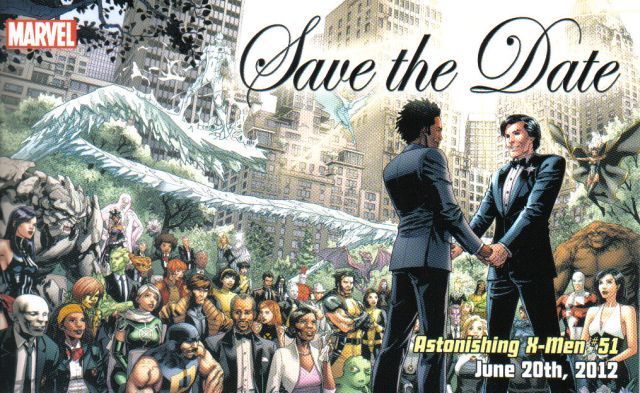 Illustration by Dustin Weaver via bbenjamin610/Blogspot
But perhaps most significantly, 2012 ushered in the era of Phil Coulson. From his role as a side character in the first Iron Man film to his unforgettable role in this year's The Avengers, Coulson and his actor Clark Gregg have stayed dear to the hearts of Marvel fans. After his presumed demise in The Avengers, fans launched an entirely homegrown campaign to bring him back, taking to the streets like the Sherlockians and broadcasting their support for the character: Coulson Lives. After months of buildup, Marvel saved the big announcement for Comic Con in October: Gregg would be starring as Coulson in the new Avengers spinoff television series S.H.I.E.L.D. Though the move had been planned before the fan campaign, Coulson Lives almost certainly boosted the project's stature and importance within the Avengers franchise, and proved that the Avengers fanbase may just be earth's mightiest superfans.
4) One Direction
What can we say about One Direction fandom this year that hasn't been said? Directioners emerged onto the international scene in 2012 with all the chaos and drama of Beatlemania, most of it channeled through online social media, especially Wattpad, Tumblr, and Twitter. Mick Jagger summed up the whole dynamic between fans and band nicely when he told CNN that when he'd seen the band, "[T]hey were like, floating above the audience, and they looked like, really distinctly uncomfortable… I remember feeling that same uncomfortable feeling of being pushed around in this very weird place."

Illustration by lifeditonsoriginal/Deviantart.com
It's a statement that could easily describe how many members of the 1D fandom may have felt this year as well. But despite the constant in-fighting, the harassment of other fans, girlfriends and would-be girlfriends, the extreme scrutiny paid to the band members, the horrifying ideation of suicide and suicide threats, and the pervasive belief that Harry Styles and Louis Tomlinson are trapped in a homophobic conspiracy that only the truest of fans can discern, Directioners have shown time and again that they can stay positive, upbeat, and tremendously loyal, no matter how much drama rages on. It's the kind of passion that truly drives home the spirit of a fandom, and at the end of the year, with the band's new single coming out and the 1D craze showing no sign of stopping, we're grateful for the sheer energy and enormity of the fandom. These fans won't stop til we've surrendered—and given them our love.
5) Avatar: The Last Airbender/Legend of Korra
The fandom for the beloved Nickelodeon animated franchise Avatar: The Last Airbender (AtLA)/Legend of Korra had a banner year in 2012: First Gene Yang's Avatar series of graphic novels became No. 1 bestsellers and sold out in many locations. Then fans of the franchise won an early online preview of the first two episodes of Legend of Korra after they pushed the show to over 100,000 Facebook likes within a week. But in this case, the "like" probably translated more nearly as, "Oh, thank god."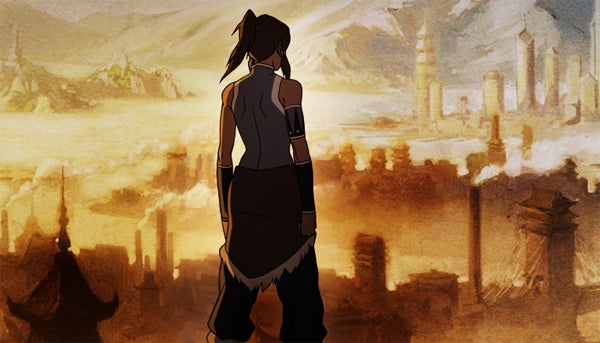 In 2008, M Night Shyamalan's film adaptation of the series, The Last Airbender, caused massive unhappiness from almost everyone involved with the original production, as well as countless fans worldwide. At issue was the production's choice to search only for white actors to play most of the main cast and to obliterate the carefully researched, separate ethnic identities of the four fictional nations at the center of Airbender's epic three-season plot—none of them white.
Everywhere the beleaguered production held a casting call, AtLA fans showed up by the hundreds to protest the casting decisions. The website Racebending.com, borrowing a term from the series, began as a media site to publicize the fandom's attempts to get the film production to reverse its decision and steadily grew into a watchdog for Hollywood whitewashing and other issues of race. The word "racebending" itself became a mainstreamed term to talk about erasure of ethnic identity in the media. Meanwhile, members of the original animated series distanced themselves from the Paramount film. But although the controversy raged and spread, igniting and uniting the AtLA fandom in outrage, Shyamalan's production went ahead as planned, only to be universally panned when it finally premiered in 2010.
On the back of two years of frustration and bitterness on the part of fans, series creators Michael Dante DiMartino and Bryan Konietzko announced in the summer of 2010 that not only would Avatar get an entirely new series as a sequel, but it would have a female avatar as the main character: Korra. It was the beacon of hope that the fans desperately needed, and the nearly two-year wait that ensued before Legend of Korra finally became a reality was characterized by increasing eagerness. The jubilance of fans reached a frenzy this spring that has yet to wane: The fandom was the fourth-most popular fandom on Tumblr according to a June tag count.
Nickelodeon's investment paid off: Korra became the highest-rated U.S.-produced animated series of 2012. And fans finally reaped the rewards of their loyalty for the first time in over four years.
6) Homestuck
If you didn't know what Homestuck was at the beginning of this year, you're probably no less confused now than you were then; but it's equally possible that the million-strong fandom might include fans you know. If so, they're probably all too eager to tell you about Homestuck. And given the utter brain-breaking phenomenon that is this epic, labyrinthine webcomic that frequently gets over a million visitors a day, has been compared to Joyce's Ulysses, and racked up over $2.5 million from its fans in a Kickstarter campaign this fall, learning about Homestuck, in all its obfuscating, addictive glory might be one of the best things you do in 2013.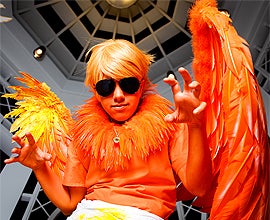 Photo via fenyxdesign/Deviantart
7) Teen Wolf
Teen Wolf fans were busy this year. They got their showrunner to acknowledge their favorite non-canon ship—a fan-driven relationship not in the original storyline—and tease them with the possibility that it might actually become canon. They racked up half a million votes at AfterElton's slash tournament. They wrote over 10,000 fanfics for MTV's fanfic contest. They pushed the hit counts of popular Teen Wolf fanfics into the hundreds of thousands at Wattpad and the Archive of Our Own. They baked 600 cookies for Sterek, shipped them to the show's crew, and set their sights on adopting over 40 endangered wolves in a wolf pack.
Illustration by dhauber/Deviantart
If just reading that sounds exhausting, consider that nearly all of those efforts were all done on behalf of one queer relationship, Derek and Stiles, ubiquitously known as Sterek. If Teen Wolf fans are willing to expend this much energy just to make Sterek a viable relationship that actually appears on the show, rather than just in the wishes of all who ship it, what other awesome things can they achieve?
We don't know, but we have a pretty good guess that in 2013, we're going to find out.
8) My Little Pony
Bronies, adult fans of the animated program My Little Pony: Friendship is Magic were at the center of widespread media attention, as well as widespread controversy, in 2012. They raised thousands of dollars to spread their message of goodwill, they shilled for political parties, and they came under fire for excluding women and fans of the original My Little Pony franchise. Not to mention accusations of physical assault.
But all in all, the bronies, just like every other fandom, spent much of 2012 in a state of evolution, in both positive and negative directions. And in every direction, they made their mark.
Or perhaps we should say, hoofprint.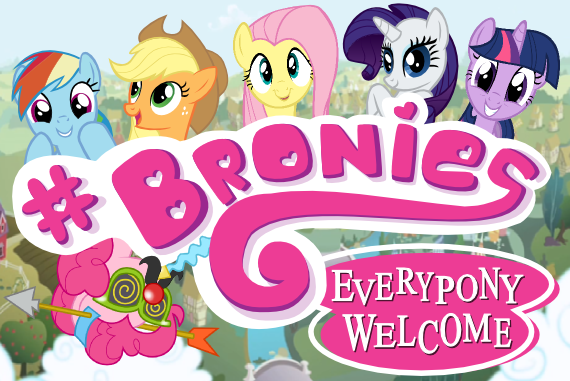 Illustration by gali951/Deviantart
9) Neon Genesis Evangelion
In Japan, the biggest film event of 2012 was not The Avengers, The Dark Knight Rises, or The Hunger Games. It was the newest addition to a franchise that's been first enthralling, then scarring its fans since 1998. Introducing new plot to the franchise for the first time in over a decade, Neon Genesis Evangelion, affectionately known to fans worldwide as Eva, has spent the last few years steadily releasing a four-part film series that attempts to reboot the series with an entirely new ending—the one director Hideaki Anno planned all along. Last month, the third film of the four, Neon Genesis Evangelion 3.0: You Can (Not) Redo premiered to the highest weekend box office of the year.  
Eva's troubled production is the stuff of legend: After winning critical acclaim, the series, which launched in 1995 and is considered one of the greatest and most influential anime of all time, took a total mindbending turn near the end, leaving an entire generation of fans to grapple with the fallout of the production's tight constraints. But despite the unevenness of the series, Eva's stature has only grown over time; now almost two decades later, the final 2 films in the reboot—and at last, a real ending—are finally here.
The love fans have for Evangelion makes it noteworthy any year. But in 2012, fans showed that even 20 years after it last aired, Eva is and will continue to be a cultural phenomenon.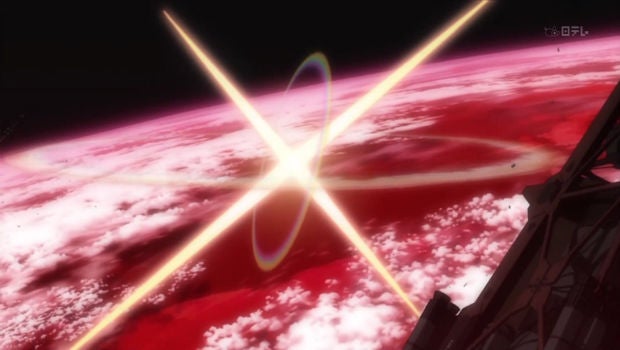 Photo via Japanator
10) Community
Everyone loves an underdog, and it's impossible not to love this show and the fandom that has supported it through lackluster ratings, vacillating network support, and the removal of its creator and producer Dan Harmon earlier this year. Through it all, Community fans have made #sixseasonsandamovie" the rallying cry for everyone who's ever loved a TV show only to see it fail to win the hearts of the mainstream, or even its own network. Though NBC seems determined to give Community a graceful exit, all signs point to Season 4, which only has a half-season on order, being its last.  But if any fandom can pull out an 11th-hour miracle, it's this one: After last year's mid-season hiatus, the familiar hashtag, targeted advertising from NBC, and an intense word-of-mouth campaign boosted the show to respectable ratings—albeit briefly.
And if that fails to happen this year, the fans are still determined to go out in style.
After all, at least we'll still have Inspector Spacetime.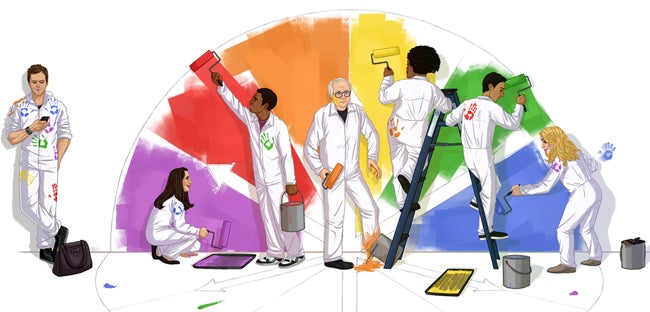 Illustration by muffinpoodle/Deviantart
Honorable Mention: Assassin's Creed
The five-year-old game franchise was already a huge success. This year, the newly released Assassin's Creed 3 features a half-Mohawk protagonist fighting for the colonies during the American Revolution while struggling with his own identity as an outsider. That's pretty heavy political stuff (there's even a homesteading feature), but it's nothing new to a franchise whose first installment dealt with a Middle Eastern hero during the Crusades. It certainly hasn't kept the franchise's massive fanbase away. And it hasn't deterred the game from garnering praise and becoming the fastest seller in producer Ubisoft's history. And with gameplay that includes epic tree-climbing, it's no wonder the latest edition has sold over 7 million copies in under two months.