Before we even knew who the Republican candidate would be, the 2012 presidential race was dubbed the "Twitter election."
Candidates batted online and off, hurling criticisms on Twitter just as they did in televised debates. To a certain extent, it was the Twitter election: During the first debate between Barack Obama and Mitt Romney, more than 10.3 million tweets were sent as users debated and created parodies out of candidates' comments.
As things got more serious on Election Day, more than 20 million election-related tweets were posted by 10:16pm ET, making it the most tweeted-about U.S. political event.
The election wasn't the only thing happening on Twitter in 2012, as the community became the world's watercooler more than ever before, an intrinsic part of our daily lives as we look to follow and discuss events with greater accuracy and speed.
The Olympics took over Twitter as much as it did TV for two weeks this summer. FBI raids, presidential press conferences, ear implant surgeries, and obscenity trials were all live-tweeted.
Hurricane Sandy brought people together in a time of great need. Ongoing revolutions in the Middle East were organized and self-policed through Twitter. Extremists recruited using the network.
Most astonishingly, the Israel Defense Forces and Hamas issued stark warnings to each other as the sides engaged in conflict in the Gaza Strip, bringing a stark dose of mortality to followers' timelines.
The one-to-many social structure of tweets helps thoughts spread rapidly. A tweet can be seen by millions within seconds depending on your personal reach and who retweets you.
At the heart of the community is its users, the 500-million-strong horde sharing musings on life, love, and everything hundreds of millions of times a day. There are those who stand out from the pack, due to their ability to inform, lead the conversation, and make others care. Their messages often extend beyond the Web, leading to tangible real-world change.
Here, the Daily Dot spotlights the 10 people we felt were most influential in shaping the conversation on Twitter in 2012. What do you think of our list? Who did we miss? Who shouldn't be here? Let us know in the comments, or tweet us your thoughts @dailydot.
1) Cory Booker // 1,328,643 followers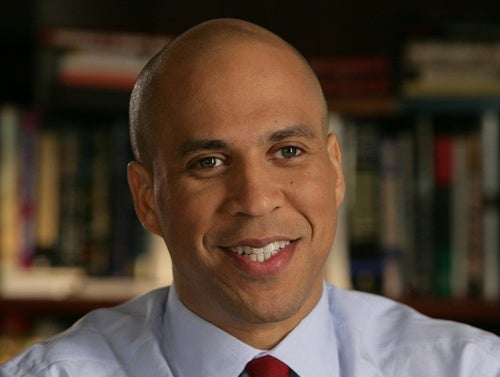 America's superhero was all over Twitter this year. Newark, N.J., Mayor Cory Booker stock increased when he saved a neighbor from her burning home in April, but he continued to show on Twitter just why he's perhaps the country's most accessible public official by routinely replying to followers and offering advice.
When Hurricane Sandy hit the East Coast in October, Booker used Twitter to orchestrate clean-up crews and get help to those who needed it most, while doing what he personally could on the ground to assist those who were affected. Lately, he challenged a follower to join him in living off food stamps for a week. Of course, Booker used Twitter to document his experience.
It isn't all about policy and public service for Booker, however, which makes following him on Twitter entertaining as well as informative. When a tweeter apparently from Ireland asked Booker to fix a pothole in his street in the aftermath of Sandy, Booker hit back with this gem:
2) IDF Spokesperson // 209,869 followers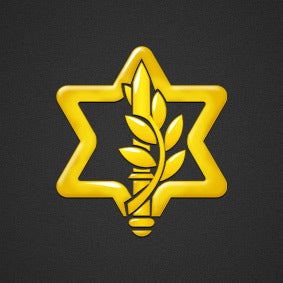 When the Israel Defense Forces (IDF) killed a Hamas military leader with a surgical strike, it broke the news on Twitter. Welcome to the new warfare.
Through its @IDFspokesperson Twitter account, the IDF gave constant updates as it prepared for military action on the ground and Hamas (and other militant groups) launched rockets towards Israel from the Gaza Strip. The IDF used the Twitter account, along with its Tumblr, YouTube, and Pinterest profiles, to try to control the narrative of events from the region during the weeklong conflict. Hamas gave its side of events as well, offering a stark, rounded look at the action as it unfolded.
It was astonishing to view the back and forth between the IDF and Hamas on Twitter as both sides used their Web presences for propaganda purposes. At one point, Israel told its residents not to share information about rocket attacks on Twitter or Instagram, as militants would have been able to use that information to calculate rocket targets.
In a world where we post almost everything online, sharing the details of military action as it happens is a bold new frontier for the Web, let alone Twitter.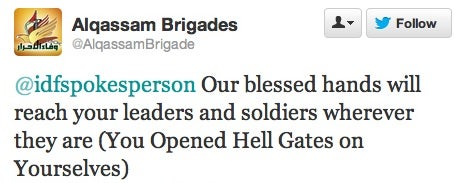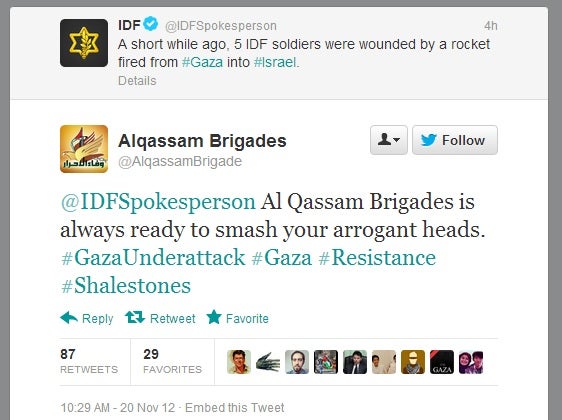 3) Rob Delaney // 708,544 followers
Rob Delaney told the Daily Dot in July that he "had to be good at Twitter." It took him from being a clichéd struggling comic in Los Angeles to one with a number of sell-out standup shows and a popular standup special behind him in 2012. 
However, Delaney doesn't shy away from sharing his personal beliefs and opinions in the community. He frequently opined on women's rights and how they pertained to election season, claiming that "I was considering voting for @MittRomney, but then I remembered I ENTERED THE WORLD THROUGH A VAGINA."
In the latter half of the year his attacks on and jokes about Mitt Romney intensified, leading to Businessweek calling him Romney's Twitter nemesis. With almost three-quarters of a million followers, Delaney may have had a tangible impact on the election amid all the fart jokes.
4) Mars Curiosity Rover // 1,247,727 followers
In early August, people around the world watched a NASA livestream with bated breath as news trickled in of the Mars Curiosity Rover's careful descent onto Mars. All sorts of things could have caused the problems for the rover, but eventually, it safely reached the surface, and the team at NASA's Jet Propulsion Laboratory (JPL) erupted in joy.
While the JPL team was heralded for its achievement and the Internet fell in love with one engineer in particular, it is through the @marscuriosity Twitter account that we've continued to follow the rover's exploits on the Red Planet.
The account's handled by a team at NASA, which emboldened the feed with personality and life as the rover beamed back images and analysis of Mars. Even as it shared news that it had not found organic material (the cornerstone for life), it was relentlessly upbeat.



5) Lolo Jones // 336,774 followers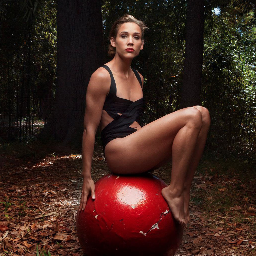 Lolo Jones narrowly missed out on taking home an Olympic medal this summer as she finished fourth in the 100-meter hurdles final in London, but she handled her disappointment with trademark self-deprecating humor.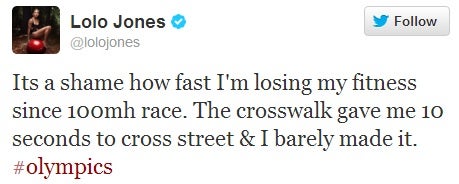 Following the athlete on Twitter this year as she moved into a new career as a U.S. national team bobsledder, has been fascinating. Following her first bobsled crash, for instance, she joked on Twitter about her personal life.
While she's been working hard to gain success in her profession, she's refused to turn away from her fans. She frequently shares photos from her daily life and often responds to her followers' questions and comments. She uses Twitter better than perhaps any other athlete to chat with fans, and there's even a Twitter account for her dog, Boudreaux Jones.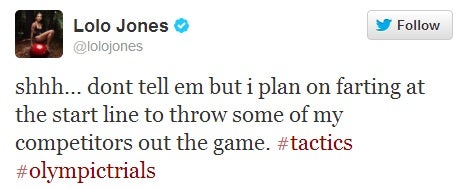 6) Neil deGrasse Tyson // 858,858 followers
Neil deGrasse Tyson may very well be the Internet's favorite scientist. A popular podcaster, somewhat active redditor, and even the focal point of at least two memes, few faces and voices are better recognized online than Tyson's. It is through the written word on Twitter, however, where the former host of PBS show Nova ScienceNow is perhaps most accessible.
The platform allows its users to share thoughts with a large audience quickly, and Tyson does so with great aplomb and humor. His quips make learning about the universe more fun. He has a knack for making even the most banal parts of life infinitely more interesting as he tries to get more people interested in science.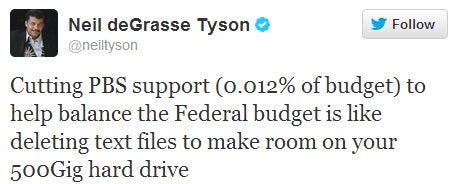 7) Anonymous
By turns a force of good and trolling, Anonymous remained in the headlines this year as the hacktivist collective grew in stature. The group tends to use Twitter more than any other platform to share news of its movements.
Those associated with the collective often use Twitter to organize themselves. In two notable instances this year, they worked to force a pedophile off Twitter and help prevent a teen's suicide. Child exploitation is a bone of contention for many Anons, and they've hit Twitter pedophiles hard this year.
Your Anon News (827,981 followers) is perhaps the collective's main mouthpiece, tweeting news both related to Anonymous and other major world events, largely related to Internet censorship and human rights. YAN, and Anonymous at large, never shies back from pushing forward its agenda, issuing rallying calls to stop legislation that could have a negative impact on the Web and to support Bradley Manning in his WikiLeaks legal battle.
8) Megan Amram // 321,136 followers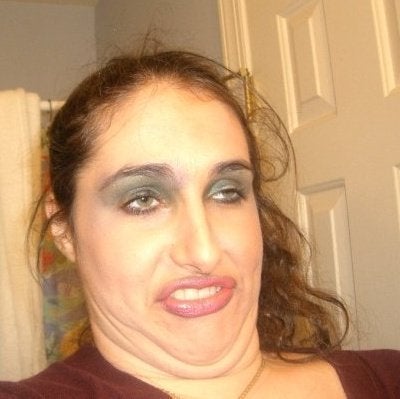 It can pay to be funny on Twitter. With her off-kilter brand of comedy, Megan Amram snagged more than 320,000 followers. By her own admission, she's an "Internet personality" who writes "weird things." She told Last Call with Carson Daly earlier this year that she was thankful for Twitter's existence, since her sense of humor is as "condensed as you can get it."
Amram's often dark, always distinctive brand of joke-telling helped her land a writing gig on Parks and Recreation after writing for the Oscars and a Disney Channel show.



9) Weird Twitter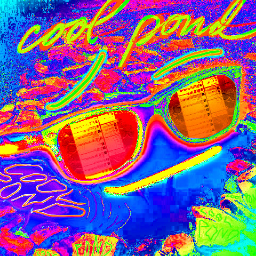 The term "Weird Twitter" refers to a blurrily connected group of Twitter users who use the platform to experiment, largely with humor and surrealism. It is a subculture where form and function become playthings for its participants. It's not quite clear how or why the term Weird Twitter was coined (nor is it certain that those linked with the grouping are fans of the phrase), though it gained increased attention after a graduate student hypothesized about the community's affinities for "sexting," Twitter tracking service Favstar, and surrealism. Oh, and it's usually hilarious.
Among the most notable of those linked with the term are @cool_pond, @80want, and @dril. Participants are also stellar curators of Twitter banality, finding the oddest tweets from others and retweeting them for followers to see. This map, by @tropikoala, gives an idea of how Weird Twitters are linked.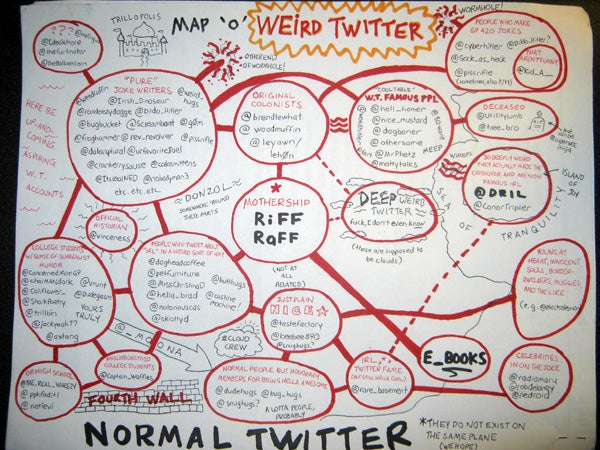 10) Donald Trump // 1,972,786 followers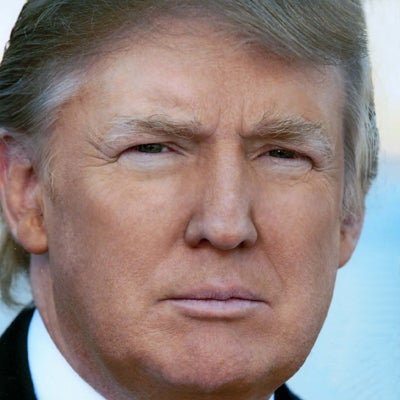 Forget Violentacrez: Donald Trump is the biggest troll on the Web. He goaded Obama with the Internet equivalent of a sharp stick to encourage him to hand over his college transcripts and passport information. He angrily ditched a newspaper subscription in a public forum. He attacked a director who made a documentary about his attempts to build a Scottish golf course.
If there's something happening, you won't be hard pressed to find Trump tweeting—and irate tweeters hurling mud back at the oddly coiffed tycoon. Even if you don't follow the brazen billionaire and his frequently nasty tweets, it's difficult not to see others discussing his antics.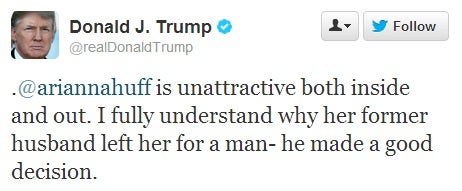 Honorable Mentions
Photo by Abigail Silvester/Flickr