Tweeting insults at athletes is the new screaming at the TV.
When a mistake gives the opponents an advantage, when a player misses a chance to win the game at the buzzer, when a terrible foul changes the momentum of the match entirely, you can bet Vegas odds have it that there will be someone complaining about it on Twitter.
Indeed, the proliferation of athletes who use Twitter themselves allows for fans to directly send their criticisms to fallen heroes. But a dark plague undercuts the missives fired at athletes, especially in the world of soccer.
Racism, both on and off the pitch, has been a widespread problem in the sport for decades and still exists at the highest levels of the game. It was on display between players and coaches in an international youth game in Serbia, when a fan threw a banana onto a field, and when Liverpool star Luis Suárez and Chelsea captain John Terry were suspended and fined over on-field insults.
The problem has been most visible on Twitter, where fans and players alike have faced censure for their actions. Here's a look at some of the more notable incidents from 2012.
March
Player: Fabrice Muamba, Bolton Wanderers
Slur: "A string of offensive stereotypes and insulting swearwords"
Sentence: 56 days in jail
Story: Liam Stacey, a student at a university in Wales, sent tweets about Muamba after the the player collapsed on the field during a game. A senior European human rights official said Stacey's sentence was "too much."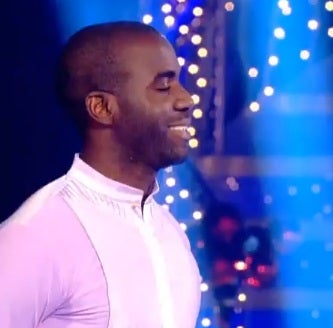 Photo via BBC/YouTube
April
Player: James Perch, Newcastle United 
Slur: "I want to punch perch in his n****r head!"
Story: Police investigated a complaint of abuse targeting Perch after the Newcastle player clashed with Liverpool goalkeeper Pepe Reina on the field.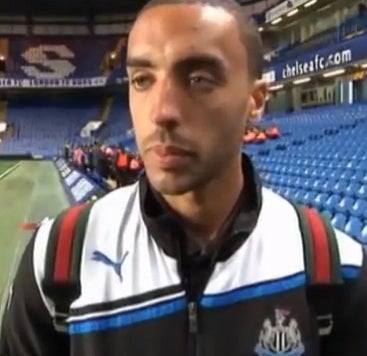 Photo via NUFCExclusiveTV/YouTube
Player: Kyle Bartley, Rangers 
Story: Rangers complained to police after player Bartley was allegedly subjected to racist abuse. The tweets in question came after the team lost 3-0 to bitter rival Celtic.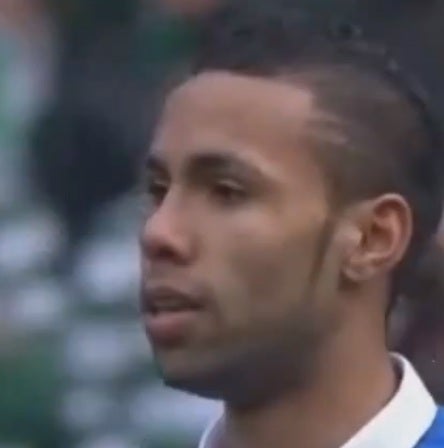 Photo via TheChrisMacLennan/YouTube
May
Player: James McClean, Sunderland
Slur: "Fuck up your dirty fenian bastard il make sure you get shot when you set foot back into gods country #FTP" 
Story: The death threat above was directed to McClean after he was named to the Republic of Ireland's Euro 2012 team despite playing for Northern Ireland as a junior. "Fenian" is often used as a sectarian term of abuse toward Catholics, while the hashtag #FTP can mean a slur against the Pope.
Photo via Wikimedia Commons
June
Players: Ashley Cole & Ashley Young, England
Slur: "yeah I said it, ASHLEY YOUNG AND ASHLEY COLE ARE BOTH WORTHLESS N****RS AND SHOULD BE DEPORTED TO AFRICA, come do something bout it"
Story: Cole and Young both missed penalty kicks against Italy in England's quarter-final loss to Italy at Euro 2012. Afterwards, they were attacked on Twitter by one user in particular. The owner of the now-deleted account claimed to live in the U.S., outwith the purview of U.K. cops.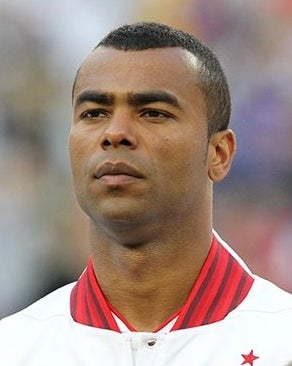 Photo via Wikimedia Commons
July
Player: Michel Morganella, Switzerland
Slur: "I want to beat up all South Koreans! Bunch of mentally handicapped retards!"
Story: Morganella was sent home from his team's Olympic training camp after he sent the above tweet. Switzerland had lost 2-1 to South Korea during the Men's Soccer tournament at the London Olympics.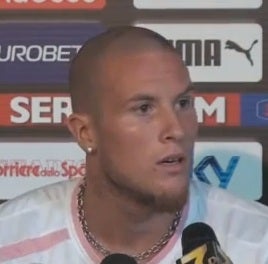 Photo via Mediagol/YouTube
August
Player: Emmanuel Frimpong, Arsenal
Slur: "Scum Yid"
Fine: £6,000 ($9,660) 
Story: The FA fined Frimpong after he used a slur toward a fan of rival team Tottenham Hotspur. The term "yid" refers to Tottenham's Jewish heritage, though the player claimed he "didn't even no the word is offensive as u hear it all the time."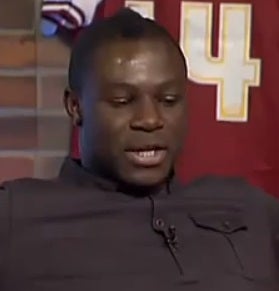 Photo via 008GOONER/YouTube
Player: Rio Ferdinand, Manchester United
Slur: "Choc ice," or a "black person who acts like a white person"
Fine: £45,000 ($72,900)
Story: The FA fined Ferdinand £45,000 ($72,900) after he agreed with a fellow Twitter user who called Chelsea's Ashley Cole a "choc ice." Later, police arrested a 15-year-old fan who tweeted a racial slur at Ferdinand.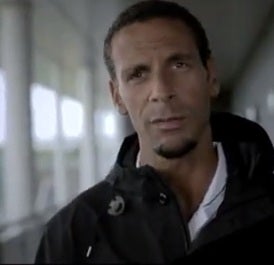 Photo via NikeFootball/YouTube
September
Player: John Obi Mikel, Chelsea
Story: After a string of offensive tweets sent in his direction following a mistake, midfielder Mikel quit Twitter, with his team tweeting "Abuse on social networks is abhorrent. Racist tweets towards Mikel are totally unacceptable. Police informed. #CFC supports strongest action."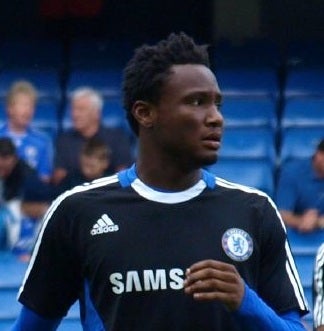 Photo via Wikimedia Commons
Clarke Carlisle, chairman of the Professional Footballers' Association (the trade union for professional players in England and Wales), told the Daily Dot racism in soccer "is more prevalent than a lot of people perceive, especially if we go from park football to the professional level. Great strides have been made from the very dark days of the '80s, but there is still plenty more to do."
Carlisle made a documentary in 2012 called Is Football Racist?, which looked at the issue both on- and offline. The documentary highlights former player Stan Collymore, who both collected racist tweets regarding Suarez and has himself been subjected to racist remarks. (He's reported a number of such incidents to police.)
Many players who have been subjected to racism have been "been dispirited, angered and wanted to leave the game altogether," Carlisle said.
It has caused some to not want their family or children to get into the industry, whereas it has motivated others to want to stand up and make a change. You can't sum up a feeling to encapsulate every person who has suffered abuse, but you can say with certainty that all victims have been impacted by their experiences.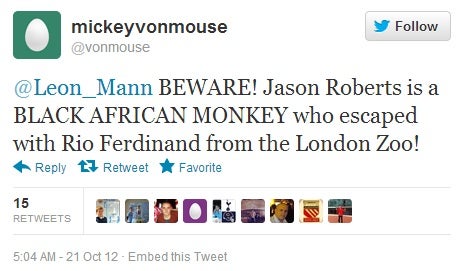 The PFA encourages players to be active in communicating with fans on social networks and to express opinions and ideas, though "not in a way that would be deemed offensive, abusive or bringing the game into disrepute," Carlisle said. He noted that the PFA guides players to steer clear of tweeting anything they wouldn't say on camera. Before the current season got underway, the Barclay's Premier League set out social media guidelines for players as well.
An FA spokesperson told the Daily Dot that any comment it deems threatening, abusive, indecent, or insulting may lead to disciplinary action, and deleting comments or apologizing doesn't necessarily excuse them from censure. Discriminatory comments may lead to more serious disciplinary sanctions, and retweeting an improper comment may be grounds for discipline too.
That said, players might escape legal consequences if they quickly apologize and delete offensive tweets, according to new social media guidelines set out by prosecutors.
The FA, which promotes equality based on the dual aspects of inclusion and anti-discrimination, supports a number of anti-racism charities, such as Show Racism the Red Card, Football Unites and Racism Divides, and Football Against Racism in Europe. It is also a trustee and funding partner for the Kick It Out campaign.  
The FA spokesperson said, "By taking collective responsibility, huge strides have been made by the English game over the last 20 years in terms of fighting against discrimination of all types."

Yet, it's clear there is still racism within the sport, and amid calls for racist players to be fired, there is a broader conversation still to be had on the issue. 
Widespread discrimination in soccer is a tough nut to crack. For instance, the subject of gay players was placed under a hotter spotlight in recent weeks as one Premier League player, Manchester United goalkeeper Anders Lindegaard, insisted his peers would accept a gay teammate. 
He conceded that fans, however, might not be so ready to welcome gay players. (Though there are around 5,000 professional players in England, none has come out to the press since Justin Fashanu in 1990.) Meanwhile, Liverpool player Suso was fined £10,000 ($16,248) by the FA after a tweet calling teammate José Enrique "gay."
It appears deep-seated prejudices still exist for many. While progress has been made on many fronts (as depicted in Carlisle's documentary), there's a long way to go before discrimination is taken completely off the soccer field.
Photo of Clarke Carlisle via @clarkecarlisle5/Twitter