It looks like one of Reddit's most controversial subgroups is being targeted by the site administrators.
On Friday, ChuckSpears, one of the moderators of r/n***ers, alerted members of the white supremacist subreddit that administrators were systematically targeting and shadowbanning them, a practice in which an account is still active on the site but any submission or comments remain invisible to other users.
According to screengrabs of conversations between the subreddit's top moderator and Reddit employees, the bans were the consequence of r/n***ers subscribers acting as a "downvote brigade," systematically going to another subreddit whose views they disagree with—most likely r/shitRedditsays and  r/subredditdrama—and downvoting their submissions and comments.

Reddit Programmer Logan Hanks (Intortus on the site) also accused ChuckSpears and the other moderators of directly linking to comments made on other subgroups.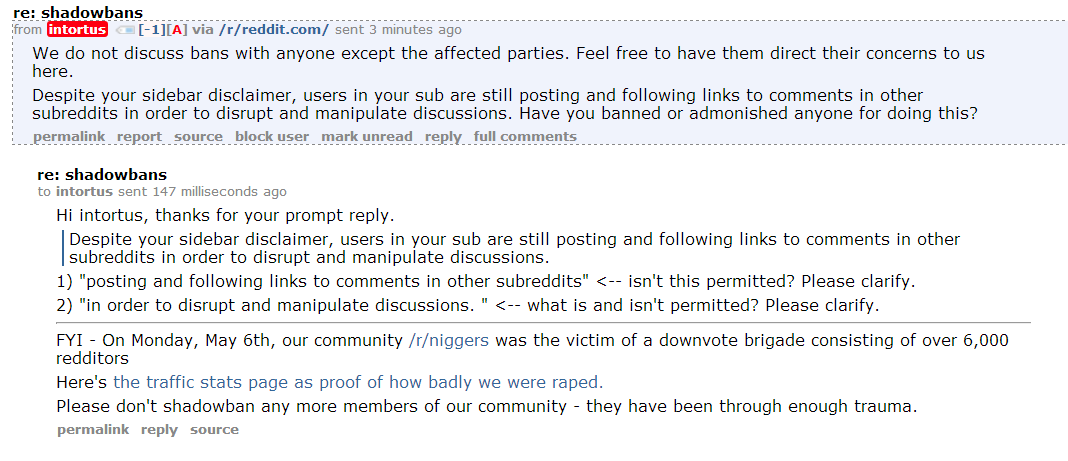 For his part, ChuckSpears responded with a lengthy defense of r/n*****s and its moderators, claiming that he had done everything in his power to curb this offending behavior. Yet, despite these actions, Reddit administrators were still shadowbanning his members for no apparent reason other than they frequented r/n***ers, and were not providing concrete answers as to why.
He then concludes his tome with an impassioned plea asking Reddit to stop oppressing the members of r/n***ers for their racist views.
"We don't want trouble," he writes.
"Likewise, we don't want you to unfairly single out our community and persecute us for our beliefs. We don't want our members to be victims of a shadowban witch-hunt just because they happen to share our ideology."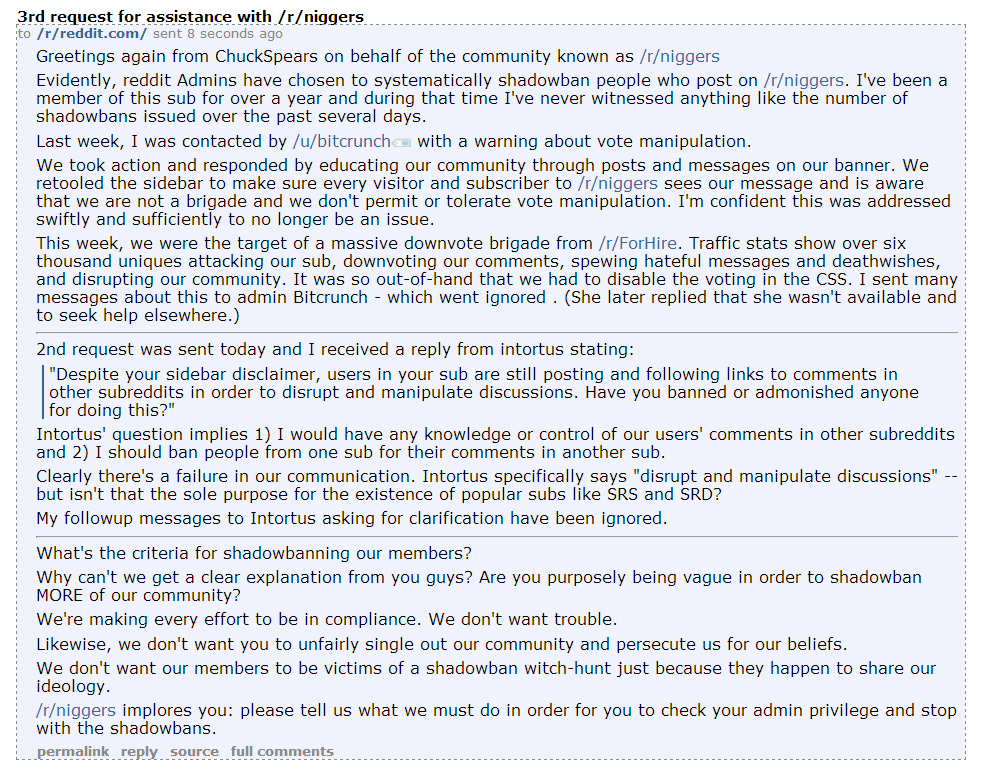 ChuckSpears employs language oftentimes used by actual persecuted minorities, something that was not lost on members of r/SubredditDrama.
"Oh! The Irony! It's delicious," wrote user WhyDoIHaveToHaveaNam in reference to a comment made on r/n*****s' thread. "See: Civil Rights Movement."
"First they came for the paedophiles, and I didn't speak out because I wasn't a paedophile," snarked Miss_Gender, alluding to pastor Martin Niemöller's overused statement about the Nazis' rise to power.
"Then they came for the doxxers, and I didn't speak out because I wasn't a doxxer. Then they came for the racists, and I didn't speak out because I wasn't a racist. Then it was a bit better actually, and nobody missed the ones they'd come for."
To ChuckSpears's credit, he does appear to be doing everything he can to protect his bigoted subscribers from being shadowbanned. His assertion that Reddit administrators are stonewalling him is somewhat valid, as evidenced by Hanks' flippant response to his pleas.

This incident also sheds a light on how Reddit appears to target some while largely ignoring others. r/ShitRedditSays, r/Subredditdrama, and r/Bestof are comprised solely of posts that link to comments made in other subreddits—something r/n***ers was accused of—yet its members are not singled out.
The Daily Dot reached out to both Reddit administrators and moderators of the subreddit but neither party has returned our request for comment. We also reached out to Scopolamina, a once prominent Redditor who has firsthand knowledge of dealing with a seemingly fickle Reddit staff. In January 2013, he was unceremoniously booted from the site for allegedly partaking in a pay-to-post scandal and for voter manipulation, something he's admitted to doing.
"The voting manipulation accusation is such a powerful weapon for the admins to use because there's really no way to refute it. The rules are left vague so they can say you broke them at any time," he told us via Google Talk. "There's absolutely no consistency to how they enforce them and they have different rules for different people."
For better or worse, when Reddit's admins decide you're a bad apple, there's very little you can do to convince them otherwise. You're on their turf, and they can kick you out whenever they feel like it.
Photo via borkazoid/Flickr