If Yishan Wong had been any old redditor sharing a link to 9gag, he'd have been lambasted for it. That he's the company's CEO only just exacerbates the issue.
Wong shared a link on Facebook to 9gag, an image-based meme site, which showed just how similar a young Christopher Walken is in appearance to Scarlett Johanssen. The problem is 9gag is a sore issue for many redditors, with many claiming that 9gag pilfers posts, including original artwork, from Reddit and elsewhere.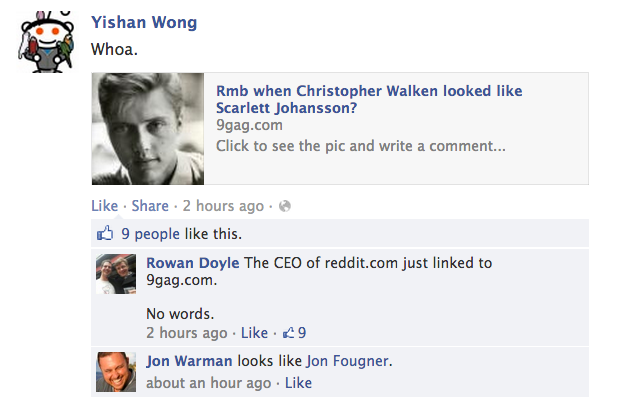 To make matters worse, the link directed to Imgur, an image-sharing site closely linked with Reddit, which should have been an indication that the Walken/Johanssen comparison was already on the social news site somewhere.
A screenshot of Wong's apparent indiscretion soared to the top of the front page on his own site.
"Get your torches and pitchforks ready," AttackAttackAttack urged amid more than 1,000 comments from butthurt redditors. Lt_Howzit suggested it was "time for a coup."
Another commenter simply linked to the satriical r/yishansucks subreddit.
With this level of outrage at his flub, perhaps Wong might need a reddiquette refresher.
Photo via @yishan/Twitter