Kobe Bryant might've called a ref a "f****t" in 2011, but this weekend he was found slapping down someone who made a homophobic comment.
After @Pookeo9 suggested he and Bryant "make out in bed," another tweeter, @pacsmoove, had some harsh words.

Bryant didn't take too kindly to that slur, and promptly fired back.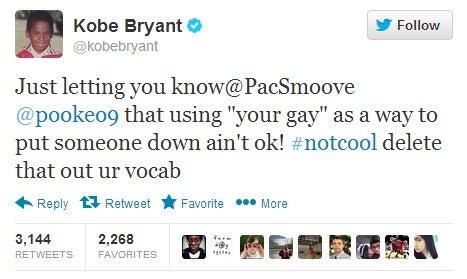 In 2011, the NBA fined Bryant $100,000 for a homophobic slur directed at a ref. Another Twitter user who jumped into the fray didn't let the star, who joined Twitter last month, off the hook for his past indiscretions.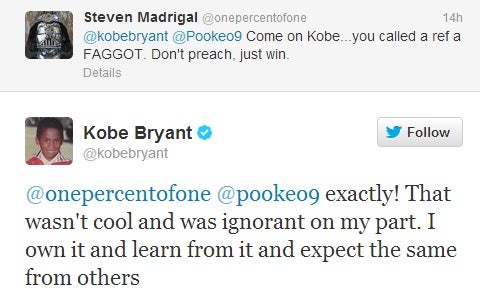 @pacsmoove later claimed that his comment was a "joke." After apologizing, he admitted he wasn't too pleased with how Kobe treated him. 

That is, until @pacsmoove gained followers in the fallout and saw the bright side.


Back in November, a soccer player was suspended after sending a homophobic tweet regarding Olympic diver Tom Daley. Meanwhile, a project called NoHomophobes looks at how often derogatory terms are used on Twitter. In the space of three months, researchers found the word "f****t" had been tweeted 2.5 million times. 
Photo by Keith Allison/Flickr