The street swindler Honey Boo Boo can do anything she wants in this world, except use the Internet to sell people boxes of Thin Mints. 
The 6-year-old sensation (real name Alana Thompson) saw her Girl Scout cookie empire crumble under the all-enforcing arm of the Girl Scouts of the USA organization this week. 
The way TMZ tells it, the brass within the nationwide cookie committee had a problem with the way Honey Boo Boo was going about her sales.
That's because the uncommonly popular TLC reality star and Internet whiz kid—who says she's selling Girl Scouts cookies for a friend—has gone about selling said Samoas and Savannah Smiles via her 703,000-strong Facebook fan page.
It's a much larger audience than the one the girl standing outside the CVS usually gets. 
GSUSA apparently did not like the tactic. A representative told TMZ that the practice of online cookie-selling "defeats the whole purpose of selling the cookies," which is apparently a vehicle for meeting people, learning to run a business, and poking and prodding and being annoying about the way that people spend their money. 
Honey Boo Boo had been selling packs of Girl Scouts cookies for $3.50 plus shipping each. According to a Facebook post, the girl or one of her sisters would autograph each box and also include an autographed photo of the family.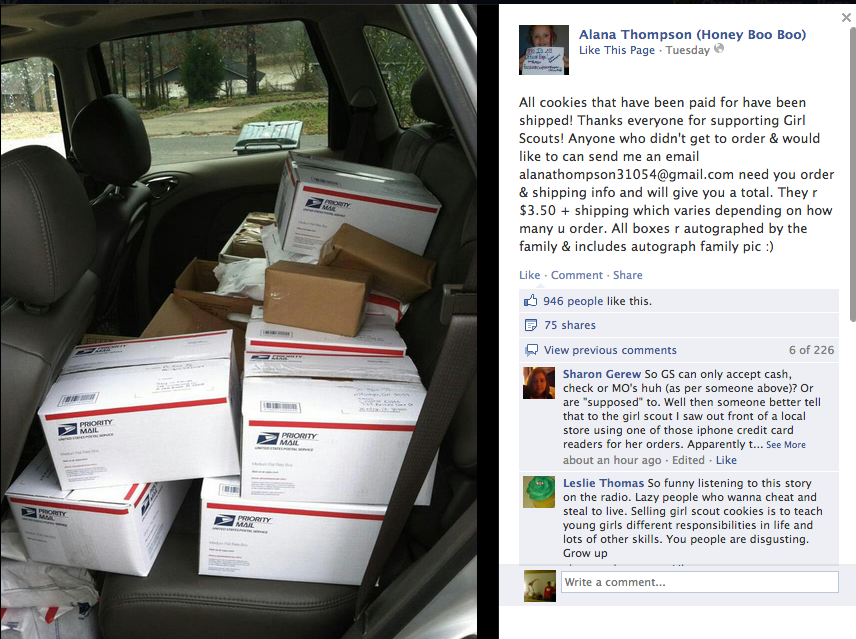 Word has it that Honey Boo Boo gets to keep the money made off the sales she'd already orchestrated online—or her friends gets to keep the cash, whatever. Here's guessing we won't see her peddling Peanut Butter Patties outside your local supermarket any time soon.
Photo via Alana Thompson (Honey Boo Boo) Facebook