If you missed out on your Oscar ballot predictions or are a fan of Nate Silver's FiveThirtyEight, then FantasyPope.com may be the site for you.
Created by Texas law professor Josh Blackman, Fantasy Pope is like any other fantasy league: you pick your favorites, and the site tracks the popularity of the various papal candidates (or "Papables") until the real-world conclave picks a winner.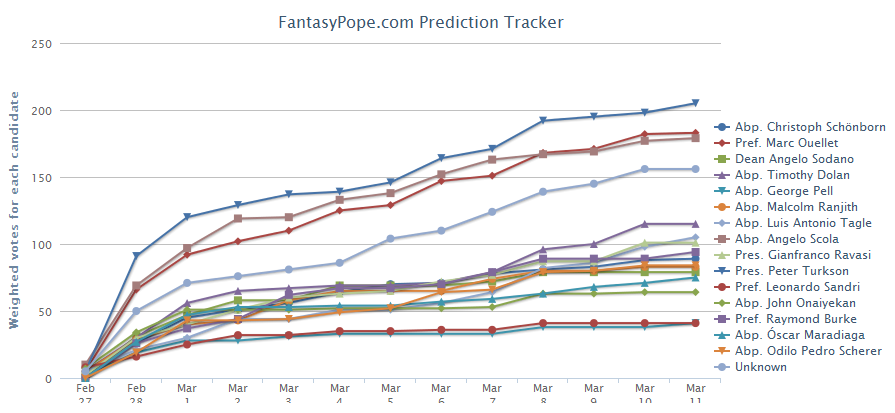 Image via fantasypope.com
Blackman previously helped create FantasySCOTUS, where Supreme Court enthusiasts compete to predict the court's decisions. Fantasy Pope is a little simpler, offering a single choice between a selection of Cardinals, plus one empty slot for wild-card candidates. In answer to the question of whether it's appropriate to make predictions about the next leader of the Catholic Church, the site says:
"The point isn't to be right, but to see if all together, our collective wisdom can come to the same decision as the conclave. Help us to determine whom you think, by your imperfect knowledge, should be the next Holy Father."
The site is free to use, with the only prize being bragging rights if you manage to back the winning cardinal. If you like your Papal predictions with a little more incentive behind them, then there's always the Fantasy Conclave League. While Fantasy Pope focuses on an academic interest in statistics, fantasyconclave.com is offering a cash prize of $300 to its winner. With admirable attention to canonical detail, their homepage points out that due to an idiosyncrasy of Catholic law, gambling on Papal elections has not been illegal since 1918.
Image via Flickr/gabdurakhmanov