Tech

Tech

The gadgets, platforms, and software that make your digital life possible. If it bleeps, clicks or blinks, you'll find it here.

Internet Culture

Internet Culture

There's a community for everyone online.

Streaming

Streaming

News, reviews, and guides for the world of online entertainment.
Facebook fooled by bullfighting photo
This touching image of a bullfighter who's apparently had a change of heart isn't quite what it seems.
Every day, the Daily Dot finds something that people on Facebook are sharing and, in turn, shares it with you—with a little explanation. Here's today's share.
It's such a touching image: the bullfighter who sits down, overwhelmed at the barbarism of his craft, and the bull who approaches him, as if in supplication. The noble animal is peaceful, even though it's bleeding from darts and sword jabbed in its spine.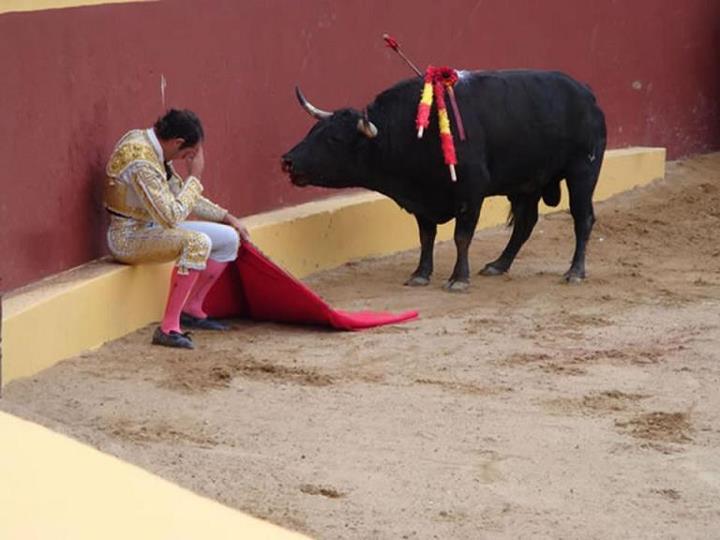 More than 25,000 Facebook users have liked and shared the photo, which comes with this moving caption: "the end of Matador Torero Álvaro Múnera's career. He collapsed in remorse mid-fight when he realized he was having to prompt this otherwise gentle beast to fight. He went on to become an avid opponent of bullfights."
Facebook, can't you get anything right?
Múnera is, indeed, a former matador turned animal rights advocate. But his conversion was far more violent. An aspiring lower-level Colombian bullfighter, he was savagely gored by a bull in 1984. It left him permanently paralyzed.
But what about that pose of regret? Turns out that photo is of a much younger bullfighter, Francisco Javier Sánchez Vara, who's standing in "desplante"—an act of defiance. Because the bull is so near death, Vara is able to rest in its path with impunity.
Though users' reactions are mixed on whether it's an accurate caption, they seem to agree on one thing.
"Poor animal…..intelligent, gentle,innocent soul….as if to say 'Why? Why are you hurting me ?" wrote Robert Artese.
"I am completely against bull fighting, but that is not Alvaro Munera in the picture. This is just an A-hole mocking a dying bull," wrote Gustavo Carcamo.
Photo via Facebook
A former senior politics reporter for the Daily Dot, Kevin Collier focuses on privacy, cybersecurity, and issues of importance to the open internet. Since leaving the Daily Dot in March 2016, he has served as a reporter for Vocativ and a cybersecurity correspondent for BuzzFeed.
© The Daily Dot, all rights reserved.
Represented by Complex Media, Inc. for advertising sales.