So, how do families interact on Facebook, anyway? Conventional wisdom suggests the answer is either "dysfunctionally" or "as little as possible." But according to Moira Burke and Lara Adamic, two data scientists at Facebook who released the study How Families Interact on Facebook, conventional wisdom is largely wrong.
A casual online search yields plenty of examples in support of the theory that family and Facebook shouldn't mix. BBC News listed many negative anecdotes in its 2010 article "Facebook: Should parents 'friend' their children?" Last year, a Ph.D. blogging for Psychology Today posted "Mom, I love you, but please don't friend me on Facebook," where she noted, "Even the closest and most loving of parent-child bonds can hit a stumbling block when Facebook is involved; you might consider your Mom your best friend, but that doesn't mean that you want her able to overanalyze your flirtatious wall posts or your Farmville habit." Even Disney's Family.go.com asked "Should you be Facebook friends with your teen?" and concluded "no."
And there's plenty of blogs like STFU, Parents, highlighting parents with outrageous or self-centered Facebook behavior regarding their children; and another blog with the self-explanatory title "Oh Crap. My Parents Joined Facebook."
But what does the actual Facebook user data say? According to Burke (who is, granted, a Facebook employee with a vested interest in that company's well-being), an investigation of anonymized, automatically generated English-language posts concluded that parents and children have a great time together on Facebook, although their "conversation patterns with each other might be a bit different from those with their other friends."
That said, Burke's data only looks at those families who do interact on Facebook; there's no mention of family members who don't, or of how many Facebookers avoid interacting with their families. But for the parent-child interactions that do exist, clear trends and patterns emerge from the data.
One graph breaks down child-parent Facebook friendships based on who initiated them: did the parent or child send the initial friend request? Teens aged 13 to 17 overwhelmingly sent friend requests to their parents rather than accept requests from them. After that, "the older the child is when the friendship is formed, the less likely the child is to be the one sending the friend request." Friend-request rates bottom out when children are in their mid-20s, but once the children themselves become middle-aged, the ratio of parent-to-children and children-to-parent friend requests levels out.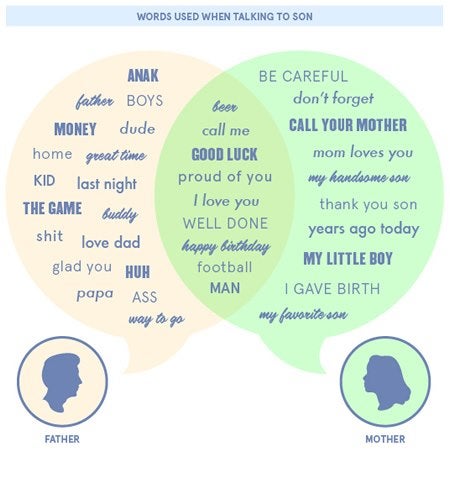 There's an old saying "A son is a son until he takes a wife; a daughter's a daughter all of her life." In other words, grown women are more likely than grown men to maintain close relationships with their mothers. The data seem to support this theory: adult daughters usually make more posts on their parents' timelines than parents make on their daughters', but with adult sons it's the opposite.
And when parents do talk to their children, what do they say? A look at English-language posts shows that among parents, a partial listing of phrases moms say to adult sons include "Call your mother," "my little boy" and "Mom loves you." Dads' top phrases include "dude," "huh," "shit" and "the game." To grown daughters, Dads often say "my princess," "my baby," "picture" and "baby," while Moms lean more toward "come home," "all grown," "angel" and "grandma."
  
There may still be some truth to the old conventional wisdom "Don't friend your parents or kids on Facebook," but for those who violate this and friend their family anyway, Burke says, "We are happy to see that our data surfaces the affection, care, and closeness of family ties. Happy Holidays!"
Photo by stoneysteiner/Flickr