Think your prom date was cool? If he or she was a human, think again. One Tumblr teenager put the TI in inventive when she took her calculator to prom.
"No one asked me to prom, so I took my calculator," wrote high schooler Regina Reynolds last week. When asked to provide pictorial proof, she ponied up in a post tagged "Reasons I am better than you," with a bucketload of pictures featuring herself and her Texas Instruments graphing calculator attending prom in a hand-sewn silk tuxedo.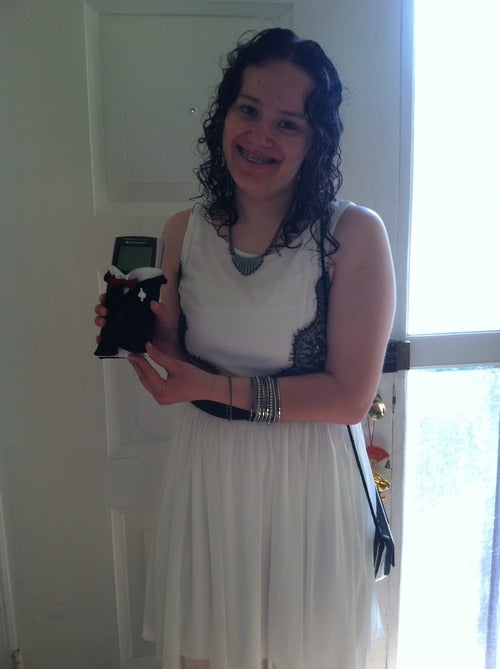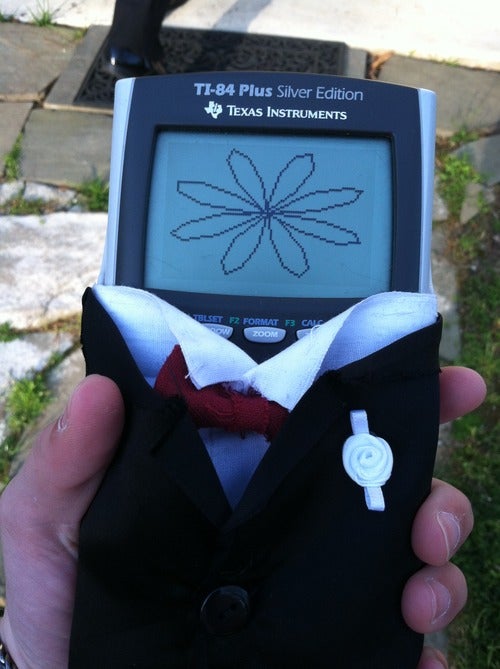 The calculator, named TI, received star treatment as she whisked him around prom, introduced him to all her friends, and slow-danced with him.
If that's not enough to make you immediately starstruck with Reynolds, then maybe you deserve a prom date who knows the logarithmic curve to your heart. We can't all be so lucky to design our own perfect gadget romance, but we can stalk Reynolds Tumblr (don't you wish your Tumblr name were as great as "ishipitlikeUPS"?) to see what insight we can glean from a math geek with a fannish inclination and a dazzling amount of self-confidence.
Reynolds's Tumblr invites her visitors to Taste the Awesome. It tastes like a mix of fandom, feminism, humor, and hedgehogs. After her story went viral and landed her on a wash of major news outlets, Reynolds received word that she was trending on Twitter, and promptly signed up for the service so that she could interact with the likes of The Mary Sue and Texas Instruments—who were, of course, pleased with Reynold's sudden popularity.
She also, inevitably, got steamy calculator fanfic.  
It had been an amazing, romantic night of dancing and having fun at prom, but the night had only just begun. Her white dress had been torn off in a burst of frenzied passion, flung into the front seat of the car like a page of frustrating Calculus homework. …

"Oh, baby, I love it when you push my buttons like that," T.I. whispered.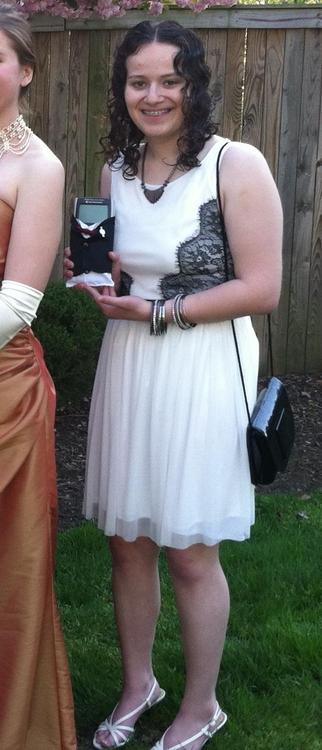 As the notes on her calculator prom post continued to climb, Reynolds reacted with panache, boggling at the media coverage and dishing out helpful advice to other geeks in love with their gadgets/would-be prom dates:
Frankly, Rebecca, don't let nobody dull your sparkle~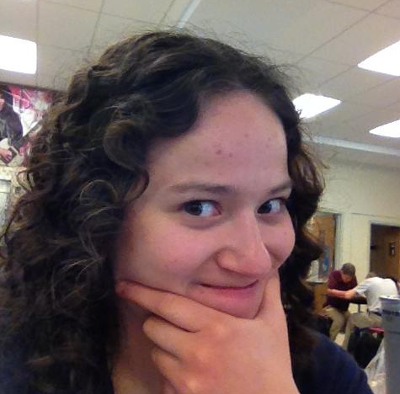 She also roundly delivered the smackdown to a few people who failed to appreciate her genius:
@ruthiesparkle You're a white teenaged girl using the phrase "fly as hell" unironically. Sit there and think about your choices.

— Regina Reynolds (@IShipItLikeUPS) May 5, 2013
Is it possible to ship Regina/Awesome? Because we're starting to. 
Theres so much we don't know about Regina. Is she a junior or senior (Regina, call us!)? Can she take more intangible badassery to next year's prom? If not, well, at least we know she's in good hands.
H/T Betabeat | All photos via ishipitlikeups/Tumblr