Microsoft Studios creative director Adam Orth is in a bit of hot water after blasting anyone who doesn't have a reliable Internet connection, as well as offending gamers who live in rural areas.
Orth took to Twitter yesterday to dismiss anyone who complained about the rumors that the next generation of Microsoft's Xbox gaming console might be an "always-on" device, meaning that it will require a constant Internet connection to work, even if you're not playing online.
Don't like it? Deal with it, Orth suggested on Twitter. The message set off a firestorm of replies from gamers who follow him.
When Orth's friend, BioWare developer Manveer Heir, countered with valid claims, Orth was equally dismissive.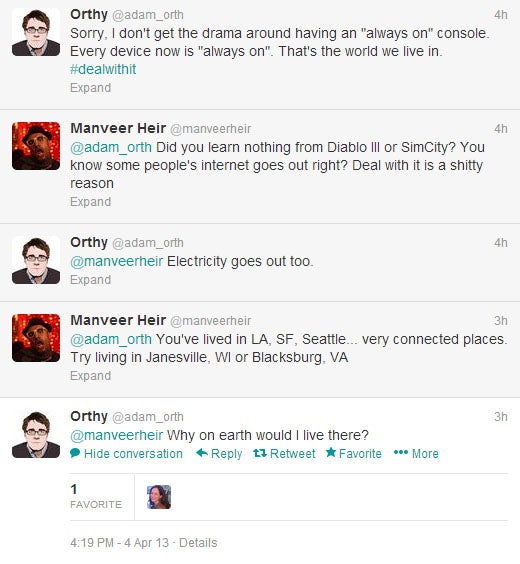 Orth then doubled down on his online disdain with the following sequence of tweets.
He then concluded his Twitter exchange with what he probably thought was a clever usage of an Obama meme.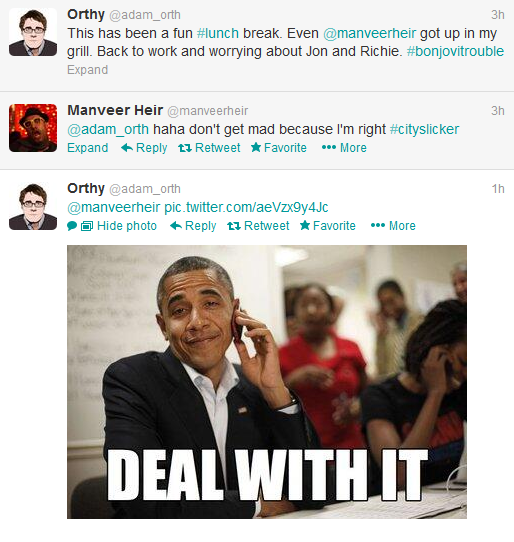 To his credit, Orth did eventually apologize— sort of— claiming that his comments were "just trolling [Heir] personally."

The Microsoft Studios director proceeded to make his Twitter account private, but by that point it was too late. The above tweets were screengrabbed and posted on video game forum NeoGAF by user shinobi602.
Unsurprisingly, the Internet has refused to accept Orth's lackluster apology. Orth's tone-deaf comments inspired a series of memes on Reddit that make fun of him and his employer.
As if the ridiculing macros weren't enough, Orth also managed to piss off popular video game vlogger Francis, who did not react to the incident kindly. He posted one of his trademark angry rants on the subject to YouTube, where it's approaching 100,000 views.
The Verge reported that Microsoft has distanced itself from its employee. They issued the following statement.
"We apologize for the inappropriate comments made by an employee on Twitter yesterday. This person is not a spokesperson for Microsoft, and his personal views do not reflect the customer centric approach we take to our products or how we would communicate directly with our loyal consumers. We are very sorry if this offended anyone, however we have not made any announcements about our product roadmap, and have no further comment on this matter."
While the company addressed Orth's behavior, Microsoft is still playing coy about the rumor that started all of this, refusing to confirm or deny that the next-gen Xbox will need an always-on Internet connection.
UPDATE: Polygon reports that Orth is no longer with Microsoft. Microsoft has declined to comment on the situation.
Photo via Quickmeme