From Zach Braff to Ken Jennings, these karma kings drop serious knowledge regularly on the social news site. 
Reddit's live interview section, r/IAmA, may be the biggest single watering hole for celebrities online. But while the famous lap up the attention and quick karma on the social news site for promotional purposes—they don't usually stick around.
They're in, they're out, and off to the Today show—never to think about Reddit again.
There are some—the geeky, the nerdy, the Internet-savvy—who stick around the long haul, however. And to redditors, it doesn't really matter that these longtime users aren't exactly A, B, C, or even Z list celebs. They just like that their famous friends stick around and chat.
Here are the top active celebrity redditors the Daily Dot found. Granted, our requirements were not particularly strict; we were just looking for people who lasted longer than AMA ("ask me anything") session and contribute to discussions elsewhere on the site.
1) Zach Braff // zachinoz
The Scrubs star really gets Reddit. He likes sharing stories about his distant relationship with Mitt Romney and submitting video greetings to redditors from around the world. He also really seems to like tweeting about Reddit and then talking about his tweets about Reddit on Reddit.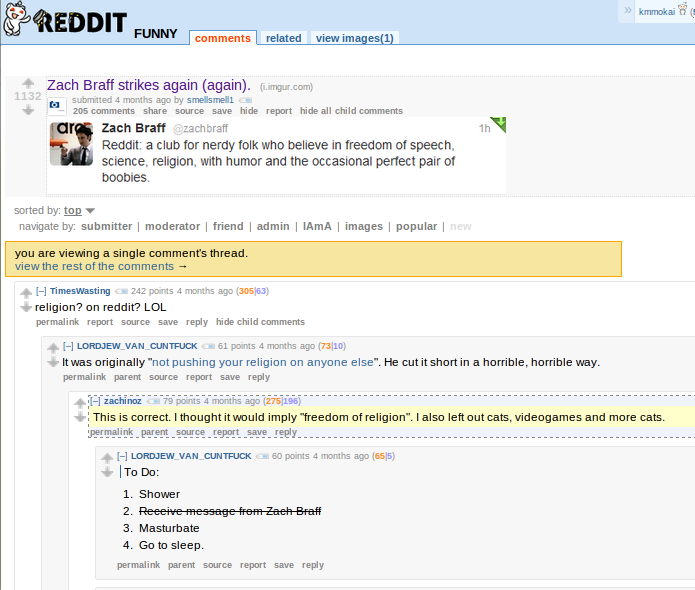 2) Neil deGrasse Tyson // neiltyson
Reddit's favorite celebrity astrophysicist, educator, and general badass usually sticks to formal AMA sessions. Occasionally, however, he does poke his head into ordinary conversations. In this case, he provides some elucidation to a grammar smackdown he delivered on Facebook.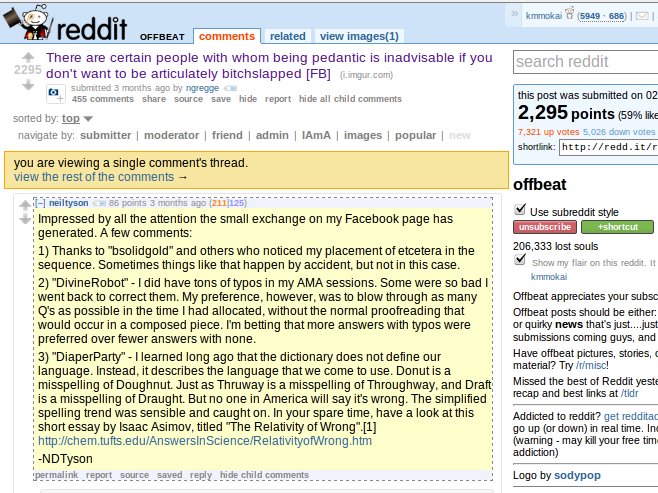 3) Chris Kluwe // Loate
Chris Kluwe might not boast the same type of sporting fame as, say, Peyton Manning, but he is king of r/NFL.
The Minnesota Vikings punter is probably the most active redditor amongst any of the celebrities listed here. He's just always … there, leaving funny, smart, and damn interesting comments that shed a light on what goes on behind the scenes at the NFL.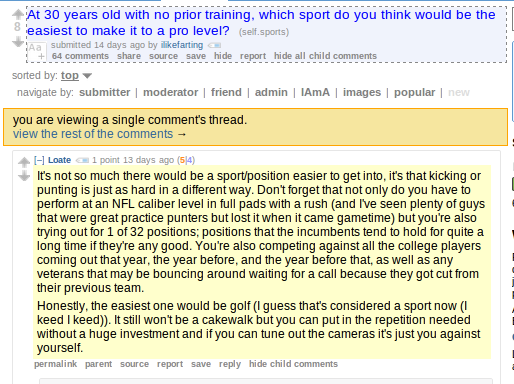 4) Brandon Sanderson // mistborn
OK, we admit it's a stretch to call Sanderson a celebrity. But in the niche of fantasy fiction, he's a big deal: Hand-picked to complete the epic Wheel of Time series after Robert Jordan's death and author of the wildly popular Mistborn series, Sanderson is a rising star.
He's not afraid to plunge head first into Reddit and contends with Kluwe for title of most active user. Here he is replying far too politely to an obvious troll.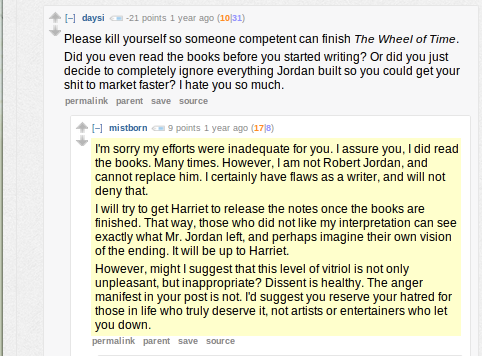 5) Freddie Wong //  freddiew
Freddie Wong is an Internet video star and also a borderline Hollywood celebrity. His first-rate YouTube videos have brought him attention from major Hollywood personalities, such as Jon Favreau. While he usually prefers to simply promote his videos on Reddit, he also jumps into the fray once in a while, often with a fun Hollywood or filmmaking anecdote.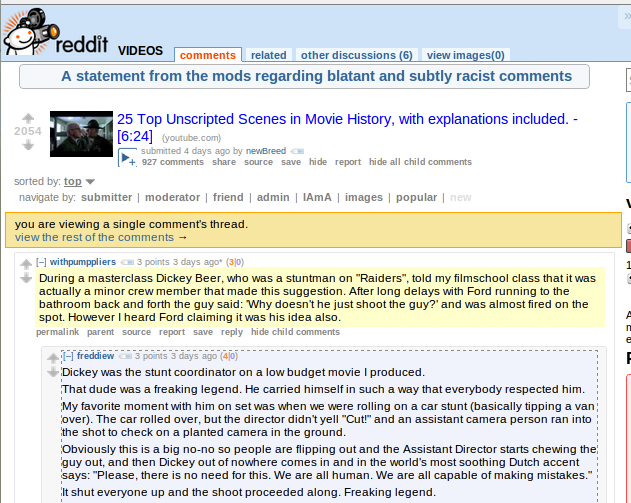 6) Ken Jennings // WatsonsBitch
Jeopardy wasn't big enough to hold this trivia star. Indeed, Jennings found a second life on Reddit, where his 2011 AMA became one of the most popular of all time (Neil deGrasse Tyson dethroned him last November). Jennings was actually college roommates with Sanderson, as revealed by this witty exchange during an IAmA. 
While Jennings mostly sticks to promoting his books on Reddit, he occasionally materializes to deliver a witty barb or one-liner.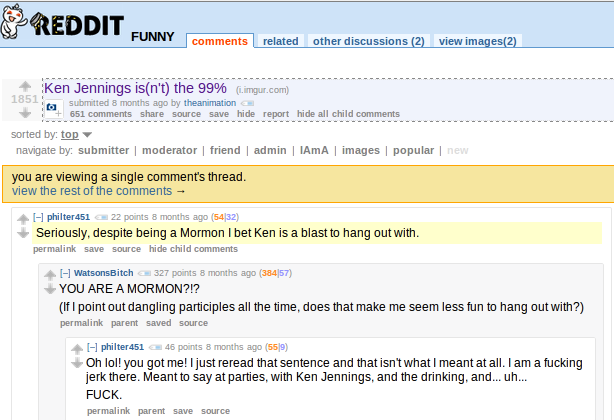 7) Luis Moncada // LuisMoncada
On AMC's Breaking Bad, Moncada plays a stone-cold killer, an emotionless assassin hired by Mexican cartels. In real life he's a reformed gangster who spends a lot of time on the subreddit r/breakingbad, raising money and awareness for good causes that keep kids off the streets.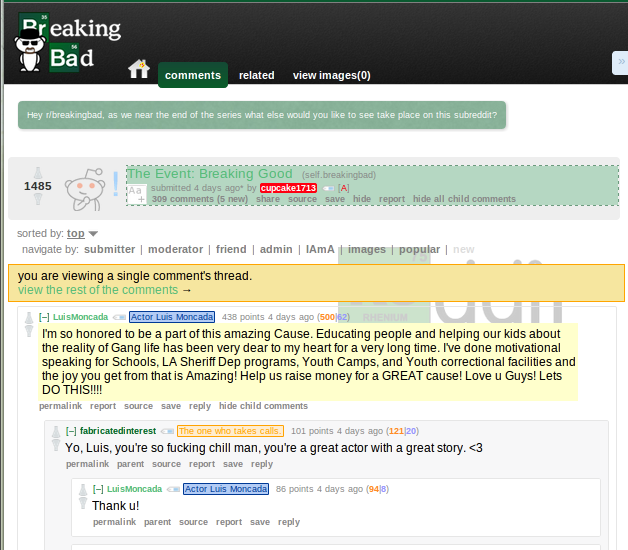 8) Dan Harmon // danharmon
Harmon's NBC comedy Community owes a lot of its continued existence to the Internet. Indeed, r/community became one of the most influential voices in the push to bring the show back earlier this year. As a frequent commenter, Harmon has played a big role in stoking r/community's fervor for the show. When he got dumped from the show in May, the subreddit subscribers rallied in support of their famous friend.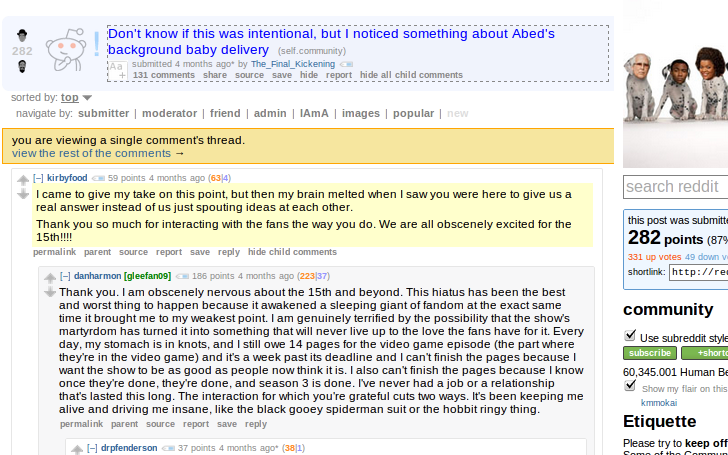 Photo via Zach Braff
Pure, uncut internet. Straight to your inbox.