The self-proclaimed "Garbage Pail Kids version of Zooey Deschanel," Mary Charlene (@iamenidcoleslaw), only had two words for Time magazine after finding out she wasn't listed as one of their 140 Best Twitter Feeds of 2013.
"F*** u."
It's hard to blame Time for leaving Charlene out, considering her tweets don't fit nicely into topics like comedy, politics, or cultural critics. They are a delightful mix of non sequiturs, news, and obscenities, with a little self-deprecation thrown in for good measure.
Charlene is part of a burgeoning comedy subculture that's been labeled "Weird Twitter." It's difficult to define who or what "Weird Twitter" is, but Nick Douglas at Slacktory may have come closest when he called it "a loose group of Twitter users who write in a less-accessible form, using sloppy punctuation/spelling/capitalization, poetic experimentation with sentence format, first-person throwaway characters, and other techniques little known to the vast majority of 'serious' Twitter users."
Weird Twitter has recently started to get some mainstream attention—a Guy Fieri parody menu written by three of the most prominent weird tweeters went viral earlier this year, and @dadboner, one of the movement's poster boys, has scored a book deal based on his account.
But Time has yet to catch on. Only one of their 140 Best Twitter Feeds, @cool_pond, represents the Weird Twitter movement.
To help the magazine catch up with the Twitter culture of 2013, here are 10 Weird Twitter profiles you should be following.
1) @bransonbranson, 5,743 followers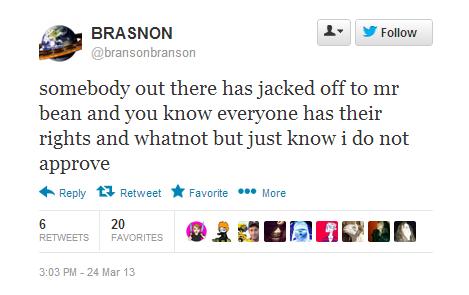 @bransonbranson is that tiny juvenile inside your head that you've been trying suppress for years but can't because things like "squeezing an avocado to feel if it is ripe feels like an incredibly sexualized act."
2) @dadboner, 132,300 followers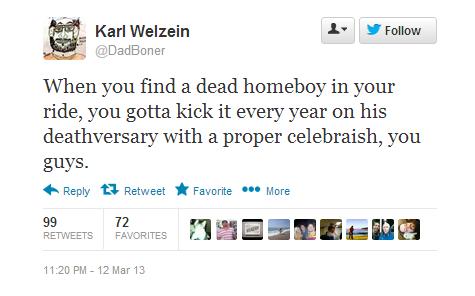 If you've ever been to Michigan, you know exactly why Karl Welzein has so much free time to tweet about beer, model Kate Upton, and drawing on his driver's license.
3) @dril, 41,412 followers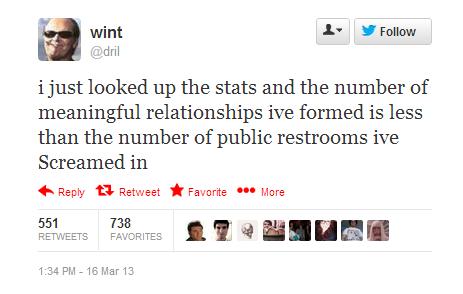 If there is indeed a hell, @dril's Twitter profile background is what it looks like, and his tweets are what you'll find written in its feces-stained bathroom stall.
4) @boring_as_heck, 22,867 followers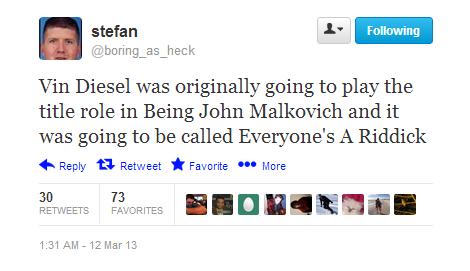 Stefan uses his Twitter feed as a mirror he holds up to the world. The only catch is, the mirror already has an image of dirty man in a trenchcoat on it.
5) @utilitylimb, 13,227 followers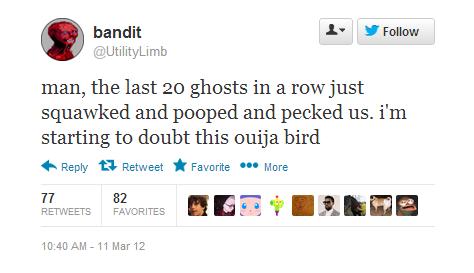 If @dril's Twitter profile is what hell looks like, @utilitylimb is the delusional devil.
6) @grawly, 9,453 followers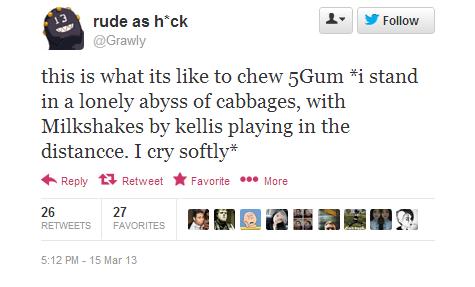 Picture a toddler playing Dance Dance Revolution in diapers while shaking a dildo. That's as close you'll get to understanding @grawly's tweets.
7) @iamenidcoleslaw, 98,180 followers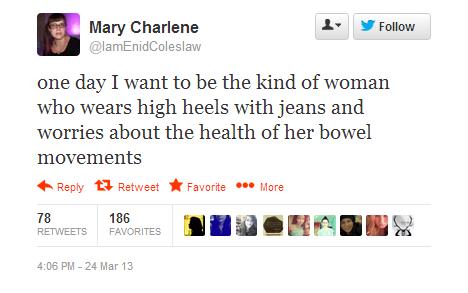 If you were ever looking for tips on exfoliating, sex, or how to make the perf margarita, check out Mary Charlene's tweets. And make sure you have some eye bleach handy.
8) @rare_basement, 27,651 followers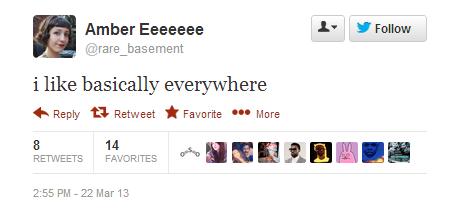 Don't let @rare_basement's innocent looking Twitter profile pic fool you. She will cut you if you get between her and watching Goonies.
9) @aRealLiveGhost, 13,502 followers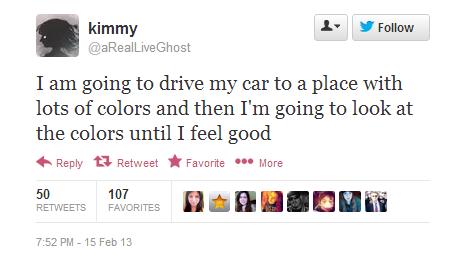 Heaven seems pretty lame compared to the life of this freewheeling ghost stuck on earth.
10) @lawblob, 7,364 followers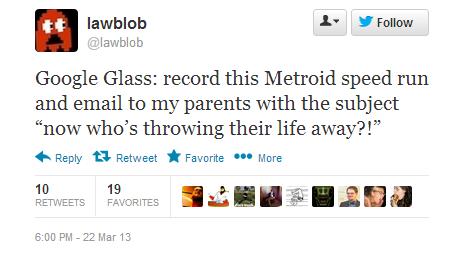 What happens when you mix the horrified look of a Pac-Man ghost with the topical humor of a hobo? @lawblob.