The Daily Dot may receive a payment in connection with purchases of products or services featured in this article. Read our Ethics Policy to learn more.
On September 8, 2022, Twitter user LillianaFuture started a thread about now-former UK Prime Minister, Liz Truss, suspecting she is a collared submissive, based on a necklace she's seen wearing in about 70 percent of photos taken of her. Known among those of us in the BDSM lifestyle as an O collar, necklaces such as these are also more popularly referred to as a day collar or day collar necklace and can be used for 24/7 wear. 
What is a day collar or sub collar?
I don't know if Liz Truss is a collared submissive but if you or someone you know is considering collars or being collared, wearing one 24/7 can be intimidating. For most people, when they think about collars, those of the doggie variety come to mind first—but that doesn't have to be the case. Really, any piece of jewelry you and your Dominant agree on will work, but if you want something that looks at least somewhat like what reminds you of your dungeon play, there are specially crafted items out there with the BDSM lifestyle in mind.
A sub collar or day collar is essentially any jewelry or neckpiece you can wear during the day that doesn't immediately call attention to you or itself and scream, "I'm a collared submissive!" The point is for you, as the submissive, to be able to continue to have the feeling of being owned by your Dominant throughout the day, without calling undue attention, and for your Dominant to be able to give you the gift of your collar and know you're able to wear it 24/7.
Why do submissives wear day collars?
Day collars are designed to be discreet and come in many styles to meet the needs of every type of relationship. While most people might just notice your beautiful necklace, those in the community would recognize it for what it is and appreciate your submission to your Dominant.
If you're into BDSM and appreciate being owned, it's perfectly normal to want a token to show this in the form of a submissive or day collar. A thick leather collar with a D-ring attached might not be the best day-wear choice for many, so a more delicate and discreet day collar comes into play.
What types of day collars are there?
There are as many kinds of submissive or day collars as there are people. Something as simple as a ribbon tied around your neck would work, but there are also extravagant and expensive custom-made necklaces.
It's completely up to you and your Dominant as to what type of day collar you should wear, but half the fun is picking it out together. Make sure it's something you like, is going to be comfortable for you to wear, and is discreet enough for you to enjoy wearing daily so you get the most use from it. Discuss what it means to you and of course be sure you're ready for this huge step in your relationship. Being collared in a D/s (Dominant/submissive) relationship is not unlike becoming engaged in vanilla relationships. Yes, it can be undone, but it takes commitment and a lot of continued conversation about what this means and where you'll go from here.
Submissive day collar ideas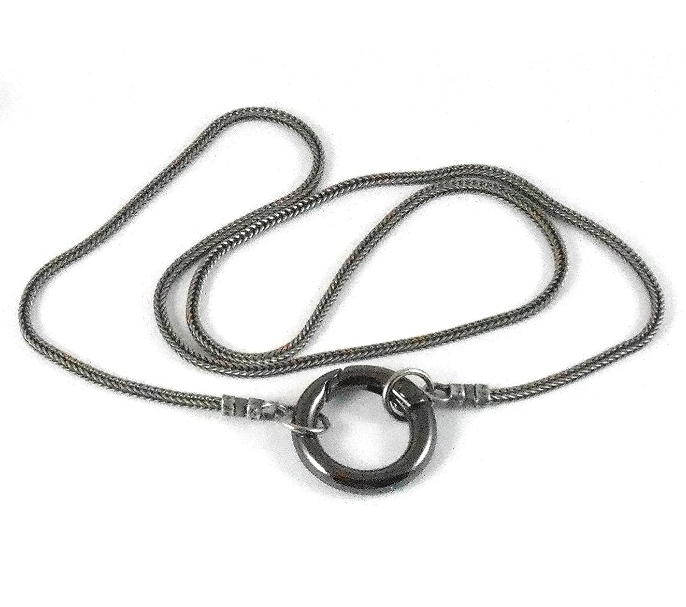 This is a wheat-style chain with no closure, so it's easy on and off over your head. It features a circle with a chain on either side, recognizable to most in the BDSM community as a day collar design.
---
This figaro chain has a recognizable circle with the chain on either side but is more delicate than the first collar mentioned. It does come with a clasp, so you would need to verify the length will work for you. It fits up to 18 inches.
---
Smooth 304 stainless steel collar, finished in polished and brushed handmade surface, the collar has a removable O-Ring at the front. When the O-Ring is removed, this collar looks like a simple choker—a discreet day collar option. This collar is secured with a small hex screw that is integrated into the locking tab on the side opposite the hinge. The collar locks when the hex screw is screwed into a small grove on the lower portion of the locking tab, thereby preventing the collar from opening.
---
Dainty interlocking link chain with an infinity symbol and heart to showcase your love and affection for your submissive. Made of sterling silver and the adjustable length varies from 40-45cm.
---
A discreet day collar—lockable and comes with 1 removable O-ring,1 hexagon key, and 2 spare screws.
---
You can find all of these and more on Amazon, so take the time to check them out with your Dominant and find the one that will make you both happy. Spend some time talking about what you both want and desire out of not just your day collar, but also, being collared in general. Communication is key in everything, especially in your D/s relationship.