The Daily Dot may receive a payment in connection with purchases of products or services featured in this article. Read our Ethics Policy to learn more.
When it comes to sex—solo or partnered—lube is always a good idea and CBD lube is a great idea.
Even if you don't think you need lube, you might find that you actually like it. "Not only can you experiment with a wider array of positions and techniques when you add the slippery stuff, but research continues to suggest that using lube is associated with more pleasure and orgasms," says Dr. Jess O'Reilly, Astroglide's resident sexologist.
Some people with vulvas ooze lubrication, and that's great. But if your body doesn't get wet naturally, there's nothing wrong with you. You haven't found the right lube—yet.
Choosing the right one for you can be downright confusing. Like with any other product you apply to your skin, there may be a bit of trial and error involved. After all, the eye cream you swear by might give your best friend a rash.
"You know your body best, so you'll likely want to experiment with various formulas to better understand what works best for you," says O'Reilly. CBD may be the right formula for you.
What is CBD lube?
CBD lube, with a few exceptions, is actually a misnomer, says Ashley Manta, award-winning sex coach and author of The CBD Solution: Sex. "CBD infused oil is what is most often what people are referring to when they say CBD lube, but the distinction is crucial because, unlike lube, CBD oil needs time to marinate. So it's not an 'apply and go' situation." Instead, she says, the cannabinoids, namely CBD, require time to absorb into the mucosal membranes of the vulva and vagina.
People use CBD lube for various reasons, says Manta, from decreasing inflammation to increasing space for more pleasurable sensations. It can also assist with the pain of vaginismus and other conditions that can make intercourse uncomfortable and anxiety-inducing. "Like topically applied THC, there are no intoxicating effects, so you don't have to worry about 'getting high' from engaging with a cannabis product in this way," she says.
Are there any risks to using CBD lube?
But what about other risks? Manta says there are few if any, risks from CBD itself, but there are a lot of crappy products on the market. She says that to be a savvy consumer, be sure to read the ingredients list. "If there are chemicals you can't pronounce, do a quick Google search to make sure they're body safe," she says. "I've seen some CBD companies put things like capsaicin or niacin in their products to create 'warmth,' but that's not going to feel good for a lot of people!"
Also, because CBD exists in a legal grey area, she notes there is minimal oversight and quality control for the products on the market. "The onus is on the consumer to do their research and find reputable companies, not the ones making the boldest claims or with the flashiest ad budgets, but the ones that come highly recommended by experts and have a COA (certificate of analysis) readily available on their site," she says. "Odds are, you're not going to get a high-quality product from a gas station or a drugstore."
How do you use CBD lube?
Like most lube, CBD is pretty simple to use. The main difference is that it takes some time to absorb into the vulva (inner labia, clitoral glans, vaginal opening, etc.). Roughly 20 minutes, according to Manta. Once it's marinated, as Manta likes to say, proceed with the exploration. She adds one crucial caveat: "Oil and latex are not friends, so if you typically use barriers, make sure you're using an oil-friendly material like nitrile or polyurethane."
Here are six of the best CBD lubes to step up your arousal:
Foria Wellness
Price: $44
Why it's great: This bestselling lube boasts just two ingredients—400mg broad-spectrum CBD and organic coconut oil—and can be used anally or vaginally. It's also vegan, gluten-free, and safe to ingest in case, you know, your tongue makes contact.
One reviewer reported incredible experiences with this oil. "First, it's awesome for masturbation. Nice and oily and does not easily thin, though a couple of additional applications will help. And intercourse with my partner is amazing. Not only are senses elevated, but she also enjoys going longer."
---
Quim
Price: $48
Why it's great: It's named for a word once used to insult women before the C-word came on the scene. This hemp CBD-infused, latex-safe serum was designed to increase blood flow, promote pelvic relaxation, and decrease inflammation and pain.
One reviewer said, "The real truth is that smooth operator works. We have been married for 35 years. We are post-menopause. My wife has always been one orgasm and done and don't touch me. But she had three and wanted more!!!!! This is a real game-changer. Not sure if I can handle her this many times a week."
---
Her Highness NYC
Price: $60
Why it's great: This silky, ultra-premium hemp-derived CBD oil will make your pussy wet and muscles melt. It uses a South American medicinal plant extract known to increase salivation, plus a base of extra virgin olive oil to create this potent sex topical. It's not exactly a lube, but more of an orgasm enhancer and a little goes a long way.
One reviewer said, "Love love love this oil! I love everything Her Highness has, but after years of using multiple enhancements and oils, this product works! It's been a great addition."
---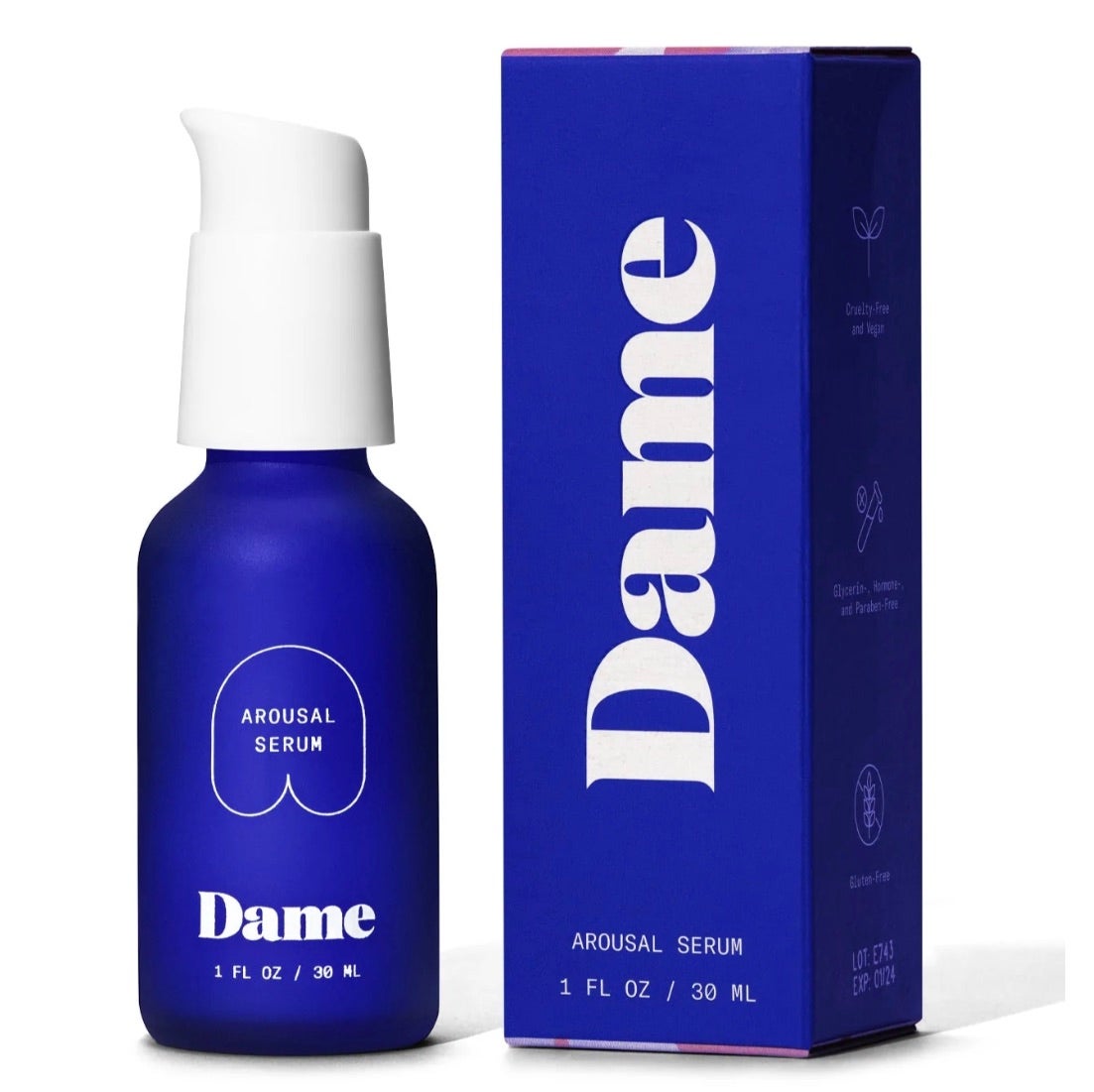 Dame
Price: $30
Why it's great: If you want to feel super intense sensations (and orgasms!), try Dame's Arousal Serum. Apply one or two drops to your clit, and you'll feel a wave of warm, tingly pleasure within seconds. Made from aloe leaf juice, mushroom extract, and quinoa seed extract, this serum performs the trifecta of good for the vulva providing moisture, promoting blood flow, and reducing inflammation.
One reviewer said the serum is surprisingly good. "At first, I was skeptical of something that's basically a plumping lip gloss for down there, but it's actually really pleasant. Gives a warm sensation that increases sensitivity and isn't irritating, definitely a great addition to my nights (solo or partnered!)."
---
Privy Peach
Price: $48
Why it's great: If you're a person who likes to keep mess to a minimum, you'll love these single, pre-dosed packets. The product is semi-solid at room temperature and melts upon skin contact. Also, it contains a dose of 25mg of CBD per package, so you don't have to guess how much you're absorbing.
One reviewer said, "I tend to avoid sex because it's ALWAYS painful. So this has made a huge difference for me."
---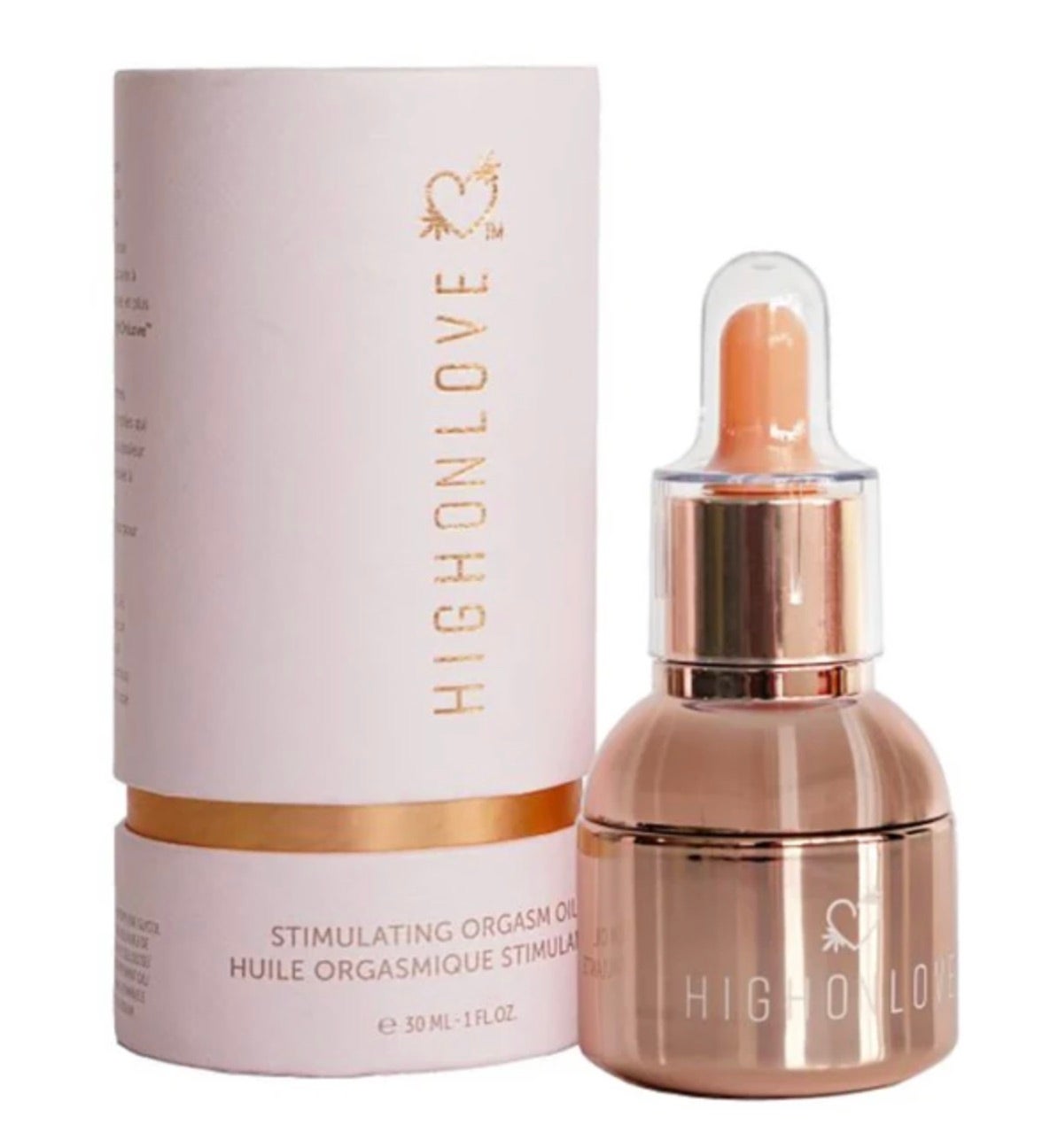 High On Love
Price: $50
Why it's great: This premium-grade hemp seed oil is formulated to intensify pleasure and increase blood flow while moisturizing. Made in small batches and blended with all-natural oils, this stimulating oil is vegan and safe for anal and vaginal use.
One reviewer said, "I would recommend this oil because it gives her a special feeling when she needs it, it is easy to use, and I can see how it would make it easier for a woman to orgasm."