There are many fears and hesitations that can get into a backdoor beginner's mind which can lead to frustration and the body tensing up. But what if there was a way to train yourself to accept the forbidden pleasure? The answer might be finding the best anal toys to further your adventure.
Backdoor fun should be a journey, not a sprint. Foreplay helps ease the fears and the body's natural response to clench. Stimulation of the cheeks, massaging the skin around the anus, and then gently playing with your opening are great ways to help calm your nerves and train the muscles on the inside to comfortably accept penetration.
Finding the right toy can make it easier, thanks to their special designs and features. If you need help finding the right toys for anal sex beginners, you're in luck. Here are our top 10 sex products for backdoor beginners to start your journey.
The best
The back door journey should start with slow foreplay. Tickling the cheeks can help you associate the clenching sensation with pleasure. Caressing the ass starts with the skin and worshipping can help put the beginner at ease. The feather tickler is a fun classic and a non-threatening start to open the door! The plush feathers will signal the nerve endings to deliver all the right chills and the long stem helps keeps a distance to take in the view before honing in on the main attraction.
---
Help ease your fears with the Backside Lover's kit by Cake. The Tush Cush is a smooth lube that lasts a long time. The formula is made for sensitive skin and cleanup is easy. The sex wipes can be used for before and after butt play and are pH balanced, flushable, and biodegradable! An added bonus is the sex lube, which is silicone-based and has what backside slide dreams are made of! The silicone lube is not for sex toys, so this one is best used with a partner. This kit will set you up for backdoor success.
---
Loving yourself is a crucial part of accepting all the pleasure your body wants to give. The Siren subscription box by Heart + Honey includes a body scrub to buff those cheeks, a sugar whip lotion to smooth and soothe, more lube (because you can never have enough!), and a vibrator that can stimulate as well as penetrate. Light the candle and prepare yourself for self-love!
---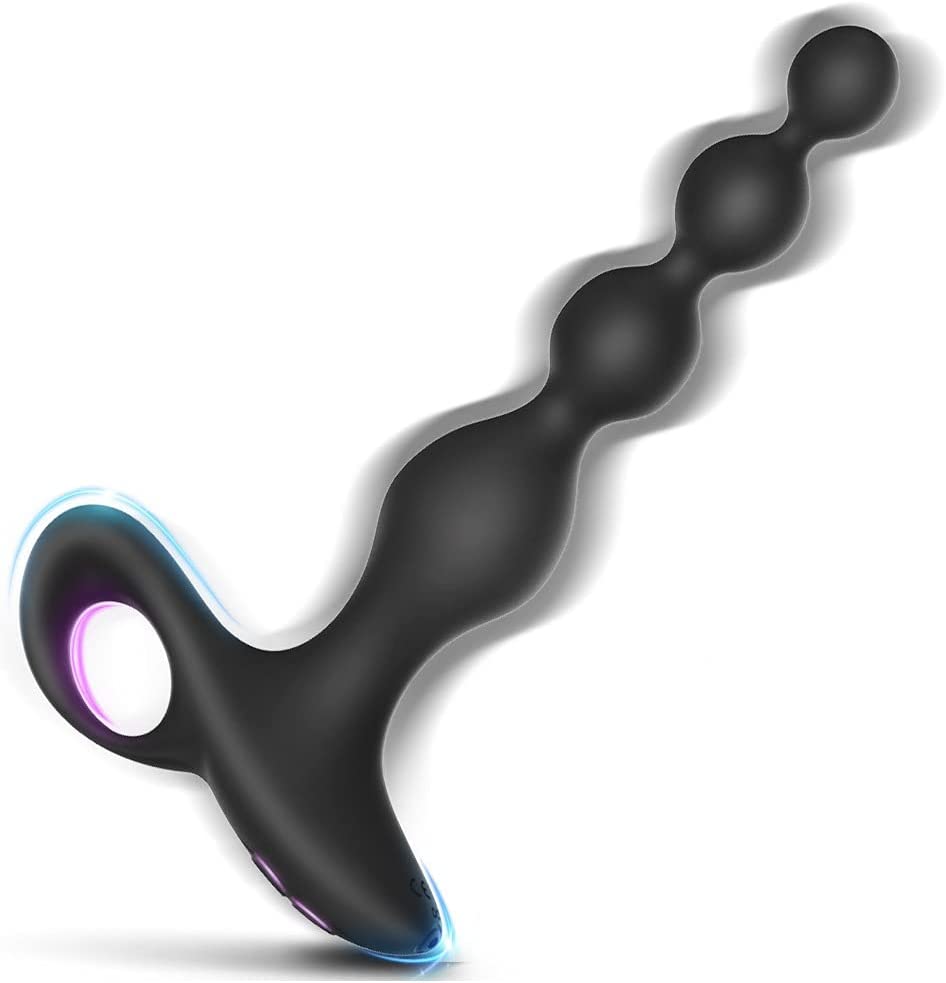 Now that you have stimulated the skin and are feeling comfortable to start penetration, these vibrating anal beads will help you feel in control of the muscles at the entrance of your pleasure dome. The vibration helps ease the gateway one bead at a time. Go slow, back them up if it is too much, and have patience. This toy is built to help you go the distance.
---
Now that you have relaxed your muscles, it's time to progress your comfort level to internal massage and penetration. By slowly increasing the diameter from 15mm to 35mm, you can watch your pleasure hole expand with ease. The rigid shaft with finger loop makes them easy to remove without the fear of them getting lost in translation.
---
If the dilator was moving too fast, this double pleasure toy might be more in your comfort zone. This sleek design with remote control is built for solo and partner fun. Made for the p-spot, the double motor massages the g-spot as well as the sensitive areas around it. The remote can help you feel in control of the stimulation, but it can also be fun to give your partner control when
you are ready. The best part of this toy is that it is also built for double penetration, another way you can help your body reach the best orgasm it has ever had.
---
Butt plugs are a great way to train your ass to go the distance. Cake's Buzzy Butt is a thoughtful design that comes in three different sizes and delivers a discrete vibration that you can wear in preparation for a sexy date night! The remote can transform your romantic dinner night into a sexcapade. This toy will help your beginner ass become mASSter.
---
Butt plugs come in many interesting designs, and the B Balls Duo by Fun Factory is definitely that! Instead of a vibration, these weighted balls will bump and roll inside, which you can feel
when being spanked or penetrated. These are amazing if you are ready to dive deep into double P! Consider yourself an intermediate back-yardian when you conquer these balls.
---
Have your kinky cake and eat it too with this dual design from Lora Dicarlo that pleasures the g-spot and prostate. This ergonomic massager doesn't just have nine vibration settings. It strokes three ways at nine different speeds! Controlling your pleasure and comfort levels has never felt sexier. This crowd pleaser might just be your number one in your anal arsenal.
---
Ending our list with this double-ender seems appropriate. The Double Take double-penetration strap-on harness is the cherry on top of this kinky cake. Anal play has never felt so good to give with this epic toy thanks to its dual motor. Your body will now be ready to receive pleasure with three speeds of thrumming and 7 throbbing patterns. Anal play with all the other toys is fun, but this one will end all your bedroom boredom by fighting for a different remote!