The Daily Dot may receive a payment in connection with purchases of products or services featured in this article. Read our Ethics Policy to learn more.
Admit it. There has been at least one time in your relationship where you wished you could stop your partner from speaking. Where you desired nothing more than peace and quiet. Wouldn't it be wonderful to be able to consensually place something in their mouth and just cease all sound? Well, if you engage in a little BDSM, you just might be able to contract for that and use a ball gag. Also known as a mouth gag or simply just a gag, these sexy little items are made for just that purpose—stopping your partner from using their mouth—for talking anyway.
What is a ball gag?
While most anything can be used to gag your partner, a ball gag in particular is typically a round, ball-shaped object made of rubber, silicone, or plastic. It's secured to your partner's head by a strap, which is either adjustable (optimal) or stretchy.
However, not all ball gags are actually balls, and some are quite creative and shaped like a penis or other designs and can even feature a hole in the middle so things can be inserted into your partner's mouth, while still keeping them from talking or otherwise using their mouth in a normal fashion.
What's a ball gag for?
Ball gags are used for a number of reasons beyond just quieting your partner. In a BDSM relationship or scene, they're used to place your partner in a more submissive position. Yes, it hinders their ability to speak, but it also reminds them of their place within your relationship.
They're unable to talk, use their mouth in any way that isn't at your discretion, and depending on the type of gag you're employing, they may even be consensually required to use their mouth for specific purposes.
Different kinds of ball gags
While we call them ball gags, don't get it twisted and think that's all there is to choose from. There are as many types of gags as there are people who use them. Even within ball-shaped gags, there are solid ones and ones with holes in them to help the wearer breathe a bit better, which is optimal for those who are just starting out using gags for the first time.
Gags also come in different sizes to accommodate the varying shapes and sizes of mouths. A good rule of thumb is you want the gag to be large enough to keep them from talking, but not so large as to strain their jaw. You don't want the gag to be so uncomfortable your partner won't be able to wear it as long as your scene will last.
There are ball-shaped gags, bit gags (yes, just like a horse bit), open-mouth gags, harness gags, and dildo gags, to name a few. The straps can differ as well, fashioned from silicone, fabric, and even leather. They can even have blindfolds attached and nipple clamps. The possibilities are endless.
Ball gag safety
Anytime you're engaging in sex, consent is absolutely required. But especially when you're contracting for any type of BDSM scene, you're going to need to get enthusiastic consent. You and your partner should sit down and discuss all aspects of a scene ahead of time, including coming up with a safe word or gesture.
Why a gesture? Well, we're talking about gagging your partner to the point of inhibiting their ability to speak, so it will be impossible for them to say a safe word. That means you need to make sure they can give you a sign when they're tapped out. This can literally be a tapping motion of some sort or something in their hand that they're capable of raising during the session that lets you know they're finished. You can also use a squeaky toy that they can squeeze—once for slow down, twice for a break, three times for full stop.
The responsibilities of the dominant partner
It's your job as the dominant partner to ensure your submissive feels safe and secure during a scene and discussing things ahead of time ensures that. Also, talking about aftercare before beginning a scene helps too. What does your partner need once you're finished? How will you provide this for them? Get everything set up ahead of time—bottles of water, a soft cozy blanket, wet wipes—whatever they need. Knowing what's waiting for them once your session is over goes a long way towards making it a successful one.
Safety during the scene is paramount. Always keep your partner in your line of sight, keep a pair of safety scissors on hand just in case, so you can cut the straps holding the ball gag in place in case of choking. And never use a ball gag on someone who has a cold, stuffy nose, asthma, or an upset tummy.
What to look for in a ball gag
Quality is important when purchasing any sex toy, but that doesn't mean you have to go with the most expensive model around. If you're going with silicone, you want to make sure it's medical-grade silicone (especially considering it's going inside someone's mouth). We also recommend something that can be sanitized for the same reason. If you have multiple partners, it's best to assign a gag to each person if possible.
You'll want to consider what you and your partner want to get out of a scene when shopping for a ball gag. Are you interested in gagging your partner for silence? Or do you want their mouth open for insertion of a dildo or other items? Does it turn you on to imagine them gagged with a silicone penis? Take the time to consider all your options and go from there. We've rounded up a few of our favorites here for you to think about!
Ball gags we like of all shapes and sizes:
Bondage made beautiful with the Rose silicone ball gag. Explore your fantasies and add an element of erotic flair when you or your partner secure the fully adjustable Italian leather strap, allowing the body-safe silicone rose to sit comfortably in your mouth. Breathable and hypoallergenic, wear this gorgeous restraint as long as you like. The patented rose-shaped design has a hole for finger teasing. The rose is removable for easy cleaning.
---
Padded leather bit gag for effective sub-silencing. This gag is adjustable between 14.5 and 23 inches to fit a range of sizes. Made entirely from leather, this padded bit fills their mouth while a secure 11-hole buckle closure keeps it in place. Reinforced eyelets ensure it's built to last and the durable, top-quality leather provides a comfortable, malleable fit. As with any leather sex toys, you'll definitely want to keep this to one partner. Although you can't sanitize leather, you can disinfect it with hot water and mild soap.
---
This O-ring style mouth gag with silicone mouthpiece for comfortable wear is great for beginners and experts alike. It features an 11-hole buckle fastening that adjusts between 16 and 23.5 inches around. A great introduction to gag play, this flexible O-ring gag keeps the sub's lips parted for all sorts of erotic play. Silicone and squishy for utmost comfort and adjustable for the perfect fit, this gag lets you give lip service like never before.
---
Adjustable ball gag with three different sized balls for progressive play. Breathable plastic balls measure 1.5, 1.75 and 2 inches in diameter. Buckle-fastened faux leather strap adjusts between 19-26 inches in circumference. Advance your ball gag play with this triple training system. The adjustable head strap and three interchangeable balls allow you to customize play to suit you and your lover. Plus each ball is breathable making them perfect for beginners.
---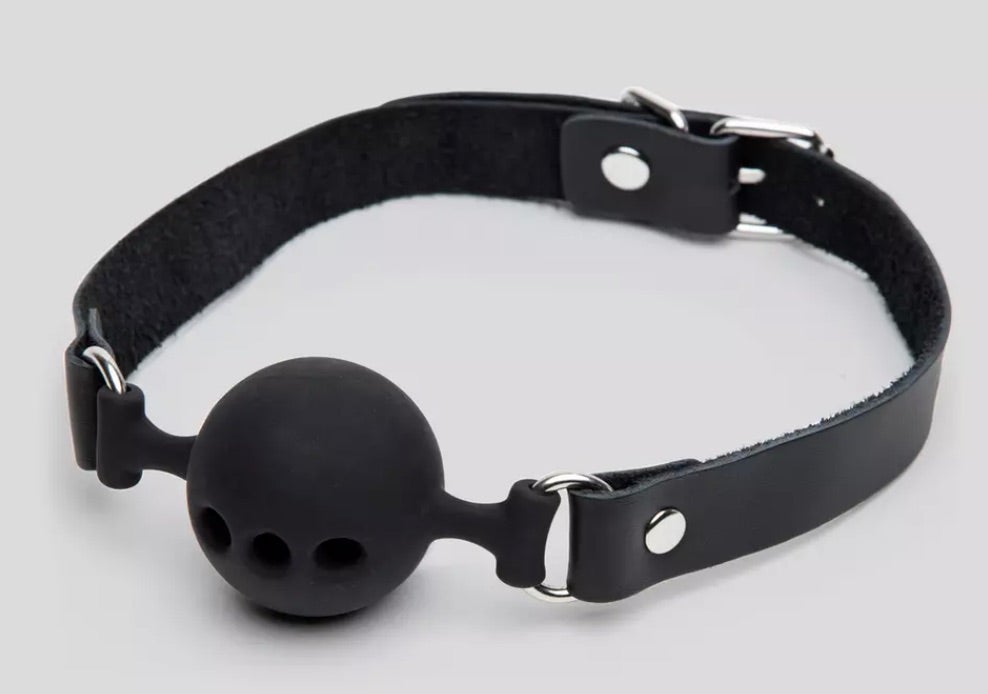 This medium-sized silicone ball gag with leather straps is best for those with gag play experience. Gag features 3 holes for easy breathing during wear. Breathable ball measures 5.5 inches in circumference and fills the sub's mouth. The 11-hole buckle-fastened straps adjust between 14.5 and 19.5 inches around to fit most.
With its medium-sized ball and built-in breathing holes, this gag is a brilliant blend of beginner-friendly and advanced. It's particularly great for sub's who've worn smaller gags and are ready to take the next step in size, without diving into a non-breathable ball.
---
A gag with nipple clamps for advanced BDSM play, this ball gag is breathable for safer bondage play. Take your BDSM pleasures to the next level with this breathable ball gag and nipple clamp set.
Made from smooth velvety silicone and fully adjustable, use it to silence your lover and stimulate their nipples for utterly satisfying domination play. Hypoallergenic and fully adjustable, the silicone straps offer a snug, reliable fit, while the lockable buckle fastening makes extreme restraint straightforward.
Crocodile-style nipple clamps hang from strong chains and adjust with a simple screw-pin for tailored tension. Connecting the straps and ball gag are two oversized O-rings — perfect for attaching your choice of restraints, chains and leads.
---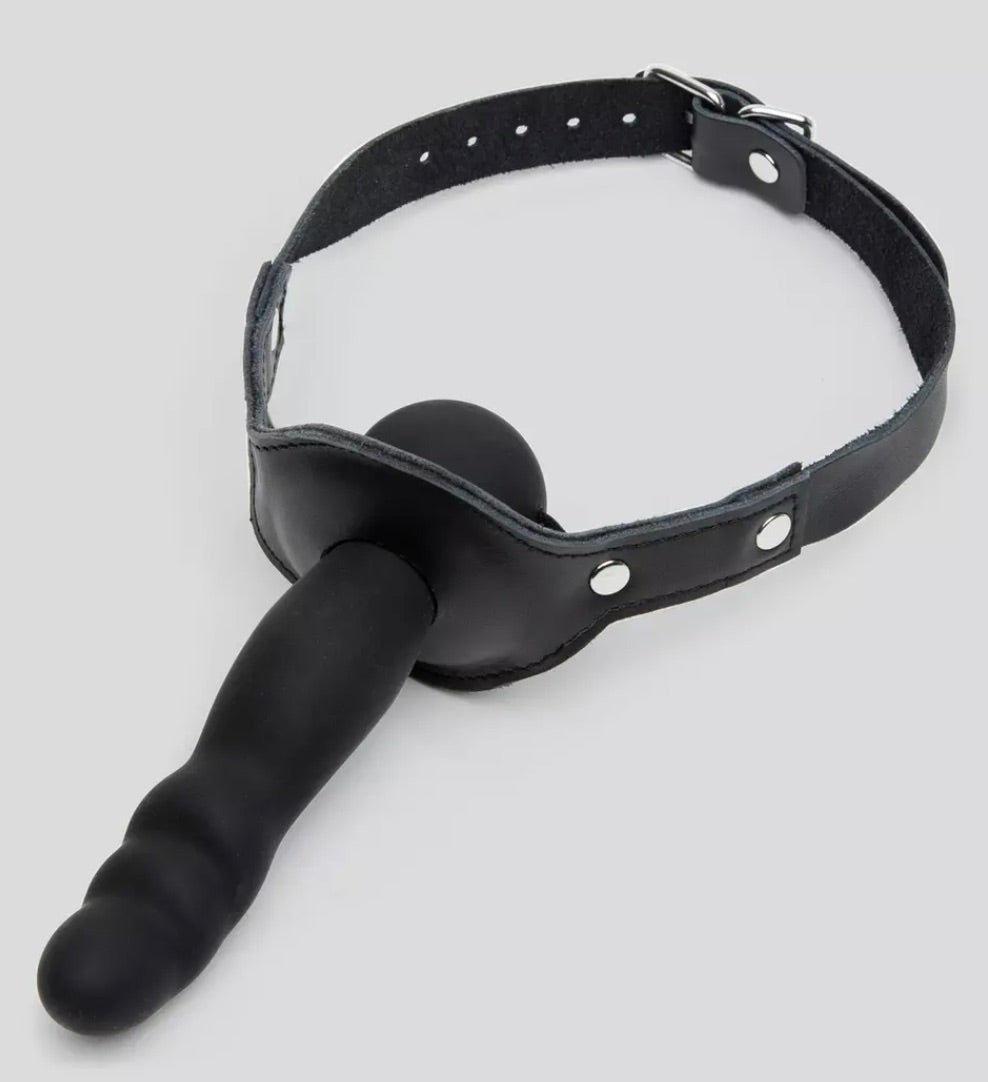 This large silicone ball gag muffle with external dildo is for advanced gag play. It features a 4.8-inch textured dildo with slender 4-inch girth and is perfect for G-spot and P-spot pleasure. The solid silicone ball measures 5.5 inches in circumference and fills the sub's mouth.
It has an 11-hole buckle-fastened real leather straps that adjust between 14.5 and 19.5 inches around to fit most. Amplify your power play with this large ball gag with an exterior dildo. While a 5.5-inch ball fills the wearer's mouth to muffle moans, the 4.8-inch silicone dildo presents itself for a plethora of play options. Facetime just got X-rated. Perfectly shaped for sensational G-spot or P-spot pleasure, the slender, angled dildo features carefully placed textures for out-of-this-world internal massage.