The Daily Dot may receive a payment in connection with purchases of products or services featured in this article. Read our Ethics Policy to learn more.
Your butt is beautiful. So beautiful, there's a whole day, Ass Day on October 17, dedicated to celebrating anal play and your derrière.
"There are so many ways to pleasure an ass," says Searah Deysach, sex educator and owner of Early to Bed. "You can tease it with your finger, lick it, put a toy in it or put a finger or penis in it."
That said, Deysach is quick to note that pleasuring the ass does not always mean penetration. "While penetrative anal play is fun for many, lots of folks enjoy ass play that stays on the outside of the body," she says. Instead, she suggests analingus (mouth-to-anus action) or external stimulation with fingers or toys to explore the back door.
If you have a butt and want it to be fingered, licked, touched, or penetrated (consensually, of course), we have 10 ways to give that glorious booty the pleasure it deserves.
Give your partner a butt massage
Price: Free (but massage oil is extra)
Why it's great: Your butt contains the largest muscle in your body—the gluteus maximus. It's involved in nearly every movement you make. A butt massage can offer various benefits—from boosting circulation and increasing muscle stability to improving range of motion. Did I mention that a butt massage simply feels good, especially if you have a tight tush? Here's a quick how-to on how to give a great butt massage. Also, I really like High On Love Massage Oil for such hands-on activities.
---
Finger a butthole
Price: Free
Why it's great: Go slow and shallow at first when exploring anal penetration, whether with a toy or finger. I know the impulse is to get in there— all the way in there—but take it easy, tiger, before you deep dive into anal play. Also, don't hold back when using lube—the anus is not a self-lubricating hole like the vagina, so in the name of all things comfort and safety, be generous with the slippery stuff when it's time for a finger in the butt. My go-to's are Sliquid Sassy and pjur Original Silicone Lubricant.
---
Eat ass
Price: Free
Why it's great: Analingus, or rimming, is one way to tap into unbelievably good pleasure. Before you yuck this popular yum, please know that many people find having their asshole licked to be a very pleasurable anal experience. The anus is full of ultra-sensitive nerve endings, especially around the entry, that can get the blood flowing to all the right places. If you enjoy analingus, Deysach says don't overlook the safer sex option. "Dental dams held over the anus make that activity safer for the licker."
Here's a great step-by-step breakdown of how to explore this amazingly intimate and pleasurable form anal play.
Relax your muscles: QULO Organic CBD Lubricant
Price: $50
Why it's great:
Unlike oil-based CBD lubes, QULO's hemp-based Organic CBD Lubricant is safe on silicone and plastic sex toys. It cannot, however, be used on latex condoms. CBD is reported by many users to enhance relaxation and provide a nice libido boost, which makes it easier to be present and in the moment.
---
Use a derriere-focused device: b-Vibe Rechargeable Anal Education Set
Price: $164.99
Why it's great: If you're brand new to anal fun, I strongly suggest playing with butt plugs prior to Anal penetration with a penis or strap-on dildo. (You can do this by yourself or with a partner.) This 7-piece set from b-Vibe will incrementally get you used to the sensation of being "filled" and bestow all sorts of yummy pleasure in your booty.
Expert note: Deysach says sex toys are a great way to have fun with anal play, but make sure you use butt-safe toys. "Butt plugs, dildos, and vibrating anal toys are all fun but make sure they have a wide flared base so they don't get lost inside (yes, it happens!)," she says. She also encourages people to use a non-porous material like 100% silicone, glass, or stainless steel as porous materials, like jelly or PVC, can retain bacteria.
Tease the P-spot: njoy Pure Plugs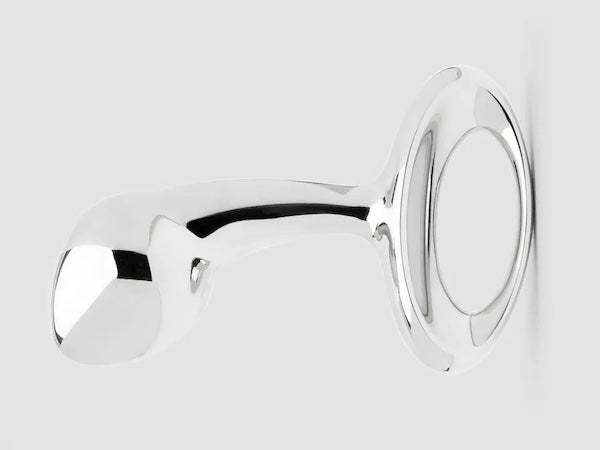 Price: $100 to $125
Why it's great: From the second you open its signature fuchsia satin-lined box, this alluring stainless steel plug is all business. With plenty of lube and patience, it'll pop right into place, ready for long-term wear or an ass-filling accessory during sex. In addition, the curved end makes it easy to stimulate the prostate. "If you have a prostate, there is a whole world of toys that are designed to put pressure on the sensitive spot, and many people who thought they'd never try anal play have fallen in love with prostate stimulation," says Deysach.
Here's how to find the prostate, stimulate it, and make it happy.
---
Stick big things in your butt: The Super Big End
Price: $55
Why it's great: For many people, the great joy of butt plug play is the feeling of fullness it provides. This big and squatty toy from Doc Johnson is no exception. Butt plugs don't need much attention—simply slide the 5.5″ length in and let the flared base hold it in place while it takes your sphincter to anal fun town.
---
Give your partner a sting of pain: Bound to Please Leather Paddle
Price: $58
Why it's great: Everyone has different sensitivity levels, and this smaller-sized paddle is great for firm spankings at home—or on the go. Suppose you want to explore erotic spanking in the bedroom. In that case, Spanking for Lovers by Janet W. Hardy contains infinite combinations of roles, implements, and positions to try. Try pegging with your partner
---
Share Lite Double Dildo
Price: $119.99
Why it's great: If you want to engage in strap-on sex sans harness, this double-ended dildo from FUN FACTORY is solid enough to stay put in a vagina but flexible enough for anal penetration, no matter the size or gender of your partner. For all things between the cheeks, check out The Pegging Book: A Complete Guide to Anal Sex with a Strap-On Dildo by Cooper S. Beckett and Lyndzi Miller.
---
Have a dance party and shake your booty
Price: Free
Why it's great: From JLo's "Booty" featuring Iggy Azalea—"Throw up your hands if you love a big booty"—to "Baby Got Back" by Sir-Mix-A-Lot, there's no shortage of anthems celebrating the almighty ass. Now, go get your feet moving and your booty shaking! It's your day to celebrate.