Since the release of the original Super Mario Bros., Shigeru Miyamoto wanted Mario to be able to ride on a horselike animal companion.  Technical restrictions on the Nintendo Entertainment System made this too complicated to work, but designers held on to the idea until the Super Nintendo came about. And so Yoshi was introduced in 1990 as a new gameplay element in Super Mario World.
A friendly, green dinosaur, Yoshi has gone on to become a beloved character in his own right. Yoshi's Island, a follow-up to World, shifted the formula away from Mario's run-and-jump platforming, adding in the ability to toss eggs and emphasizing collectibles. Yoshi has been included in every Super Smash Bros., Mario Kart, Mario Party, and nearly every sports-related spinoff released since his inception.
But Yoshi games haven't connected with the larger Nintendo audience since the very first outing. Its sequels are often maligned, and his most notable appearances have reduced him to a companion character in titles like Super Mario 64 and the Galaxy games. For one of the most iconic characters in Nintendo's repertoire, his adventures often feel like consolation prizes, released as filler in between larger console exclusives.
But Yoshi's Woolly World was another Wii U gem that didn't get the appreciation it deserved, and the arrival of Crafted World on the Switch looks to be the little green dino's biggest outing yet. Luckily, it is also the series' best since the very first Yoshi's Island.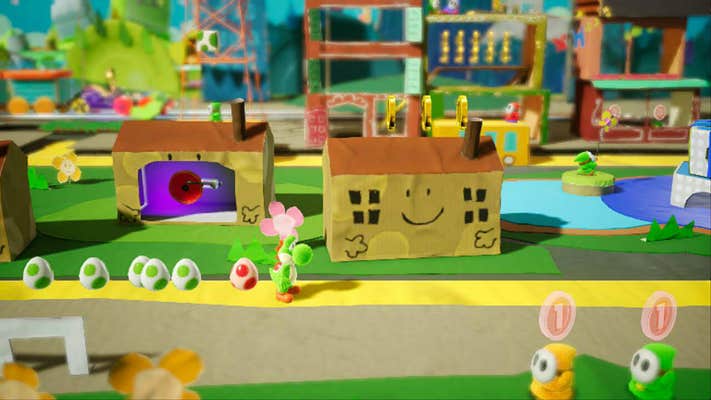 Crafted World, like the game before it, is most notable for an imaginative art style. This game is set in a world made from discarded everyday objects. Environments are loosely assembled from cardboard cutouts, scraps of paper, tin cans, and trash. And it's not just for show.
Most elements of this world can be played with—torn, crushed, pulled apart, or toppled over. Part of the fun in Crafted World comes from identifying the delicate ways in which everything has been built and pulling at the strings. Each level represents an original construction of patchwork fashion. Yoshi tours the world, searching for five mystical gems scattered in the game's opening cutscene. But pushing through to follow the main objective can lead you to overlook what makes this game so special.
Inside every new scene is a vast number of hidden secrets, each more charming than the last. Completing a level unlocks new timed challenges in the same arena, and every world houses an impressive number of flowers, coins, and costumes to collect.
Knowing just how many details can be easily missed made me play though every second of Yoshi's Crafted World as if through a magnifying glass. Even when I wasn't finding tucked-away souvenirs, I was rewarded with entertaining sight gags and colorful decoration.
Crafted World never loses its charm, either in terms of visual flair or gameplay design. The main adventure branches out after an hour or two, offering several different options to proceed. These levels are built around haunted ninja houses, icy mountain caps, and safari jungle cruises. Watching paper craft enemies and creatures come to life in each new world is unpredictable; the game is always hiding another clever surprise.
Most objectives involve reaching the goal at the end of a scrolling level, but how Yoshi gets there is often what's different. Fun "vehicle" levels come in the form of paper-craft mech suits Yoshi can ride in, and on-rail shooter segments break up the pace of searching through dense platforming puzzles.
While Yoshi's mobility isn't as free as Mario's, and levels aren't as intricate as those in Donkey Kong Country, the game finds a nice balance of challenge and delight. As in Woolly World, there's a "Mellow Mode" option for those who are here to relax and focus on collection, nullifying damage and removing timers. Standard play isn't the most intimidating platformer Nintendo has ever released but can require precise timing and patience (especially in boss encounters).
At the end of the day, Crafted World is an accessible, boisterous game to play through. I was never bored, nor did I feel like I was just going through the motions. There are plenty of diversions, new objectives, and colorful rewards to keep any player busy for hours—as well as a great co-op mode that makes use of the Switch's detachable controllers. After so much time float-jumping and tossing eggs, it's easy to remember why Yoshi deserves his time in the spotlight as so much more than Mario's sidekick.
4/5
Yoshi's Crafted World is available now on Nintendo Switch. This review was written based on a version of the game provided by the publisher.