For decades, comic book fans have viewed Superman and Batman as the pinnacle of superhero greatness. However, for a list of reasons (read: probably sexism), most have ignored the fact that this powerful duo is actually part of an even more powerful trio with the inclusion of Wonder Woman. With super-strength that can overpower almost anyone, enchanted weapons, and combat training from the Amazons, Diana Prince is, arguably, the best pound-for-pound fighter in the entire DC Universe. 
Warner Bros. Pictures will finally be releasing the first full-length feature film centered on the classic superheroine late this spring.
As far as backstory goes, Batman v Superman delivered little backstory on Diana Prince. So, Wonder Woman will have to cover a lot of ground as a crash course on a character who's been around since 1941.
Some fans noticed marketing for the film has been suspiciously absent with just a month before release. But the growing sentiment was quickly answered by a pair of new promo clips.
The first is a new TV spot that shows quick glances at some new footage and sets up Diana's origins.
The second was an exclusive that aired during Gotham and soon after appeared on the show's Twitter page.
https://twitter.com/Gotham/status/859215268572143616
Wonder Woman plot
From what's been gathered from two trailers and some insider knowledge, Wonder Woman will initially pick up in the present day when Diana comes across a photo of herself during World War I. This will send her on a journey through her memories that viewers will see as a flashback to her origin story and introduction into the world outside her secretive community.
One day in the distant past, a United States fighter pilot named Steve Trevor washes up on the shores of the secluded island of Themyscira where no men exist. Diana saves his life only for a group of enemy soldiers to follow him and do battle with the Amazons. After Steve tells them about the events of World War I, "The war to end all wars," Diana decides to join in as she suspects that Ares, the Greek god of war and a fellow child of Zeus, is responsible for starting it all.
Wonder Woman cast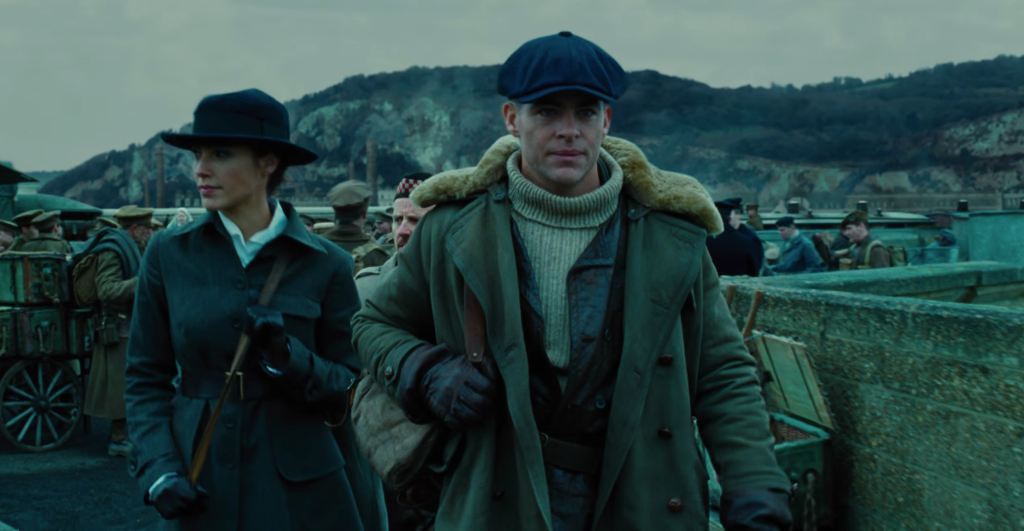 With Wonder Woman taking place about 100 years in the past, the only character viewers will recognize is the leading lady herself, as Gal Gadot reprises her role from Batman V Superman.
Among the score of new faces will be Chris Pine as Steve Trevor, Connie Nielsen as Diana's mother, Queen Hippolyta, and Robin Wright will portray General Antiope, the aunt who secretly trains her in combat. Other supporting roles will include Danny Huston and Elena Anaya as the two main human villains as German General Erich Ludendorff and Doctor Poison. Lucy Davis, Saïd Taghmaoui and Ewen Bremmer will round out the cast as allies of Steve and Diana in their war-ending adventure. Last, but not least, David Thewlis will be playing Ares, the main antagonist of the film.
Wonder Woman trailer
After the fantastic failure that was Batman V Superman, Warner Bros., DC Comics and fans have all placed a world of pressure on Wonder Woman to prove that the DC Extended Universe (DCEU) is not only able to stand on its own but worth existing in the first place. To ease some of these concerns, the first trailer dropped almost a year in advance at San Diego Comic-Con with nearly three minutes of footage. It ended up showing quite a lot, including which of Wonder Woman's multiple origin stories would be used. It also gave fans a glimpse at what Diana's capable of with the help of all of her Themysciran weaponry, including the Lasso of Truth. Those worried the tone of the film even got a sigh of relief when the footage started with a joke.
Four months later, another trailer dropped to reveal even more about the film and quiet the skeptics who had all but written off the DCEU following the messy Suicide Squad. To be fair, a decent amount of this footage was recycled from the first trailer, but it also started to answer the question of why Diana would get involved in World War I in the first place and gave us even more slow motion Amazon ass-kicking scenes.
At the Kids' Choice Awards on March 11, another trailer was unveiled. Gal Godot posted it on her Twitter account.
✨Welcome to Themyscira. I am proud to present the NEW trailer for #WonderWoman! ✨ pic.twitter.com/8F3G0LMz5Y

— Gal Gadot (@GalGadot) March 12, 2017
Wonder Woman rumors and potential spoilers
Given that Wonder Woman is only three months away from release, a lot of the earliest rumors about casting choices and plot direction have already been confirmed or disproven by what we've seen in the trailers or gotten in interviews. This late in the game, everyone is mainly focused on answering one big question: Is it going to be any good?
Director Patty Jenkins even had to address recent rumors that the movie is a "mess" directly, according to CinemaBlend:
Woah, just saw this press about WW having problems. Are they serious? This is some made up bs right here. Made up! Produce a source, anyone. You can't because it's entirely false. Don't believe the hype people. Someone's trying to spread some serious misinfo. Isn't until you are intimately involved in these things that you realize how totally false these rumors can. Let me reassure you, zero about the movie we are making has been called a mess by anyone in the know. Fact. Real lasso of truth, time, will reveal that letter to be false soon enough. But lame something so transparent in its agenda gets traction.
As far as the plot goes, the crew at Gamespot reportedly got an early look at 16 minutes of footage from the film and reported on their findings. Biggest takeaways? The story starts off as an epic about a mysterious, foreign land and its inhabitants but quickly turns into a lighthearted fish-out-of-water story as Diana experiences many of the joys of mankind for the first time, such as eating ice cream, trying on clothes that aren't meant for waging war in and seeing a baby for the first time—because everyone in Themyscira is already, like, 800 years old.
It also fills in some plotholes that more skeptical DCEU fans would like to have before getting their hopes up for a third time. For example, Wonder Woman's true motivation for joining the war is to kill Ares and end what she assumes is his corruption over the German soldiers and their allies.
Another confirmed rumor is that her amazing Amazon weaponry was technically stolen, including the God Killer sword. She has the reluctant approval of her mother who understands, but doesn't agree with, her daughter's call to action.
Lastly, the German Army is apparently creating a deadly gas that could easily end millions of lives—this is likely where Ares comes in.
There's no word yet on if we're ever going to see Wonder Woman awkwardly flying through the sky on her invisible jet while sitting upright, though.
Fans still hope that another Justice League character might make an appearance, the easiest of which would be a Batman/Bruce Wayne (Ben Affleck) cameo in the present day timeline.
For the sake of keeping things interesting, here's a wild rumor out of left field: Arnold Schwarzenegger may be making an appearance. Gal Gadot and Patty Jenkins both followed him on Twitter and fans got to connecting some dots. Could the two just be fans of Terminator? Sure. But there's also a chance someone decided to give Arnie some Greek armor and a grey beard and make him Zeus for a brief scene.
Wonder Woman release date
Wonder Woman will be released on June 2, 2017.
Editor's note: This article is regularly updated for relevance.