If you loved the Lynda Carter Wonder Woman 1970s TV series or just want more of the character in general, this latest announcement from DC Entertainment will make your day. At New York Comic Con this weekend, DC announced the launch of a new digital comic series titled Wonder Woman '77.
The new series will be written by Marc Andreyko with covers by Nicola Scott and story art by some yet-to-be-determined artists. The comic will be a direct spinoff from the '70s TV show and will debut in December with six weekly chapters. According to DC Entertainment the chapters will be collected for two print issues to be released in stores in early 2015.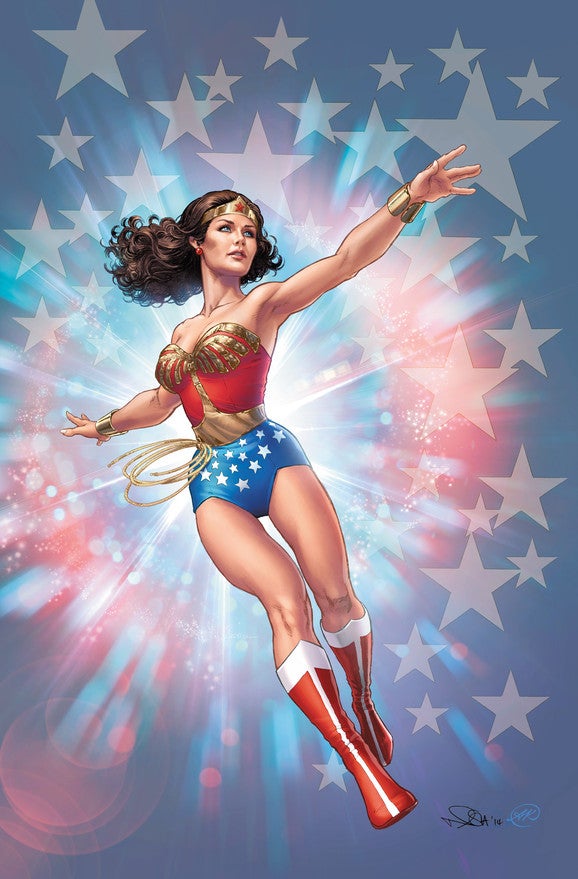 Wonder Woman '77 isn't the first digital series released by DC to be inspired by an old TV show. The current critically acclaimed Batman '66 digital comic is tied to the classic 1960s Batman TV show and its success may be the reason DC decided to try a Wonder Woman TV spin off series.
No matter the reason though, it's good to see Wonder Woman get a little more attention from DC. While this will be the second digital comic featuring the superhero—who is also the focus of the digital-first anthology Sensation Comics: Featuring Wonder Woman—the company doesn't take enough advantage of positively portraying and promoting this classic and popular hero. Considering how many people love Lynda Carter's version of Wonder Woman and how many frankly just want more of the character, this new series is sure to be welcome news.
H/T A.V. Club | Art by Nicola Scott via DC Entertainment