At conventions, he's the crown jewel of superhero cosplay, the trickster just waiting to surprise you in the middle of a photo op.
In Marvel fandom, he's beloved, a tour de force of rogue anti-hero, slapstick comedian, and possibly a sociopathic mercenary.
But despite all of this, Wade Wilson, better known to the world as Deadpool, doesn't yet have his own film, even though just this week 30,000 Twitter users tried their best to change that.
What's up with that? And why do we love Deadpool so much?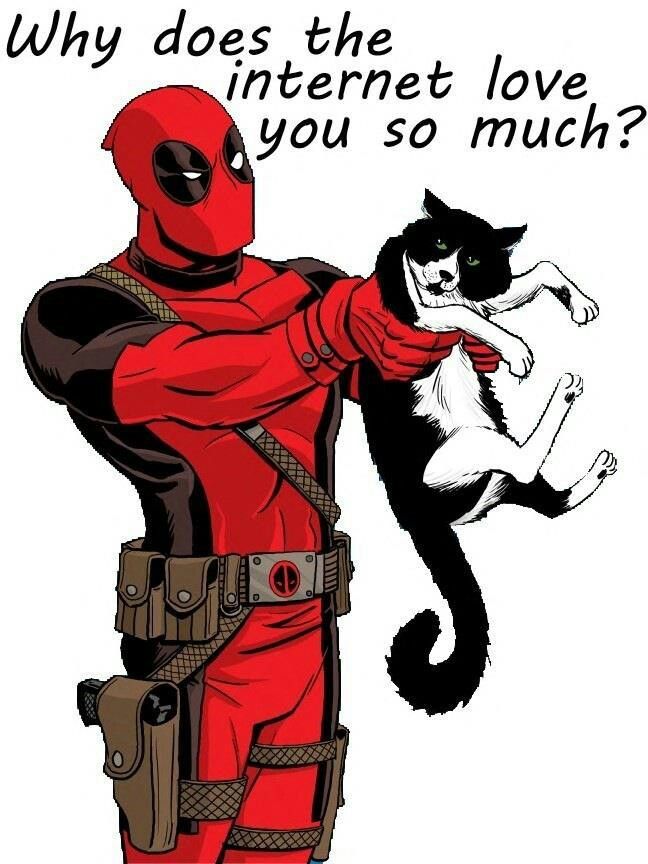 Photo via Pinterest
When leaked footage hit the Web of a test scene for a possible Deadpool movie, it galvanized comics fandom and renewed speculation about the possibility of bringing the "Merc with a Mouth" to the big screen. Director Tim Miller filmed Ryan Reynolds in the role, reprising his minor turn as Deadpool from X-Men Origins: Wolverine. The scene featured Deadpool's characteristic use of banter and unexpected distractions to outwit his opponents, as well as his snarky sense of humor.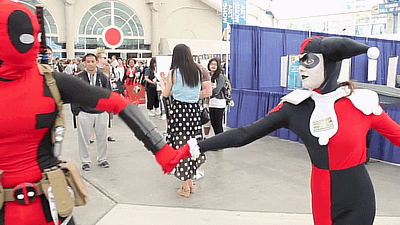 GIF via drckalex
Deadpool isn't exactly a superhero in the traditional sense, although he does have one of the most effective superpowers around: the ability to regenerate body parts. But there's a cost to veritable invincibility. Deadpool gained his power from the secret Marvel agency Weapon X, which imbued him with accelerating healing powers after he was diagnosed with cancer. An unexpected side effect was that Wade's cancer cells spread throughout his body along with his ability to heal, rendering him massively disfigured and generally inclined to stick to his trademark full-body uniform.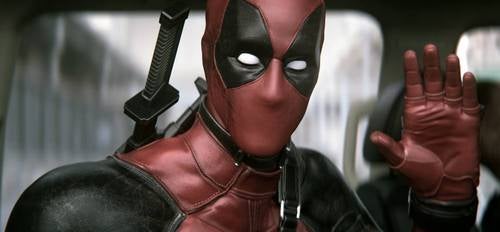 Screengrab via Flickering Myth
Deadpool is a product of the '90s, when the comics industry was looking for a bit of levity as a break from the dark, morally ambiguous epics of the 80s like Watchmen, Sandman, and The Dark Knight Returns. In his early days, creators Rob Liefeld and Fabian Nicieza established his character as a slightly psychotic independent mercenary, who faced off against the real heroes as often as he joined them. As his character developed and got his own series, his sarcasm, his tendency to reference pop culture memes, and his total unpredictability became hallmarks of his character.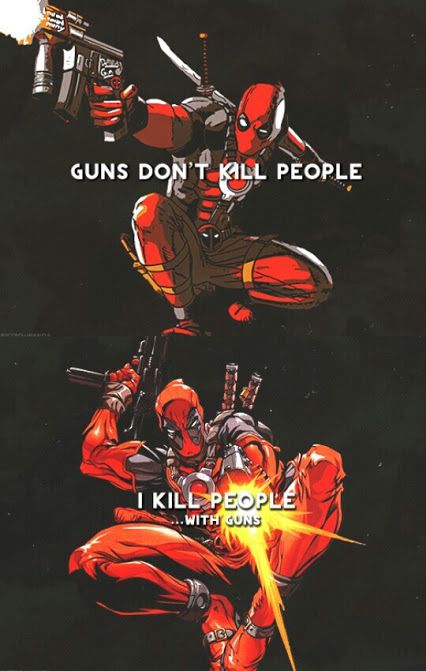 Photo via Pinterest
Writer Joe Kelly later recalled that because the creative team expected the cult series to be canceled at any moment, they felt free to take risks and do whatever they wanted with the character. The result is that Deadpool is the only Marvel character who is actually aware that he's a superhero; that is, he knows he's a character in someone else's comic book. 
That knowledge gives Deadpool narrative freedom that most other characters don't have. He inhabits the same contemporary pop culture sphere the rest of us inhabit. And he routinely breaks the fourth wall to communicate directly to the viewer, in order to remind them that he is a parody, something apart from the usual hero type. 
The result is something hilarious and totally unexpected.
Photo via iamthedeadpool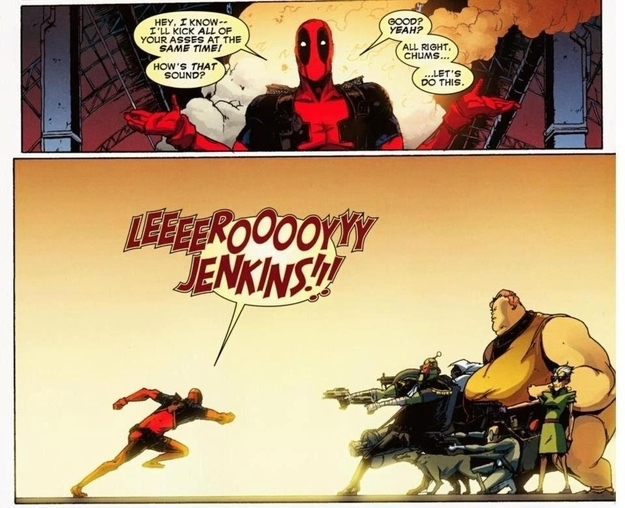 Photo via Imgur
Kelly joined Liefeld in 2009 to work on what would become Deadpool's most iconic relationship: his cheerful antagonism with Peter Parker. "They would make a really good pair for, like, one of those '80s 'buddies' movies," Kelly said.
His words proved prophetic. Spider-Man and Deadpool, better known as Spideypool, has since become one of the comics world's best-known superhero friendships/rivalries. Witness this recent take on Comic-Con by Tumblr user therealraewest:
Okay but imagine:

Peter Parker going to a fan convention as Spider-Man
Peter Parker getting compliments on his Spider-Man costume
Peter Parker entering a Spider-Man Costume Contest
Peter Parker losing said contest
Peter Parker losing the contest to Deadpool
Let's face it. If anyone would be likely to show up Spider-Man, it would be Deadpool.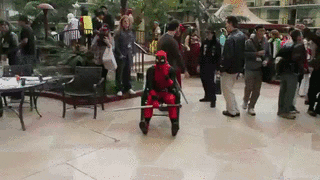 GIF via drckalex
It's easy to see why Spider-Man and Deadpool are so popular together. After all, they dress alike, they snark alike, and sometimes they even team up to fight crime together. Their respective comics series have often referenced their bromance. In Deadpool Annual #2, the Mighty Merc even donned Spider-Man's trademark costume.
Photo via Comic Vine
Of course, since Wade Wilson is so prone to banter and bicker with whoever he's fighting or teaming up with at any given moment, it doesn't take much to give him a homoerotic vibe no matter who he's hanging around: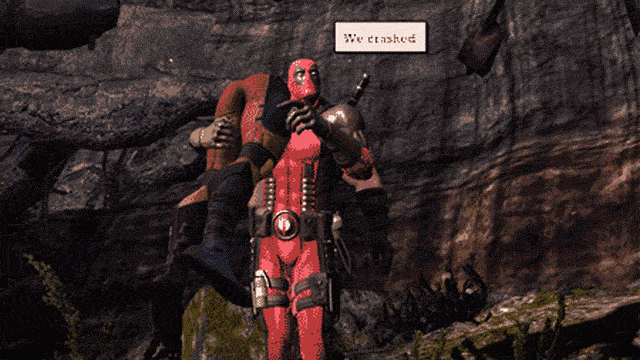 GIF via gidan-kuroki.deviantart.com
But the Internet seems to think what Wade has with Spidey is something special. We can't really argue. They're almost touching together, really.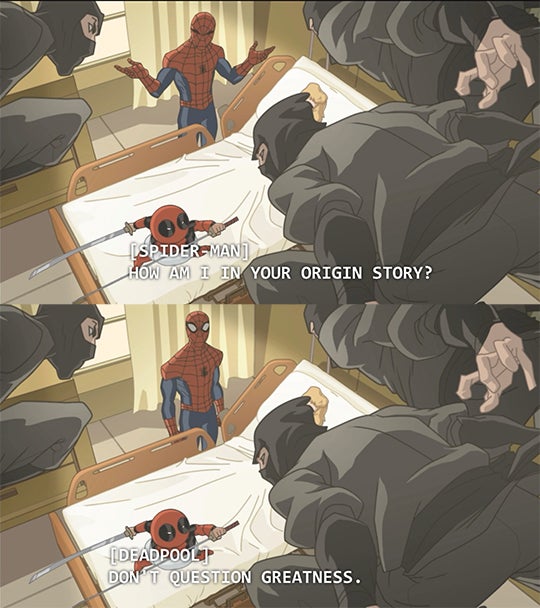 Photo via Imgur
Photo via tai-replog
Still, that hasn't stopped Deadpool from having chemistry with just about everyone else he comes in contact with—at least if his convention appearances are to be believed.
Although he has few onscreen appearances to date, outside of the pages of comics books, Deadpool has come brilliantly to life as one of the most lively and entertaining cosplay characters in contemporary culture. Judging by the vast catalogue of Deadpool cosplayers on the Web, Wade Wilson's antics at conventions have become legendary. Take a look at this cast of Deadpools posing with a taco cosplayer at Comic-Con. (Deadpool loves tacos.)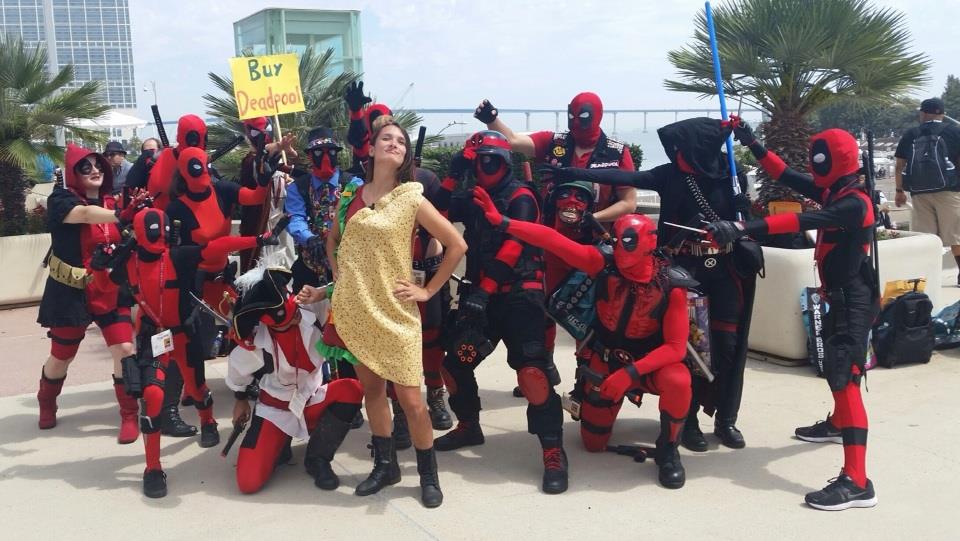 Photo via savagenosh
Certainly few other characters have proven quite as GIFable: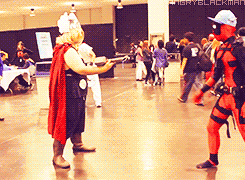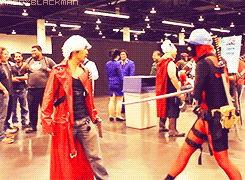 GIFs via Imgur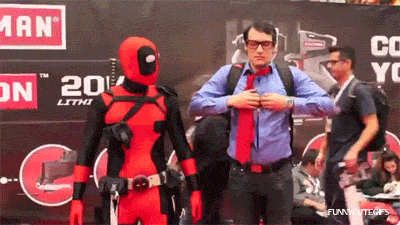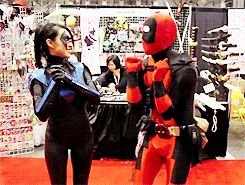 GIFs via Imgur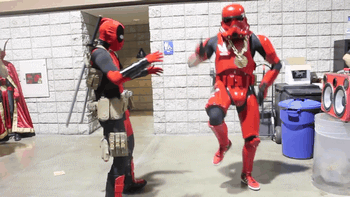 GIFs via Imgur
Apart from his general penchant for shenanigans, there are actually quite a lot of reasons to love Deadpool. And the biggest reason of all is not just that most of us believe that beneath all of that bravado and moral ambivalence beats the heart of a hero (for the right price, at least). It's that Deadpool, perhaps more than any other Marvel hero, is what we have made him. Not only was he created as a meta-comment on superhero identity, but his status as a meme-spouting wisecrack who has become something of a meme himself is a product and proponent of remix culture. He allows the reader to participate in all the fun of the superhero experience, while simultaneously critiquing superhero identity.
In Deadpool's pranks and exploits, we see ourselves and the echo of our own irreverence. But in his moments of genuine goodness and humanity, we see through the satire of his existence to the kind of sincere character that turned us all into comics fans to begin with.
Deadpool isn't just a Merc with a Mouth. He's the snarky meta-hero the Internet deserves.
Photo by Sigler Photography via comicbookcosplaymen