Forget the debate over people spoiling Sunday night's Game of Thrones episode. While some of you were busy arguing over whether we should worry about spoiling people for a 14-year-old plot point, the rest of us just wanted to know: What the hell did we just watch?!
Fortunately, some astute die-hard readers of the books knew just what to look for—and they've shared the episode's secrets with us.
Let it be known: if you've miraculously managed to remain unspoiled for the big events of Sunday night's Purple Wedding, you might want to halt before venturing farther into this tale.
Sunday night's shocker came to us courtesy of A Storm of Swords, the third novel in George R. R. Martin's A Song of Ice and Fire series, upon which Game of Thrones is based.  Fans who've read the books might know exactly what's going on in the mysterious final scene of the episode, when we finally witness the long-awaited wedding between loathed Prince Joffrey and the savvy Margaery Tyrell.
But as for the rest of us? Chances are, if you didn't have eyes like one of Bran's ravens, you were totally confused about what was really happening in Joffrey's fatal game of cups.
Now, an Imgur gallery called "How it Really Happened" walks us through all of the action, step by gruesome step. Even if you have read the books, the detailed analysis in these 20 screencaps is impressive: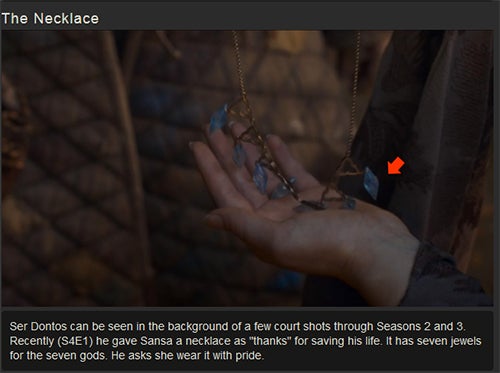 What does one little necklace have to do with the downfall of kings? Everything, when you're playing the game of thrones. Read the whole recap of the scene, and be amazed.
Photo via Imgur