We've seen more of our fair share of Peter Pan stories over the years. For many of us, the 1953 cartoon is an entryway, as is the 1991 sequel Hook. The 2003 live-action version brought back the dual roles of Mr. Darling and Captain Hook, a long-time element of the play. A musical filmed live on NBC cast a woman in the lead role, but the special was fairly forgettable. Pan was, well, panned. Even Wendy, director Benh Zeitlin's follow-up to Beasts of the Southern Wild, isn't the only Peter Pan-related film that premiered at the 2020 Sundance Film Festival. (Come Away, which stars David Oyelowo and Angelina Jolie, is the other.)
Wendy
RELEASE DATE:
2/28/2020
DIRECTOR:
Benh Zeitlin
RELEASE:
Theatrical
The familiar story of Peter Pan is transplanted to the mid-20th century as Wendy Darling, a young girl who lives with her mother and twin brothers above a diner in Louisiana, yearns to go on an adventure.
Wendy has a lot to live up to, and for the most part, it succeeds. It places Wendy at the forefront of the story instead of making her a simple mother figure to Peter, her brothers, and the Lost Boys in Neverland. It's incredibly imaginative, an eclectic adaptation that has more than a few familiar elements but manages to turn others on its head with a bright young cast at the helm. And while Wendy has pacing issues and the script is a little thin at times, it's easy to overlook some of those problems as you get lost in the moment.
Even before Wendy (Devin France) and her twin brothers James (Gavin Naquin) and Douglas (Gage Naquin) venture off to Neverland with Peter Pan (Yashua Mack), Wendy has this ethereal feeling to it. It's more firmly planted in the real world than many of its predecessors, setting the Darling home above a diner that's seen better days but still signals a homey quality to its many frequent costumers, but the magic is always an underlying current—if you believe, anyway. And Wendy certainly believes: As a very young child, Wendy witnessed a neighbor—who didn't want to grow up to mop floors in the diner—hop on a train as a mysterious figure ran on top.
Now a little older, Wendy too looks for that escape from her stagnant and ordinary life as her mother relays stories of her younger days. She's curious and bright-eyed, not quite the doting mother-like figure that Peter, John, Michael, and the Lost Boys revered so much in the animated version of the story. The reemergence of Peter on that train awakens something in Wendy, leaving her brothers to keep up after her as she takes her first leap of faith.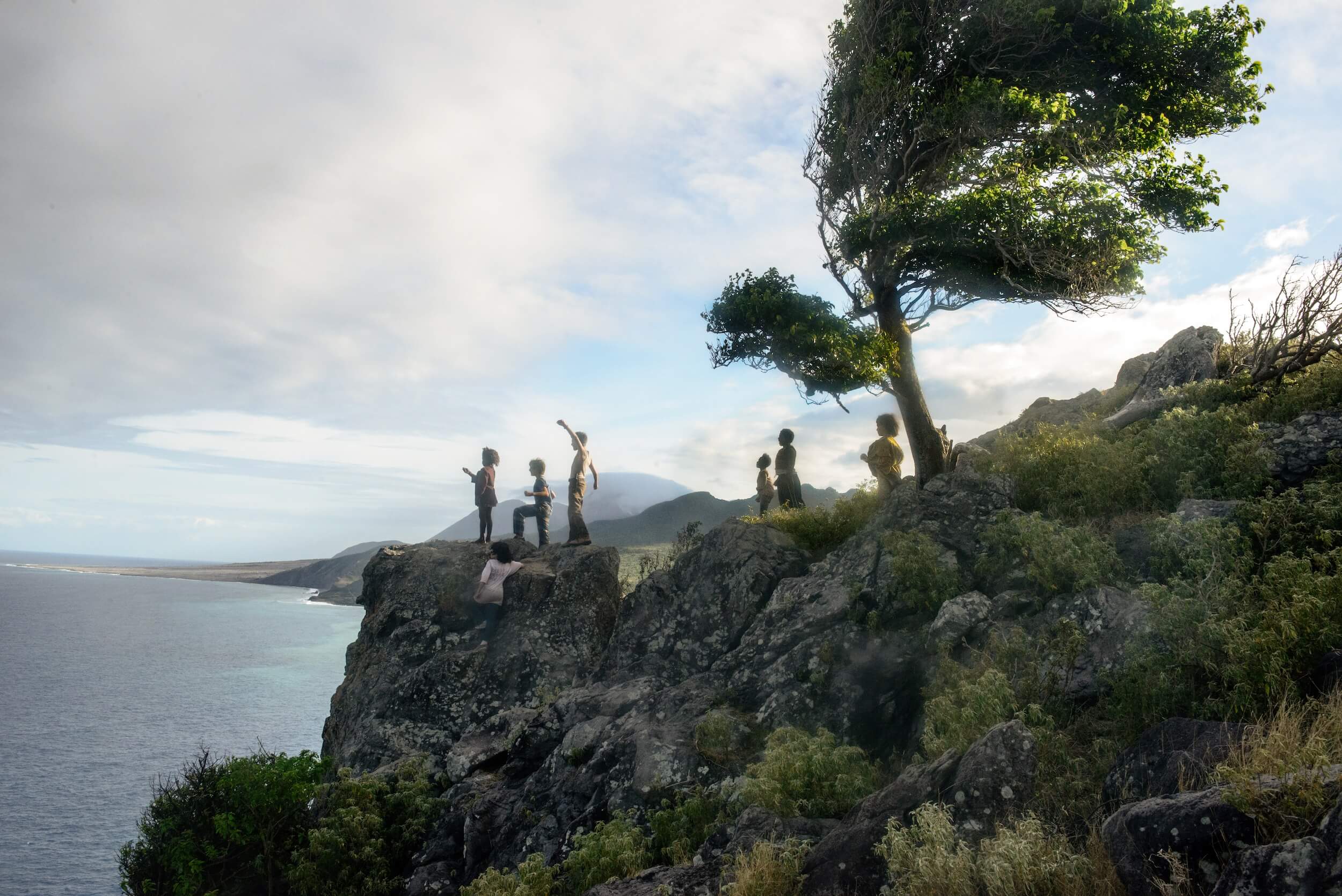 "Remember that voice in your head?" Wendy says in one of the film's many voiceovers. "The one that says 'Sneak Away! Into the night!' Here is the place it comes from."
Once we get to Neverland, Wendy embraces more of its fantasy elements, complete with breathtaking shots of the island Peter and the Lost Boys have made their home. Paired with an enchanting score from Dan Romer and Zeitlin, the Darling children's introduction to Neverland feels something akin to a dream, albeit a very good one. They're able to run around the island, explore it to their hearts' content, and they are taken care of by a mysterious and glowing creature in the sea who Peter refers to as Mother that you can't take your eyes off of whenever it appears on the screen; the story goes that "long as you believe in her, you will never, ever grow up." Lose sight of that belief too much and a sudden burst of age will come for you.
You're waiting for the other foot to drop in paradise, and sure enough, it does in ways you might not expect. Neverland has rules and people on the outskirts of the island, those who would garner sympathy but lack character development. The story flows inconsistently—both going too slow at times before speeding up too quickly. But Wendy has enough spins on Peter Pan that even a story we've heard, read, and seen so many times can feel refreshing to watch.
Wendy screened at the Sundance Film Festival.