Star Wars fans have fallen in love with porgs the moment they screeched their ways onto our screens, but they're far from the only adorable and delightful new creature we'll meet in The Last Jedi.
While we first caught a brief sight of a crystal-like fox in the Last Jedi trailer last month, we're only now learning more about the new creature. For one thing, it now has a name. It's called a vulptex, and the name has a basis in vulpes, which means "fox" in Latin.
New information on vulptices—the name for a pack of vulptex—comes courtesy of Entertainment Weekly, which debuted a new look at the creature as part of its latest cover story on The Last Jedi. The new photo shows the vulptex in even more detail with its crystal-like covering.
Luminous Beings: The crystal fox in #StarWars: The Last Jedi is known as a vulptex: https://t.co/jPlLpfIANM pic.twitter.com/EbNznyM4y9

— Anthony Breznican (@Breznican) November 20, 2017
Vulptices are native to Crait, a new planet with white salt and red soil that used to house an outpost during the Rebellion. According to Star Wars creature shop head Neal Scanlan, the planet's surface had a role in the creature's evolution.
"The idea is that these wonderful sort of feral creatures had lived on this planet and had consumed the planet's surface, and as such had become crystalline," Scanlan explained.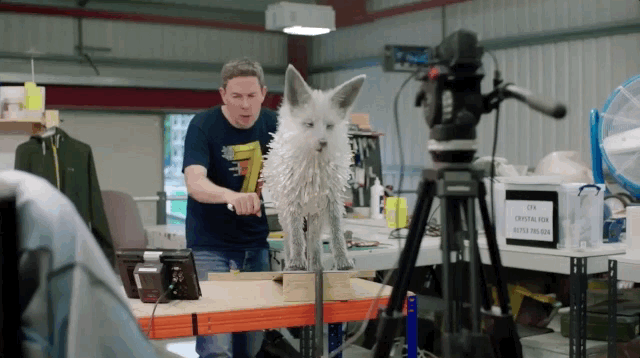 The Star Wars creature shop used 25,000 crystals and a combination of puppetry, animatronics, and CGI achieved by scanning static models to bring the creatures to life. To get an idea of how the vulptex would move around, the creature shop dressed a dog up in a suit lined with drinking straws. A behind-the-scenes video doesn't feature the dog, but you can see the vulptex in action, both in the movie and in the creature shop.
NEW: The Vulptex Crystal Fox featurette. #TheLastJedi pic.twitter.com/p78dsx1q7y

— Star Wars Legacy (@starwarsIegacy) November 20, 2017
Vulptices aren't just there to look cute, though they certainly accomplish that part easily. They might even play a role in the film.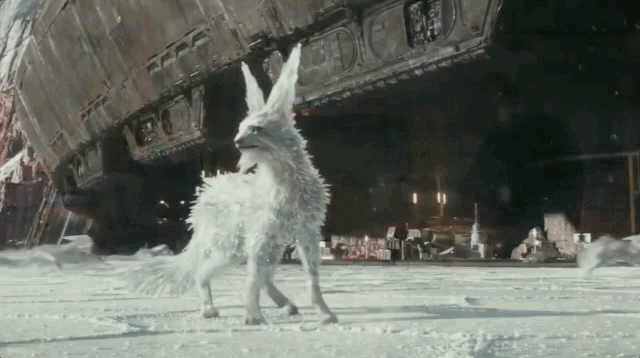 "They live within the burrows and within the tunnels beneath the planet," Scanlan said. "So there is a time where their ability to shine within the darkness, should provide a guiding light to our heroes."
We can't wait to see more of the vulptices, but the name might end up being a bit of an issue if only because vulptex sounds very similar—and is spelled similarly—to the fire Pokémon Vulpix. We can only imagine how painful a tongue twister it'd be if the two series ever crossed over.